How to Ho Chi Minh City
OK, so you are going to Vietnam. Here's a quick guide of what to do, where to go, stay and eat in one of Asia's most exciting cities.
By Ron Gluckman /Ho Chi Minh, Vietnam
---
SLEEPING: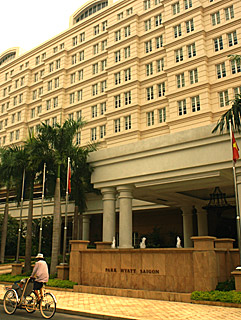 Park Hyatt Saigon (2 Lam Son Square; Tel: (84-8) 824-1234, fax: 823-7569, e-mail: saigon.park@hyattintl.com) The top address in town since opening in mid-2005, with a cool pool, dream location astride the opulent Opera House, and dazzling collection of show-kitchens serving any cuisine at Square One.
Caravelle Hotel. (19 Lam Son Square; Tel: (84-8) 823-4999, fax: 824-3999, e-mail: hotel@caravellehotel.vnn.vn) A series of renovations have revived this historic, art noveau hotel, with stunning views over the Opera House. Check out the wonderfully redesigned Reflections dining room with its collection of historic photos.
Riverside Hotel (18-20 Ton Duc Thang Street; Tel: (84-8) 823-1117; Fax: (84-8) 825-1417; email: hotelriversidesg@hcm.vnn.vn) Moderate-priced option perched along the river. Request rooms on the first floor, with free internet access – top HCM hotels still charge ridiculous rates of $20 per day, even as most cafes and bars offer free wireless.
EATING:
Cepage Wine Bar and Restaurant (G/F Lancaster Building, 22 Le Thanh Ton St.; Tel: (84-8) 823-8733). One of the coolest new restaurants in HCM, offering rabbit terrine, crab and chorizo, and lots of exquisite fish and meat. For desert, mouse with ginger ice cream and spiced polenta crème with red wine apple.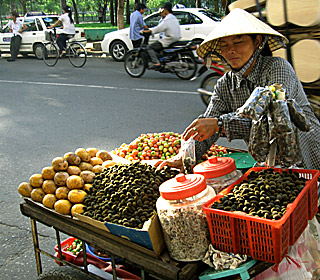 Pacaharan (97 Hai Ba Trung; Tel: (84-8) 825-6024). After a year, still one of the hottest HCM bars and restaurants, Pacaharan offers tasty Spanish tapas, a huge list of Spanish wine, and a bright, boisterous atmosphere, with lots of neat terraces.
Ngoc Suong Le Marina (19c Le Quy Don; (84-8) 930-4209) Locals love this sprawling seafood restaurant with simulated coastal views on enormous murals, big aquariums and live bands. It's noisy and chaotic, but the enormous selection of seafood is all scrumptious and comes heaped on heaving platters.
Bun Viet (14 Le Quy Don; Tel: (84-8) 930-3153) Across the street from Ngoc Suong (and recently bought by it) Bun Viet is renowned for noodle dishes, but also serves all classic Vietnamese meat, fish and vegetable dishes at unbelievable prices.
Pho 24 – (various locations) A chain of well-designed budget restaurants serving the famous Vietnamese noodle soup, usually for under $2 a bowl.
Wrap and Roll – Another local chain with lots of locations, focusing on Vietnamese food that can be wrapped and dipped in delicious sauces. Also healthy salads and soup.
DRINKS: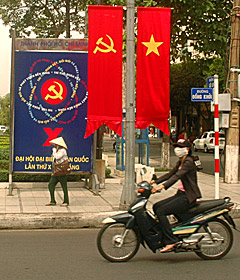 Q Bar – (7 Lam Son Square) Ho Chi Minh's first hip hangout, Q's reign atop the realm of cool is partly due to the enviable location behind the Opera House, but also the sleek design and numerous sequestered lounge areas, perfect for drinks and conversation.
Xu – (71-75 Hai Ba Trung; (84-8) 824-8468) One side is a fusion restaurant, the other the city's most elegant bar. The design is luxurious, with gold-sided bar and rich fabrics, but sleek and comfortable. And the modern fusion fare is fabulous.
Temple Club (29 Ton That Thiep Street; (84-8) 829-9244) The very vision of an Asian Explorer's Cub, this throwback bar and restaurant is decked out in antiques, rugs and big wooden heads.
Qing (31 Dong Du; (84-8) 823-2414) Stylish wine bar facing the Sheraton Hotel.
Lush (2 Duong Ly Tu Trong; (84-8) 824-2496). Artist Thorin Cagle stepped up from his legendary backpacker haunt, Lost in Saigon, to this thumping club, which has colorful comic murals on the wall, bars inside and out, and the perfect dance vibe every night.
SHOPPING: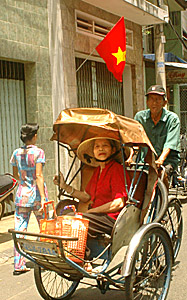 Saigon Kitsch (43 Ton That Thiep; Tel: (84-8) 821-8019). Hip shop selling socialist-inspired designs on shirts, handbags, mugs and more.
Impress (47 Ton That Thiep; (84-8) 821-4521. Huge collection of the famous Vietnamese laquerware: picture frames, vases, bowls, serving trays, even chopsticks.
Gaya (39 Ton That Thiep; (84-8) 914-3769). Everything to overhaul your house or own look, from clothes and local crafts to the collections of four international designers.
Quyen Tanh (212 De Tham; (84-8) 836-8570) Among the profusion of crafts and kitsch shops in the backpacker district, this offers the best prices and shipping.
-end-
---
Ron Gluckman is an American reporter who has been roaming around Asia since late 1990. A frequent visitor to Vietnam, he produced this guide to accompany his story on Ho Chi Minh City for the December 2007 issue of Discovery Magazine.
All pictures by Ron Gluckman
To see his story on Ho Chi Minh, click here.
Click here for another story on hip Ho Chi Minh
---
To return to the opening page and index

push here
---