Taking China to the hoop
A rag-tag team of retired NBA All Stars and also-rans gave the Chinese National squad a pre-Olympic workout, but medals weren't on the minds of the NBA marketing men. China is the meatiest market and mainlanders are already mad for Showtime.
By Ron Gluckman/Beijing
---
CLYDE 'THE GLIDE' DREXLER nabs the ball from an opponent, flicks it to a teammate, then races up court for the return pass. He leaps high and glides to the hoop for a lay-up. Dream Teamer Drexler has made the same sort of play hundreds of times. But never upon this court, nor in this country.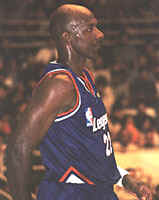 This time the basketball legend is putting his moves on Middle Kingdom, to the delight of a fervent crowd of fans in the Chinese capital.
Drexler, one of the NBA's 50 greatest all-time players, with more than 20,000 points under his belt, appeared with the NBA Legends before 10,000 screaming fans at Beijing's Workers' Stadium in August, before continuing on a tri-city ten day tour of China that ended in Shanghai a week a later.
It was not a make or break tournament game, but a potential marketing play for the NBA that brought Drexler, a Portland Trailblazers All Star and champion with the Houston Rockets to Beijing.
More important than victory was what it represented: another big step forward for the NBA in one of its most lucrative markets, China.
Drexler and the NBA Legends did not disappoint - dazzling their Chinese fans with shakes, bakes and fakes. The Chinese team, a line-up featuring three players towering over 7-feet tall, fell to the American squad, 79-73.
"I like the big guys on the Chinese team," Drexler said. "They have good low-post moves. They just need to get in the weight room and get bigger, stronger. They're just not as physical as NBA players, and that's the key."
Wang Zhizhi, star of the Chinese team, and drafted last year by the Dallas Mavericks, added: "The NBA had strong defense, and a big advantage in rebounding and passing the ball. They are very physical, stronger, and with better skills. Of course, they are legends."
Actually, that's a stretch. Besides Drexler, 38, the squad featured retired All Stars like Rolando Blackman and Buck Williams, plus lesser lights like Joe Wolf and Danny Schayes. Superstar Dominique Wilkins canceled at the last-minute, leaving only one other legitimate legend on the tour, Hall-of-Famer Rick Barry. However, he was confined to the bench, as coach of the over-the-hill squad.
"We're legends for a reason," joked Drexler. "Guys like Buck and me, we're almost 40. They gave us a workout there, but we hung in and got the win."
BASKETBALL LEGACY
China has a long association with basketball, brought here by American YMCA missionaries soon after the game was invented in the late 1890s. That makes China the second-oldest basketball playing nation after only the United States. It's also, by many accounts, nearly as fanatical.
The coolest gear to Chinese kids is unquestionably NBA sportswear, preferably with the logo of the Los Angeles Lakers, the world champions. Posters for Kobe Bryant and Shaquille O'Neal are plastered over the windows of innumerable Nike boutiques.
With Michael Jordan - or MY-KE JOE-DAHN - tripping off tongues even in remote parts of China, the basketball player's fame seems to eclipses even that of another American marketing sensation, Madonna.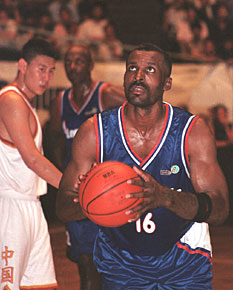 "The most famous American in China is Michael Jordan," says Tom McCarthy, chief executive officer of Asian Basketball Confederation Promotions, which pumps up the sport in over 40 nations across Asia and the Middle East. China is a top priority, and a huge success story.
"China has a basketball playing population of 210 million that's playing, coaching or involved in activities related to the sport. "Basketball is the only sport played in every school in the country," he adds.
"It's by far the fastest-growing sport in China and it's going to get bigger. The Chinese love basketball." Indeed, in one recent mainland survey, former NBA star Jordan slam-dunked even Chairman Mao in popularity.
One Chinese sports reporter at the Legends game offered a little perspective: "Basketball is popular and growing, but the numbers are still low compared to football (as soccer is known here)."
Still, he conceded, "it's big with the young people and has been getting bigger since the NBA games started being shown here."
Slam Dunking Overseas
Overseas promotion of the sport has been a longstanding goal of the NBA. Coach Rick Barry, 56, a phenomenal scorer for the then-San Francisco (now Golden State) Warriors in the 1960s and 1970s, recalls a 1984 exhibition tour to China. "I played in this same stadium with guys like Pistol Pete," he says, referring to fellow NBAer Pete Maravich.
However, promotional activities really picked up steam in the 1990s, under the direction of Commissioner David Stern, who has built the NBA into what is arguably the world's best-promoted sports brand. The timing was perfect.
NBA boomed at about the same time as China began opening up to foreign programming. Videos of NBA games were offered Chinese Central TV (CCTV) in a barter deal that led to blanket coverage for the NBA on Chinese TV. That raised the profile of the game.
Things really took off in the mid-1990s, when the Chinese basketball leagues reorganized into a club format, enabling enterprises to buy and promote provincial teams. Last year, there were two dozen men's pro teams in China, plus seven women's teams.
"Asia is a boom market for us," says Michael Denzel, managing director of NBA Asia, which has recently doubled the size of its Hong Kong office and hopes to open its first office in China this year. "China is still small, in terms of revenue, but we're building up, step by step. We see tremendous opportunity here."
The NBA is far from the first American outfit to embrace the potential of the mainland market. Since economic reforms in the early 1990s spawned double-digit growth, western firms have rushed in to mine the fast-emerging new Chinese middle class.
And Americana sells. Bowling, for instance, boomed in China in the 1990s. At one point, Shanghai even considered a ban on new alleys after construction of the facilities exploded - from six lanes in 1980 to more than 1,500 in 1996.
Turn on Chinese television, and see scores of ads for miracle stain removers, pocket sewing devices and other mainstays of Saturday morning American TV. Some chains even shamelessly recycle old jingles, and why not? What is cliche back home is reborn as innovative in China.
Not a fast break
The NBA takes a slightly different tact. Pursuing profit is only part of the package. "We're here to promote the sport and help improve the skills of the Chinese," says McCarthy. "This is all about building partnerships, working together."
A previous tour of NBA old-timers, in late 1998, boasted bigger names: Kareem Abdul-Jabbar, Moses Malone and Alex English. They drew fans, but were slow on the court.
"We wanted younger guys to make it a game," says McCarthy. "The Chinese need better competition to improve."
And it's not all about big-name players and marketing. In every city, the players conduct clinics with Chinese children. "It's pretty much the same as I do back home," notes Joe Wolf, 33, a big man for the Los Angeles Clippers, Orlando Magic and Denver Nuggets.
"The amazing thing here was to see the kind of fundamentals the kids have. The skill level is promising."
China, for its part, is willing to partner with the NBA to build its team into a power in world basketball, much as it developed its swimming program through relentless training.
In July, China's national team attended training camp at a basketball academy in Oregon. Already, the partnership is paying dividends.
"This is by far the best team China has ever produced," observes Lu Xuezhou, a sportswriter with China Youth Daily. Included are two players who have already attracted interest from the NBA.
Last year, the Orlando Magic offered a short contract to Hu Weidong, 29, a smooth-shooting forward who sunk several three-pointers in Beijing. A leg injury nixed consideration of the Orlando offer. "But if I had a chance this year, and was allowed, I'd love to try," he says.
Greater attention focuses on Wang Zhizhi, a 7-footer with enormous mobility. He was drafted at number 36 by Dallas, but his army-owned team has refused to let him go. Rumors are rampant in Beijing of a deal that will be announced after next month's Olympics, making Wang, 23, the first Chinese export to the NBA.
Dallas general manager and longtime coach Don Nelson was spotted in the stands; even NBA officials were unaware of his attendance in Beijing. "Whether Wang joins our team or not is really out of my control," he said, "but we drafted him because we believe in his potential as an NBA player."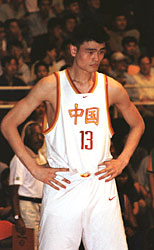 Nelson added that Yao Ming (at left), dubbed China's "Baby Giant," who is already 7-foot 5-inches at 19, would likely be a first-round NBA pick when eligible. (Some think he may go Number One in the draft).
The Chinese players aren't allowed to apply for the draft until they are 22, and then need permission of their teams. Clearly, many are eager to try.
Player salaries in China average $12,500 per year, with top star Wang, reportedly earning $65,000 - about Shaquille O'Neal gets for a single slam-dunk. Even second-rate American players earn 100 times the salary of Chinese pros.
The pay is clearly alluring for Chinese players, but so is the idea of a Chinese player in the NBA.
"Having a Chinese player in the NBA would be phenomenal," says Denzel, "and not just for the NBA, but also China. It would mean more viewers, potentially more merchandise sales, but ultimately would help spread the sport of basketball."
Then, there is the subject of goodwill, which, after all, was a major aim of the tour. America's image soured in China after the U.S.-led NATO bombing that destroyed China's embassy in Belgrade, killing three Chinese nationals.
After the incident, NBA programming was pulled from the tube - a reminder that sports and politics have proven a powerful mix in China in the past. It was, after all, a ping pong team in the 1970s that helped nudge forward the American-Chinese détente.
---
Ron Gluckman is an American reporter who has been based since 1991 in Hong Kong (which, incidentally, only showed one NBA game a week, condensed to 50 minutes, until recently --- talk about hardship posts). He visits China often and provided this coverage for MSNBC.
---
To return to the opening page and index

push here
---