The Greatest Story Never Told
The economy has collapsed, the people are starving and the hated rival of the south has surpassed them in every way, but North Koreans still remember with pride its Cinderella squad that nearly reached the 1966 World Cup finals; and now, thanks to a plucky pair of Brits, the tale is being retold with gusto.
By Ron Gluckman

T

HE ANNALS OF SPORTS ARE FILLED with feel-good tales, magical come-from-behind classics.

Best are the Cinderella stories: loveable underdogs like the 1969 New York Mets baseball team or the brash Jamaican bobsledders, who captivate all with their skill, pluck and courage. The best stories sweep off the field and become popular legend. Others never get the chance.

Take the odd squad of soccer stars from North Korea, who beat the Italians in the 1966 World Cup. Newspapers called it one of the world's great upsets. The Evening Gazette in England, which hosted and won that cup, termed it an on-field "Fairy Story."

Even today, fervent football (as soccer is known worldwide) fans continue to marvel at the miracle team that slipped into the world spotlight for a few mesmerizing goals, then disappeared forever.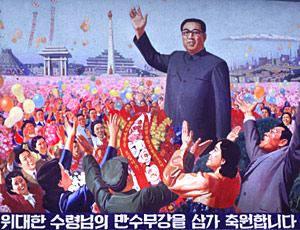 The fate of the Italians is well known; they were pelted with rotten tomatoes by angry fans at home. But what happened after the Koreans returned to the Hermit Kingdom? For sports diehards, it's the greatest story never told.
Until now. The answers come from ardent football fan Daniel Gordon, who quit his job as a television sports producer in Britain to independently mount an unprecedented mission in the People's Paradise.
Granted the first permission for a western crew to film in the reclusive state, he spent 10 days in late October touring football clubs, visiting the former stars. Fleshed out with never-before seen North Korean archival material, the result is an amazing documentary, "The Game of Their Lives." In many ways, it's also the story of one fan's own personal fever pitch.
"This has been a lifelong quest," concedes Gordon. That might seem overstated since he's only 29. Still, few can claim comparable football fanaticism.
A lifelong supporter of his home squad, Sheffield Wednesday, he completed a 25-year history of the team, "A Quarter of Wednesday," years before he himself was 25.
That first book - he's written two - led to a job at Sky Sport, and a series of successful sports documentaries on the premier league and top players like English national treasure, Michael Owen.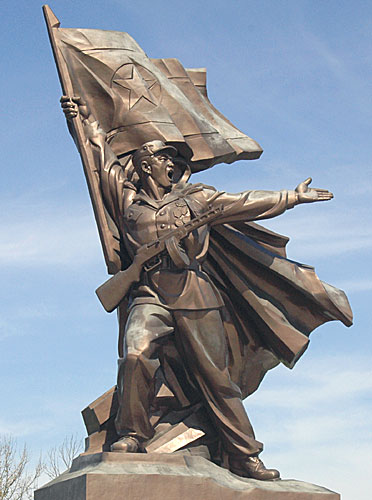 Lingering always at the back of Gordon's football-addled brain was the almost mythical legend of the North Koreans.
"I'd been hearing about them all my life. My father told me about the games, and of course, over the years, I'd seen some footage myself. It always seemed such an amazing story, this squad of players from a practically unknown place, just emerging from war, coming out of nowhere to beat some of the world's best teams."
For years, Gordon toyed with the idea of a documentary. He was especially touched by the way British fans adopted the North Korean side. Footage from early matches in Middlsbrough show jubilant crowds cheering every kick, chanting "Korea, Korea."
Thousands from the small town in northeastern England followed the team to its game in Liverpool. When Korean star Pak Sung Jin scored an equalizer against Chile, people stamped their feet so hard that lights in the press box crashed to the floor.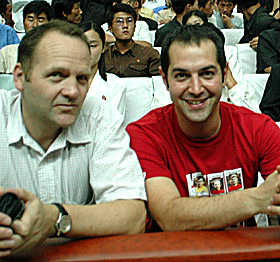 A classic Cinderella story, Gordon believed, but perhaps with too many North Korean characteristics. "Some people said it was so long ago, and who cares," Gordon reports. "Others were interested, but they said it couldn't be done."

It pretty much seemed Mission Impossible, until Gordon met Nick Bonner, a fellow

British football fan. By strange coincidence, both attended the same school in Cheshire, but years apart, and had never met. More important, Bonner, 40, a landscape architect and artist, wound up in Beijing, where a quirky trip to North Korea in the early 1990s turned into an odd evocation. For nearly a decade he has been booking tours to the Hermit Kingdom.

"Dan contacted me in 1997. He'd heard about me from a guy who was doing a book about stadiums of the world who was desperately trying to go to North Korea." Bonner is used to such requests; he's helped guys ticking off revolving restaurants and golf courses around the globe. "North Korea is definitely the Last Hole on Earth," he jokes. "Everybody wants to see something different, and North Korea has plenty of that."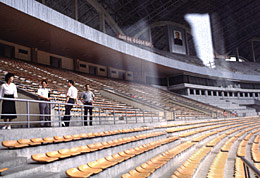 Yet enormous statues and broad, deserted showpiece plazas and boulevards are one thing, like stores stuffed with fake goods to show a trickle of tourists in this Potempkin republic. (Not to mention cavernous stadiums, like Pyongyang's 100,000-seater, at left). Getting into people's homes is another matter.
"It took years and years," Bonner says. "I started asking about it and everybody knew the story. It had to be the most famous one in all of Korean sports. But the simple fact was western film companies weren't allowed in. Never. I really thought we had no hope in hell."
Likewise, the original team. Some discount their accomplishment because of how the squad qualified. Asian and African teams were lumped into the same group with only one invitation to the World Cup at stake. Africans were so irked, they boycotted.
North Korea faced Australia in a qualifier that was a quandary; they had no diplomatic relations. Cambodia's now-King Sihanouk came to the rescue; matches were held in Phnom Penh. Forty thousand fans filled the stadium and Sihounouk decreed half would root for Australia, while the other half cheered the Koreans, who won both games - "home" and "away" - played in succession in the same stadium.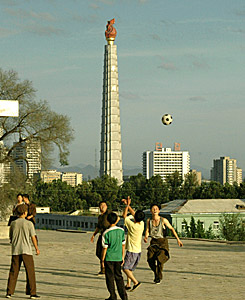 In England, the wiry North Koreans were blown away in their first game by the beefy Russians. But they drew with Chile, then upset powerhouse Italy.
Playing a fast-paced relentless attack style, they looked likely to become the first Asian players in the finals, racing to a 3-0 lead against next opponent, Portugal. But the Portuguese recovered, prevailing 5-3, thereby ending one of the most amazing runs in Cup history.
And the North Koreans? "We'd heard they came back in disgrace, that they were sent to the countryside and punished for their performance," Bonner says. Not true, the pair quickly established.
"These guys were heroes, now as much as then. That was clear," says Gordon. "Everybody knew their names and accomplishments. It was one of North Korea's greatest moments."
And now, thanks to the two plucky Brits, who spent years and much of their own money assembling the one-hour documentary, it's there for the world to share.

Ron Gluckman is an American reporter based in Beijing, who roams the region for a wide range of publications, including the Wall Street Journal, which ran this piece in the weekend edition January 4-6, 2002.
"The Game of Their Lives" will be shown on television prior to the World Cup, to be held in May in South Korea and Japan.
Gordon and Bonner were back in North Korea to film a second documentary, "State of Mind," which had its premier at the Pyongyang International Film Festival. The pair are currently working on a third documentary in the DPRK on a group of American defectors to North Korea, to be called, "Crossing the Line."

To return to the opening page and index

push here`