In China, getting hitched is glorious
Across the mainland, it's out with the old and in with the new, as in newlyweds. Modern weddings are the latest rage in the Middle Kingdom.
By Ron Gluckman/Beijing, Shanghai and Wuhan,China
---
WHEN WANG FAN SOUGHT FINANCING for her first car, a trip to the local bank paid unexpected dividends. Her loan officer was Su De Jian, and he was smitten. Soon, she was working in the same bank, and they were engaged. Cars and cash. Love and romance in New China.
That was six years ago. Now, the pair pose for wedding photos, looking fabulous. Wang floats in clouds of wedding white, from pearl high-heels to the lacy veil and tiara atop her head. Tucked into gray tuxedo, Su sports a conservative look befitting a young banker. They bubble with excitement. "We'll remember this forever," she says.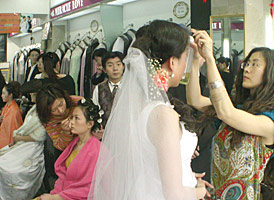 Newlyweds the world over feel much the same on their Big Day. But in China, there's a difference. Wedding day for Wang and Su is still three months away. This is arguably an even bigger occasion: shooting wedding photos. The logic runs thusly: A wedding is only one day. But like marriage, commemorative photos are meant to last a lifetime.
Hence, these newlyweds, both 26, are willing to spend months of salary on photos and requisite costume changes. And they have plenty of company.
As Su leans against a large bookcase, in what looks like a library, a few feet away, another couple poses in a centuries-old Ming courtyard. The bride is in qi piao, traditional red silk, while the groom wears old-fashioned Manchu gear. Nearby, pose more newlyweds in a garden scene: she sits on vine-wrapped swing; the groom wears modern jacket. Above them hangs a birdcage.
Three couples, three wedding scenarios. Yet it's all part of the same Chinese dream, to splash out on a flashy wedding portfolio. Before the day is over, each pair of lovers will repeatedly change dress, props, makeup and backdrop. The theatrical touches are part of the magic at Beijing's Miracle Love Photo, which does it utmost to live up to its name.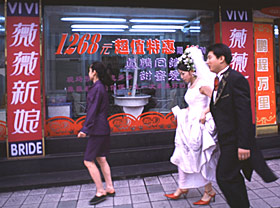 Opened in 1996, the studio was among the first to ride a wave of wedding spending that is revolutionizing matrimony upon the mainland. Founder Du Wong-Lung estimates there are as many as 300 wedding boutiques in Beijing alone, although only half a dozen of such enormous size. Others are springing up in every big city as the wedding boom sweeps the country. Miracle Love now has 10 branches nationwide. "We'll expand more, too," he gushes. "Everybody is China wants this."
Du's contention is certainly supported in the neighborhood, where no less than half a dozen wedding boutiques offer the gamut of services: photos, clothing sales and rental, makeup and hair design. Knockout gold gowns are showcased at Venus Wedding Plaza on Dongsi Nandajie, around the corner from Palace Hotel. Next door is Paris Wedding Photo, a lavish, two-story emporium offering endless wedding outfits, jewelry, photos - everything but the proposal.
Couples entering Penthouse, across the street, are quickly presented with thick photo albums detailing scores of wedding packages. The variety is astounding and exhaustively explicit; couples get a specified number of photos and costume changes. Prices start at around US$250 but can easily reach US$1,000.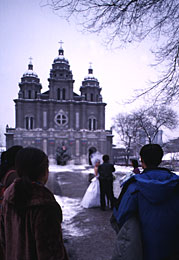 Business is extremely competitive, and bargaining is part of the process. Du's shop enjoys many edges, besides longevity. Miracle Love sits on fashionable Wangfujing, Beijing's major shopping boulevard. From his upstairs studio, where mounted lights and backdrop screens allow teams of photographers to shoot several wedding scenarios simultaneously, Du looks out his windows at the majestic steeple of St. Joseph's Church.
The century-old church recently had a multi-million dollar facelift, making its flower-lined square a popular stop for tourists and tired shoppers, not to mention weekend skateboarders. And China's matrimony-minded.
Winter, spring, summer and fall, newlyweds crowd the square, a three-ring circus swirling with gowns and squads of shouting photographers. This, perhaps, more than anything else, stands as a symbol of the amazing change in the quixotic wedding industry upon the mainland.
"Chinese naturally want what they don't have, in weddings and everything else," says Du. "They like western clothes, fashion and style." Still, appearances can be deceiving. Matrimony, like everything in China, is in the midst of rapid modernization, rather than westernization. The design of the clothes in Du's shop, for instance, like the photo packages, have all been imported from Taiwan. Du, too.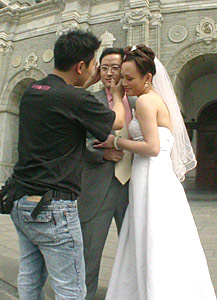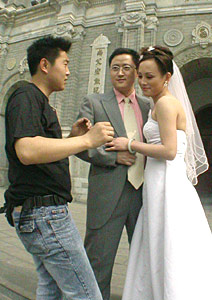 "This whole business was set up in Taiwan," chuckles Du, a former arts teacher, who learned the trade in his native Taiwan. In 1992, he came to China and began forging partnerships with local art schools to help assemble the costumes, cosmetics and other materials for the shop. The formula for factory-line weddings, though, was perfected in Taiwan, which experienced its own wedding boom a couple decades ago. "It's a matter of convenience," he says. "Before, people had to go to one shop to get clothes made, then others for photography and everything. Now, it all is done in a package."
Which appeals to upscale Chinese. "Young people think, I only get married once, so I will pay anything to make it right," says Ding Yi-Min, a reporter for the state-run China Features agency. "It's definitely the trend. They think, my friends have this, I want it."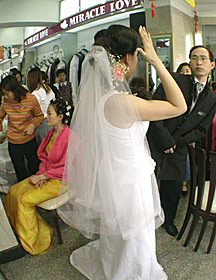 Only natural, she adds. "Our lifestyle is approaching the style of more developed western countries, so people have more options. They want to spend money on their weddings." She should know. Two years ago Ding married in her husband's home in northeastern China. They scrimped on wedding photos, paying only US$40. "Now, we're thinking of re-shooting them."
Traditionalists needn't worry that the past is being buried. Modern Chinese weddings tend to mix the latest fashions with affectionate nods to the rituals of the past. In olden times, courtship was proceeded by an elaborate ritual of query and negotiation. Parents would painstakingly scrutinize the background, social standing and wealth of suitors. Next, astrologers checked birth signs of both parties and, if positive, would use numerology to choose the wedding date.
While Spring Festival and other modern holidays are popular for nuptials, most weddings are typically scheduled according to superstitions about "lucky" days on the Chinese calendar.
Many more traditions have morphed into modern weddings. In old times, a decorated sedan chair would carry groom to fetch his bride. Nowadays, friends decorate a car that is used for the same purpose. Even today, the center of any wedding celebration is the banquet, which can feature 100 guests or more, and a dozen dishes. In old times, feasts might run for a week, and bankrupt the bride's parents. Nowadays, banquets are held in hotels and flash restaurants, but still cost a bundle.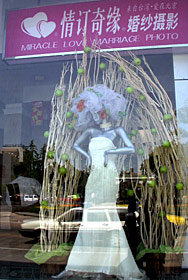 Yet most Chinese seem to relish the changes. "Conditions then weren't as good as now," says Wang's mother, who married 27 years ago. "We couldn't do much. We just went and had a meal with our friends. It was all very simple. We just had soup.
"Nowadays, there is more excitement. We're all happy for this new generation, that they have money and so much choice." Adds her husband: "To be honest, we're both envious. We have only one picture from our wedding."
Romanticists might interject that the real change in modern matrimony is that more matches are made for love these days. Indeed, Wang and Su met and conducted their courtship much like couples the world over: at dinners, dances and on dates.
That's typical among their friends, yet older generations needn't bemoan the revolution in romance. Su notes: "Every couple does things different, but we are more traditional. We like to pay our respect to our parents. That's still very important."
Which all goes to show, in China, when it comes to weddings, it's not necessarily out with the old. But it's definitely in with the new.
---
Ron Gluckman is an American reporter who has been roaming around Asia since 1991, when he was based in Hong Kong. Since 2000, he has been based in Beijing, covering China for a wide variety of publications including Silk Road, which ran this story in June 2002.
Pictures were updated in spring 2003.
For a newer story on the same subject, see In Sickness and in Wealth
---
To return to the opening page and index

push here
---