In China, getting hitched is glorious
Across the mainland, it's out with the old and in with the new, as in newlyweds. Modern weddings are the latest rage in the Middle Kingdom.
By Ron Gluckman/around China
---
TODAY IS THE BIG DAY for Zhong Ji-yang and Li Zhong-lin. After months of planning these two comrades in the Peopleís Liberation Army are poised for action.
But forget battle fatigues. Zhong is dressed in charcoal-gray tuxedo; Li in fetching mocha gown, hair cascading off her bare shoulder in a thick wave that recalls classic screen siren Veronica Lake. These soldiers are about to brave the Battlefield of Love.
Zhong spotted his bride-to-be four years ago at an army communications post. Nuptials remain months away. Yet already they are walking hand in hand through ceremonies that, in modern China anyway, outrank wedding day. Here, the first steps towards happily-ever-after are rarely taken down the aisle, but more commonly long before, in front of a camera.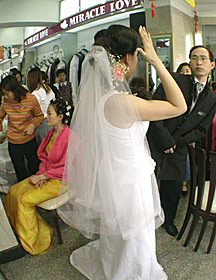 Hence, Zhong and Li are willing to invest months of salary to finance what every newlywed in the mainland these days wishes for: a wedding photo album bursting with bliss. And like countless other couples in China, they arenít content to merely capture the magic moments of matrimony on film; they plan to choreograph each and every one. Which brings them to Miracle Love Studio, part of the latest craze in modern China: the one-stop wedding shop.
Occupying multiple floors, radiating glamour, this wedding boutique on Wangfujing Road caters to practically every fantasy. Already, Li has spent an hour in makeup, where her hair has been tossed and teased into that thunderous wave. Afterwards, she plans to check off her dream scrapbook.
She wants some antiquated shots: Zhong in old-style silk Chinese suit, her in qi pao. Winter has already arrived in Beijing, but her heart is set of a few springtime snapshots, perhaps featuring the lovebirds frolicking in a park filled with greenery. And something thoroughly modern, fun. Plus a session of them in conventional Chinese wedding outfits, posing in a charming Beijing courtyard.
Living up to its name, Miracle Love can accommodate all of these requests, and Zhong and Li never even need step outside the shop. Like a Hollywood studio, scores of stylists and makeup experts provide star treatment at dozens of saloon-style bays.
From every wall hang lacy wedding gowns, glitzy ballroom dresses, suits in every style. Scenes can be changed as easily costume thanks to pull-down backdrops. Even Hong Kongís infamous film studios, known to churn out flicks by the week, cannot match Miracleís speed of efficiency. Complete wedding album shoots can be done in a day, film processed on premise.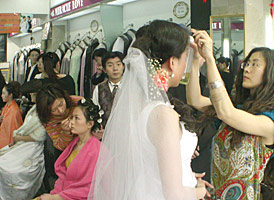 Convenience is but one of the attractions to such wedding boutiques, where a level of luxury and style is offered to those who otherwise could never afford it.
"Weíve been planning our wedding for a year, but there are so many details," says Zhong, who saw an advertisement for Miracle Love at the office where they registered to marry. "This makes it easy, and we really like all the costumes." "Also the makeup," adds Li with a blush. "Itís fun to try new looks."
Li has plenty of company. Around China, more and more couples these days are on a Long March, up the aisles. Eschewing past tendency towards frugality and privacy, weddings in China are becoming ever more celebratory, showy, and expensive. In recent years, members of the rapidly-expanding Middle Class have shown no compunction about spending hundreds, even thousands of dollars, without even factoring in the often-enormous cost of the wedding banquet.
These all-purpose wedding shops began springing up in Beijing, Shanghai and Guangzhou a decade ago, offering seamless services, practically from proposal to honeymoon.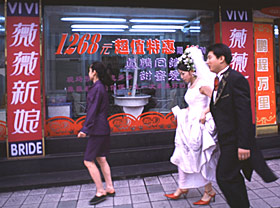 But the past three years, have put the wedding business into a huge boom, spreading to even distant cities. Although many shops arrange everything from catering to honeymoon travel, flashy photographs remain the mainstay of the business and a must for the marriage-minded of Chinaís Now Generation.
About 30,000 couples to date have tied the knot with the assistance of Miracle Love, says founder Du Wong-lung, and thatís just the tally at the Beijing shop, which he founded in 1996. He has 10 other boutiques in other cities, and reckons there may be 500 wedding shops in the capital city alone.
Competition is keenest on Wangfujing, where the ringing of wedding bells has become a major industry for Beijingís prime shopping street. Within two blocks of Miracle Love are half a dozen other shops, including Paris Wedding Photo, a lavish three-story emporium that claims to have kicked off the industry in 1993. With 3,000 square meters of floor space, the shop serves an astonishing 1,000 couples every month through high season, generally spring to fall.
"This kind of business is so much of a fashion business," says manager Eileen Wong. "We redecorate the entire place every two months, and constantly keep changing the costumes, adding new designs. Customers want the latest styles and fashions."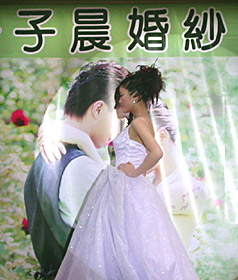 Even a few years ago, Beijing might have been considered out of the fashion loop, but that has changed in a hurry.
Nowadays, newsstands are crammed with a dazzling array of fashion magazines, and malls regularly feature models on catwalks. Spending has spiraled ever upward along with fashion awareness. So itís no surprise to find wedding boutiques packed every weekend with couples leafing through thick catalogs that detail the highly competitive services.
Most packages feature a few changes of costume and studio photography that results in a wedding album that looks like it took months to put together, along with some framed photos for around $225.
More popular packages run about $400, which include not only studio portraits but costumes and photographers on the actual wedding day. Venus Love Studio, also on Wangfujing, offers a nearly-$4,000 package that includes 12 costume changes, your own makeup artist, and outside photography sessions at the Great Wall or Tiananmen Square.
The style of and spending on wedding packages in China follows a well-honed curve in Asia, where rising incomes and modernizing values produced similar booms decades back in Korea and Taiwan. Yet the flamboyance seems all the more spectacular in China, where ostentatious displays were unseen for a half century, and all signs of wealth were so scrupulously suppressed. Even a decade ago, handholding and kissing was never seen in public.
Still, nobody can accuse China of scrimping on cost or ceremony when it comes to weddings in the past. Go back in history and the worldís oldest civilization claims perhaps the richest heritage of betrothal ritual.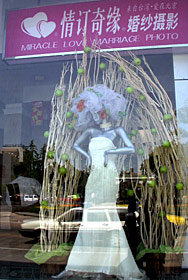 In ancient times, weddings might last for weeks, but would only occur after the culmination of an exhaustive set of protocols and bargaining sessions that could stretch for years. Commonly, the process began with the identification of a prospective match, followed by all kinds of examinations and negotiations.
Astrologers would be consulted, tokens exchanged and tasks or tests would commonly need to be fulfilled. Only then could the various family members proceed to the actual pre-wedding ceremonies, costumed events and feasts that might run for months.
Strip away the white wedding gowns and other fashionable frills in modern mainland weddings and you find that many of these rituals survive in some form. A few years back in Beijing, the utmost of extravagance was renting a car to whisk the betrothed from her home to the wedding ceremony.
Nowadays, weddings more commonly feature the Three Bs: a parade of BMWs, bedecked with bouquets of flowers and balloons. Regardless, both recall the ornate wedding sedan that long ago paraded veiled brides to their betrothal.
Modern weddings lack nothing in superstition either. Most popular wedding dates tend to cluster around the national holidays, May 1 and October 1. Then come all the lucky days.
"Days with even numbers, especially 16 and 18," says Du, who explains that the Chinese word for "one" sounds like "want." Numbers for six and eight sound like those for "luck" and "money." Bad days are any with the number 5 (wu, like the word for disappear) or 0 (which can mean nothing).
And nobody would set a date for the 4th, 14th or 24th of any month. The Chinese word for four sounds too much like death. Few hotels in China even number a fourth floor, much like the western phobia about the unlucky number 13.
Which doesnít let this flashy new generation of Chinese wedding shops off the hook for criticism over the commercialization of marriage and decay of tradition. Largely, though, young and old alike seem more appreciative of the choices they have gained in marriage options than the qualities being lost.
"Young people think, I only get married once, so I will pay anything. It's definitely the trend," says Ding Yi-min, a reporter for the state-run China Features agency. Now that people have money, she explains, they want to splash out for something special, a feeling she knows well. A few years ago, she married in her husband's home in northeastern China. They scrimped on wedding photos, paying only US$40. "Now, we're thinking of re-shooting them."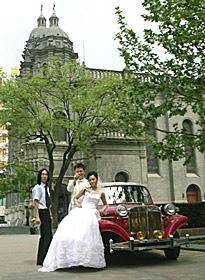 Du says traditional weddings arenít dead, "but people mainly have them for show. Everybody wants modern, new." They certainly get that across the street from Miracle Love, where the restored, century-old St. Josephís Church is the backdrop for innumerable wedding albums.
This year, Du introduced a package that defies belief: included is an actual wedding ceremony inside the church. "Itís not that itís western or that people are religious," he explains. "Itís just that they want something different."
The process works both ways. When New Yorker Alan Kahn wed Jiang Ruo-Yu in Beijing, he says, "our roles were reversed. I was like the bride who wanted it all, the decorations, the traditional Chinese music, the Chinese dress."
Kahn even insisted on consulting Chinese astrologers to pick the most auspicious wedding date. "At the wedding we had all the Chinese games. It was wonderful."
And many traditional elements remain unshakable. For all the gowns in the showrooms and photo sessions, there are few white weddings. Chinese typical slip back into red for the nuptials and wedding party. Red is a color the Chinese associate with happiness and prosperity. White represents death.
Whatever superstitions and traditions survive, there is no question that the direction of weddings in China is towards flash, the bigger the better. Wang notes: "This business is about trends, and itís so competitive, you really need to set them, not follow the trends."
Already sheís planning some surprises for next season. "I want to focus more on personalities. Maybe weíll use the western Zodiac signs, so if youíre a Cancer and a Scorpio, the dress will reflect that."
Du, if anything, is even more outlandish. Already, there have been numerous bungie-jump betrothals and underwater weddings at Blue Zoo, Beijingís aquarium. Currently, Du is working out details for skydiving ceremonies.
Such displays arenít for most newlyweds, including Zhong and Li. "Weíre both in the army. We cannot do anything too exaggerated," he says. In fact, besides the wedding party in Beijing, they will have another ceremony in Qingdao, where his family lives. This will be traditional, but not due to family pressure.
"Actually, my parents really support this," he says, switching outfits for a final photo session at Miracle Love last month. "They are completely supportive and, in some ways, more excited even than us. You have to understand, they didnít have anything like this in their time. This is just another part of New China."
---
Ron Gluckman is an American reporter who has been roaming around Asia since 1991, when he was based in Hong Kong. Since 2000, he has been based in Beijing, covering China for a wide variety of publications including Discovery, the magazine of Cathay Pacific Airlines, which ran this story in December 2003.
For another story on Chinese weddings see Matrimony in the Middle Kingdom
---
To return to the opening page and index

push here
---