Chinese House in Phnom Penh
One of Cambodia's oldest Chinese shop houses has been lovingly restored by descendents of the original owner, and turned into an atmospheric bar, restaurant and art gallery along the riverfront in Phnom Penh.
By Ron Gluckman /Phnom Penh, Cambodia
---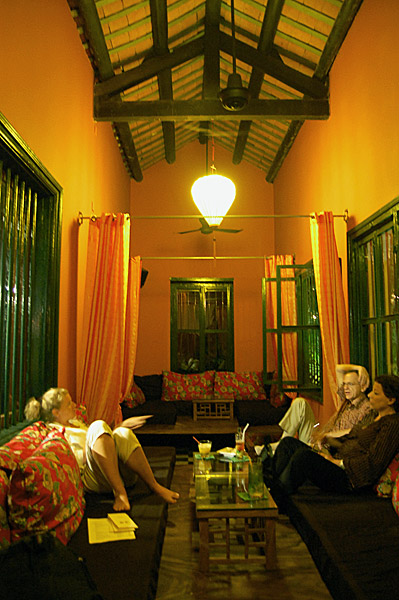 PARTY PLACES KEEP POPPING UP IN PHNOM PENH, where the conversion to clubs of so many atmospheric last-century villas attests not only to the historical grandeur of this former capital of French Indochine, but also its emergence as edgy new playground for Asian night-clubbers.
One lounge in a class by itself is Chinese House, in beautifully restored 19th century Chinese shop house - the oldest in Cambodia. Alexis de Suremain, behind some of Phnom Penh's best boutique inns (the Pavilion and new Blue Lime), created a nightspot modeled on the Face in Bangkok or Shanghai, kitted out with antiques and comfy opium beds on fan-cooled terraces.
Located on the Tonle Sap River near Phnom Penh's oldest Chinese temple, this was the home of Tang Boun Pa, one of the first Chinese merchants granted Cambodian citizenship in the 1800s. In typical fashion, he sold groceries on the ground floor, while the family preserved their Chinese lifestyle upstairs.
Practically all of Cambodia's traditional Chinese homes have been demolished; their contents sold piece-meal by antique dealers. Chinese House, with colorful tile floors, carved screens and shutters, and spectacular wood-beam roof, might have shared the same fate but Tang's descendents bought and refurbished it.
Far from other club zones on the river, by the old port, de Suremain is betting a more discerning audience will appreciate not only the historic look, but the wide selection of cocktails and snacks like dim sum. With tiny red lanterns draping the bar, live jazz, and an exhibit of 18th and 19th Century China prints in the ground-floor gallery, the Chinese New Year's party played to a packed house, proving there is space yet in Phnom Penh's scene for something different.
---
Ron Gluckman is an American reporter who has been living in and covering Asia since 1991, and visiting Cambodia since 1993. He filed this story for Time Magazine in early 2009.
All pictures by RON GLUCKMAN
---
To return to the opening page and index



push here
---