Phnom Penh's hip new scene
War-torn and forlorn for decades, Phnom Penh has bounced back as an edgy-new destination. With a huge stock of glorious colonial-era buildings being transformed into hip boutiques, bars and hotels, cool views over a reversing river and the slow pace of an exotic throwback Asian capital, Phnom Penh is open for business.
By Ron Gluckman /Phnom Penh, Cambodia
---
FROM THE BALCONY OF THE ICONIC FCC in Phnom Penh, one can sit under slow-swirling ceiling fans, sip frothy cappuccino or fine red wine, mesmerized by views of wooden fishing boats floating along the Tonle Sap River.
Balloon vendors stroll the riverfront promenade directly below, and the damp air drips with the scent of grilled meat and baguettes stuffed with pate at bicycle-mounted kitchens, parked before white-shuttered French mansions. One easily feels propelled back in time, to the heyday of Indochine.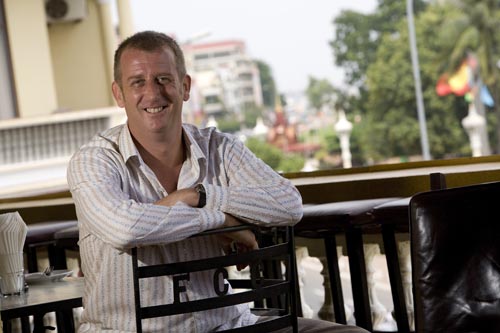 Practically every visitor to Cambodia's sleepy capital city has felt the same allure, and savored it from precisely the same spot. With its expansive menu and open-air terraces,the FCC, or Foreign Correspondent's Club (not a press club, but rather Phnom Penh's landmark watering hole) is a mainstay on practically every tourist itinerary.
Any manager would be pleased, but the smile on Anthony Alderson's face has added luster. That's because, for years, he's soaked up the same serene scene, often by himself.
Alderson moved here from Hong Kong in 1992, among early entrepreneurs who came to serve thousands of workers in the United Nation's first big peacekeeping mission. In the long years afterwards, he touted Cambodia as Asia's next sure-fire destination. But something – kidnappings or coups – always set this country back.
His lonely days are gone, and Phnom Penh is back on tourist maps. From a barstool overlooking the lazy river, Alderson's view up the riverfront Sisowath Quay takes in lots of scaffolding; lovely old colonial mansions here – and around the city – are being refurbished at a brisk pace. Long an investment wasteland, Cambodia is Asia's new tiger economy, roaring to double-digit growth rates.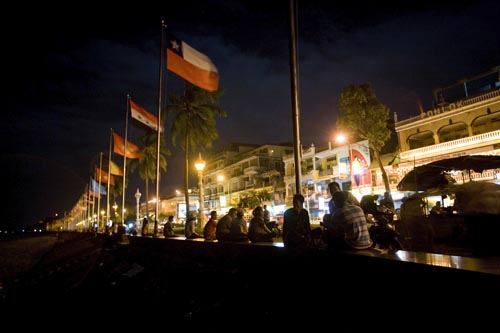 "Cambodia is booming, no question about that," says Alderson, whose FCC group had expanded up country to Siem Reap and neighboring Vietnam. Now, it's ratcheting up investments in Phnom Penh, where it recently acquired a century-old edifice adjacent to the FCC for expansion plans.
Down the block, its popular Spanish tapas bar, Pacharan, serves packed houses inside another lavishly-restored heritage building. Fresco Café, on the ground floor under the FCC, recently added a second outlet. In December, Alderson opened the Quay, a small, stylish hotel right on the river.
The FCC is only one force in a mad monopoly rush among food and beverage firms. The Shop, Java Café, Deli and Garden Café have all added outlets in recent months.
At the Pavillion – Phnom Penh's first boutique hotel – guests tap laptops around a tranquil garden swimming pool but owner Alexis de Suremain is frantic. He's opening three new boutique inns - one with Phnom Penh first private pools – all before celebrating the Pavillion's first anniversary.
"Phnom Penh has taken off, and the growth is going to be explosive for years to come," Alderson predicts. "This time, it's for real."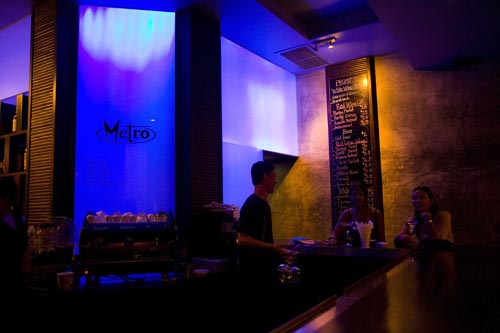 Such swagger appears sensible when one departs the FCC to stroll up the riverfront, where stylish spas and silk shops – and Cambodia's first cookie showroom - are nudging aside the pizza parlors, internet cafes and CD shops serving backpackers who, for many years, comprised most of Cambodia's tiny tourist traffic.
No place better illustrates Phnom Penh's new vibe than Café Metro. An upscale bistro serving fusion fare (pepper-seared tuna, fish skewers, Peking duck pancakes), its bar boasts a backdrop that shifts color continually. Not so waitresses, who wear only black, like from a Robert Palmer video.
Locals love the martinis – shaken, of course - espresso and vanilla are currently in vogue. Best of all is the crowd, a vibrant mix of jetsetters from around the globe and young Cambodians, hair thick with gel.
Such places, and clientele, didn't even exist in Phnom Penh two years ago, testimony to its reinvention as - Manash, a 26-year Londoner gushes one recent martini-soaked night at Metro – "an edgy destination." He explains: "You really feel like an adventurer, here." Even old-timers are agog at the rapid evolution of the entertainment scene.
"A year or two ago, you just didn't see any of these people," confides Tom O'Connor, owner of the Metro, himself an adventurer who came to Cambodia in 1999, after a stint running a bar in Burma. "Phnom Penh has definitely reached a turning point. I cannot believe how quickly it's taken off. Everything is moving forward – and fast."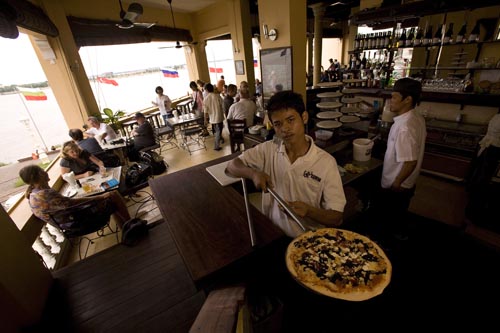 Indeed, options were long limited to Happy Hour at the FCC, or Elephant Bar at Le Royal Raffles Hotel, at least for resident diplomats and ex-pats, mainly aid workers who remain a huge presence in one of Asia's poorest countries. They sustained a handful of smart cafes in a scene dominated by French bistros, simple Cambodian kitchens plus the eclectic Russian restaurant and North Korean noodle bar. The best of the lot - The Shop and Java Café - remain popular hangouts, as much for the hip décor and home-baked bread, as dissection of the latest poverty statistics.
Entrepreneurial ambitions have expanded along with the economy, especially over the past year. Dining options range from Lebanese and Latin restaurants to Italian eateries like Le Duo, soaked in Sicilian authenticity, from lavish wine list to accented welcome by Luigi Savarino. Greeting every guest personally, he doesn't merely recite the nightly specials, but details recipes, suggesting choices for every palate.
After dinner, the in-crowd bounces from Metro up river to Pontoon, a lounge bar with huge couches on an old wooden boat and water-level barge. Or the cigar bar at Topaz, hottest table in town, run by the same group that spiced the local culinary scene with Mali's, serving modern Cambodian fare in palace-like setting, with Buddha heads and lotus ponds. Or Rubies, a wine bar run by an ex-MTV producer on hopping Street 240.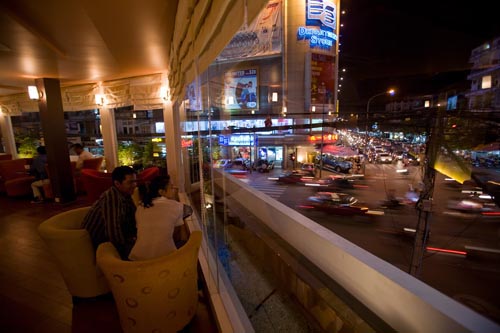 This may resemble the party scene in any small city, but it's a quantum leap for Phnom Penh, which only got its first supermarket this century. The first shopping mall opened in 2005, giving Cambodia one of its tallest buildings (six stories) and first escalator.
Now, 42-story towers sprout around a city that only got ATMs two years back. There is still no sign of a Golden Arch, or any international fast food franchise.
Sluggish development left this one of the best-preserved capitals in Asia, or anywhere. The elephant at the base of Wat Phnom temple – atop the sole hill in a pancake-flat city – is mainly for tourists, but this is a perfect place to start a tour. You climb the hill in the company of scores of monkeys.
At the top, an orchestra produces spiritual sounds on gamelan-like Cambodian instruments. Looking over turrets of the fairytale palace poking through the jungle-draped three-story skyline, it's easy to imagine that Phnom Penh has changed little since a century ago, when it was called the Paris of Asia.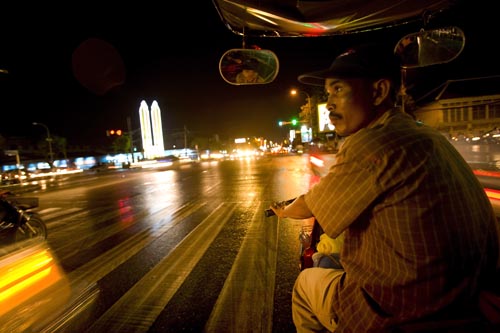 To be sure, the comparison can seem strained. Many buildings haven't been cleaned in decades. Poverty is overwhelming, along with the pestering of beggars, particularly on the riverfront. Yet, all this somehow adds to the earthy charm of Phnom Penh.
Despite local gripes about increasing traffic, the city remains slow paced and easy to get around, on foot or by motorbike. A nifty treat is touring lazily by cyclo – the unique bike-pedaled rickshaw – through neighborhoods of old French villas surrounded by thickets of frangini flowers.
The area around the Royal Palace and majestic Royal Museum is especially evocative, its austere walls off-limits to traffic, creating vast, empty corridors reminiscent of Beijing's ethereal Forbidden City. From the park fountain fronting the palace, you often see not a soul pass save for the occasional orange-robed monks.
A lack of tourist traffic has long been Phnom Penh's allure, although that is changing fast. Until Angelina Jolie put Cambodia on mainstream maps with "Tomb Raider " and her adoption antics, most people likely equated the country with genocide, if they gave Cambodia any thought. An estimated 1.7 million people, nearly a fourth of the population, perished during the 1970s rule of the Khmer Rouge.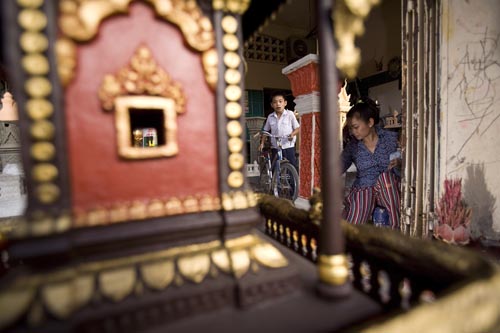 Fighting raged in ensuing decades, and anarchy gripped the country even after the UN spent $10 billion in hope of disarming all the factions and rebuilding society. Safety concerns continued to scare off tourists, particularly after many were kidnapped in the 1990s. Gunfire was still common around Phnom Penh when I first visited in 1993.
Back then, Cambodia hosted under 50,000 visitors. Last year, visitors likely topped two million, a 40-fold hike in less than 15 years. Yet most of them bypassed Phnom Penh, flying directly to Siem Reap for a quick look at the ancient Angkor, a world wonder whose image is emblazoned on everything from the national flag to beer labels.
"In the old days, people flew to Siem Reap and didn't even bother with Phnom Penh, which, frankly, was a dump," says Riaz Mahmood, area general manager for Raffles Hotels & Resorts, which runs the historic Le Royal. "But the tide began turning in early 2006," he says happily. "And it's just continued to grow and grow."
Rooms were in short supply this year long before high season, as group tours in long lines of cyclos began rolling deep into town. They swarmed Central Market, an amazing 1930s art-deco showpiece, shopping for bargains at chaotic Russian Market, where AK 47s sold beside big bales of marijuana only a decade ago.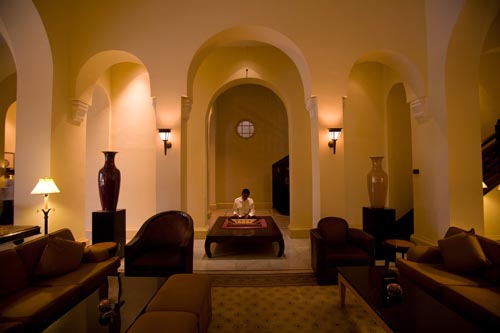 Normally the capital remains deserted until the end of rainy season, when waters surging up the Tonle Sap River perform an annual miracle, reversing direction under pressure from the flooded lake.
"This is our best year by far," notes Mahmood, whose hotel is steeped in lemongrass smells and old-world charm. When the Khmer Rouge rolled into the city, Le Royal is where dignitaries and the foreign press took refuge, as depicted in "The Killing Fields."
With its checkerboard tiles and silk-lantern lights, the impeccably-landscaped property still conjures up colonial bliss; club sandwiches poolside are divine, and the Elephant Bar – E-Bar to locals – is mobbed Friday evenings. For too long, Mahmood notes, it's been a local secret, but occupancy doubled over the last three years. "I'm extremely positive about Phnom Penh. The government is really fixing the place up."
The green park strip in front of the hotel has been replanted with flowers, and joggers trod past young lovers on park benches. Around the city, many public spaces have been reinvigorated. Huge crowds in November cheered the reopening of Independence Monument, a huge, flamboyant Khmer pagoda designed by Vann Molyvann, driving force behind the celebrated modernist style that flourished here in the 1960s.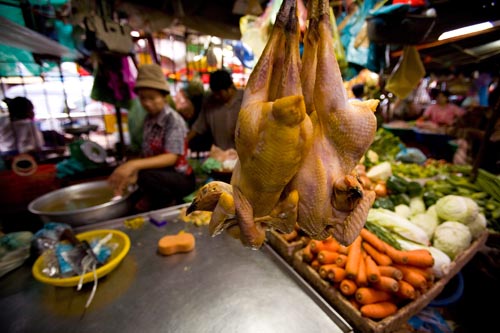 Not all progress is praiseworthy. Human rights groups condemn land grabs by developers in private deals with a regime widely-criticized for corruption. Many historic buildings around town face the wrecking ball.
"There is no preservation program," laments Stefanie Irmer, of Khmer Architecture Tours, which tries to raise awareness of local architecture with regular guided tours. "What is left is remarkable," she says, "but so much of it is in danger." Mahmood adds: "Now is the time to see Phnom Penh. In five years, it won't be the same."
Yet much of the change is for the better, and not only for visitors. Encouraged by the economy, former refugees are returning, bringing a new sense of style with them.
Kethana Dunnet left in the 1960s, long before Cambodia's Golden Age melted down in the nightmare of the Khmer Rouge. She studied in New Zealand, then worked for the national airline, where she met husband Bruce. In the 1990s, while based in Singapore, she began revisiting. Five years ago, they moved back, and opened Sugar Palm.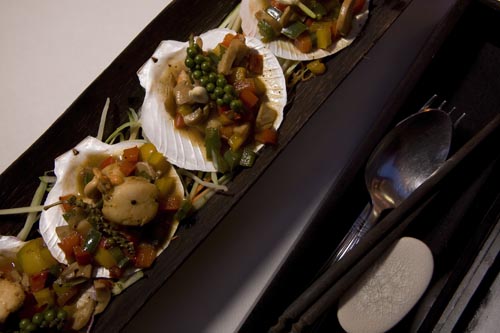 Adorned with silk fabrics and antiques, the renovated shop-house stands out among all the spas, bars and boutiques on Street 240 for its homey feel. Not surprising, since it's the Dunnet home. It also features fabulous home-cooking, the kind visitors in earlier years might have missed. "My husband and I ate in many restaurants after we moved to Cambodia," she recalls, "but not like I remember from growing up in the 1960s."
Blame, again falls on the Khmer Rouge, and the insistent fighting that followed them. Restaurants and schools had been destroyed, food supplies devastated. Cambodian cuisine is often lumped together with Thai cooking, understandable since many restaurants served it to early visitors, knowing they were familiar with Thailand. Both feature galangal and lemons, but Cambodian food tends to be more sour than spicy. And practically all dishes feature prahok, a fermented fish paste.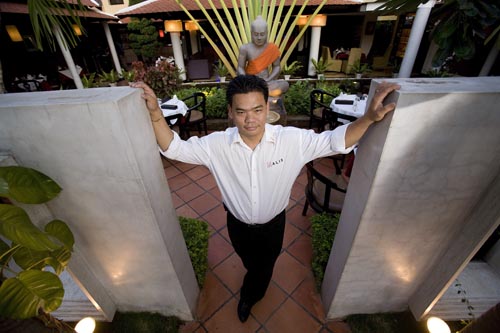 Nobody has done more to restore respectability to Cambodian cuisine than Luu Meng. Head chef at the Sunway Hotel while still in his early 20s, he opened Malis (Cambodian for Jasmine) in late 2005, shaking up the local scene with his modern take on traditional dishes like Mango and Dried Fish, or Pepper Crab (wok fired and spiced with chili and peppercorn) and marvelous deserts (Jasmine ice cream in sweet watermelon soup).
"The easy thing was to copy other places," Meng says. "I wanted to do something new and original." He has since opened a string of restaurants – Anise (Asian fusion), Bai Thong (Thai) and Topaz (fine French dining) – most in partnership with Group TAM.
The latest is Café Sentiment, a three-story coffeehouse on busy Monivong Boulevard. Forget Starbucks. Meng plans a homegrown chain of perhaps 20 outlets within a few years. "This whole town is moving. All of Phnom Penh is open for business."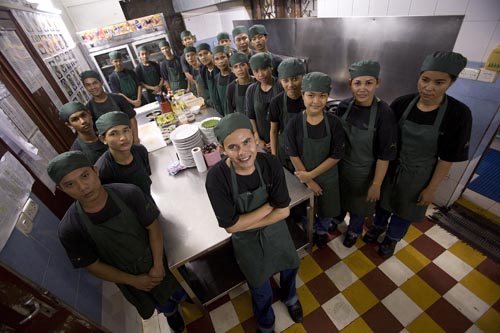 Indeed, Malis is packed nightly, as the capital's dealmakers retreat to private rooms, or recline on black couches at a sleek bar overlooking the lotus pond. Most of the crowd is Cambodian, proving what Meng set out to show, that locals are ready for new levels of service and style. But what about the average citizen, subsisting on under $1 per day?
No place better illustrates the trickle-down effect of tourism than Romdeng, where you can satisfy your stomach without shortchanging your conscience.
Run by the charity Friends, this is the second restaurant staffed entirely by street kids. Friends, the first, instantly became a favorite of aid workers with its wholesome menu and bohemian décor. Romdeng, on Street 278, is more upscale, but with the same wonderful menu.
Head chef Sok Chhong recommends specialties like spicy beef soup with morning glory, fresh pomelo salad with shrimp, topped with coconut, and squid in fresh green peppers (from Kampot, once a world-famous pepper area in Cambodia). Romdeng also features another local delight: tarantula. Locals favor crispy spiders, but the Romdeng version, like all dishes, is subtlety seasoned (in lime juice) and artfully presented.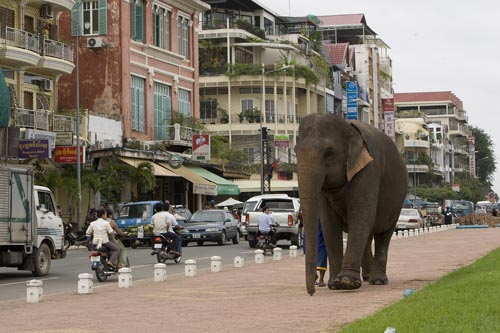 Friends houses and trains homeless street children – currently 800 of them – rescuing many from the massive local sex industry. Chhong came from the countryside to seek work in the capital, but wound up homeless along the river.
Now, he's not only Phnom Penh's youngest chef at 24, but soon to have his own cookbook: "From Spiders to Water Lillies – Creative Cambodian Food with Friends."
"Cooking saved my life," he says. "Someday, I hope to have my own restaurant."
Unlike in the turbulent past, nowadays in Phnom Penh, everything seems possible.
"There is just so much creativity here," notes O'Connor. "Since we opened, there have been so many places putting in that extra effort to add style, to be modern." Soon, he knows, the Metro won't be the hottest pub in town.
It's only natural. Like the flow of the Tonle Sap River, one senses that the tide has finally turned for Phnom Penh.
---
Ron Gluckman is an American reporter who has been living in and covering Asia for 18 years. He has been visiting Cambodia since 1993, and living part time in Phnom Penh since 2005. He wrote this piece in January 2008 for Travel + Leisure (Southeast Asia).
All pictures by David Paul Morris (http://www.davidpaulmorris.com), a photographer who often travels with Ron Gluckman, and who has generously provided plenty of pictures for this site (plus scanning and lots of sound advice).
---
To return to the opening page and index



push here
---