Cambodia's Offbeat Architecture
While cities around Asia rebuilt during recent economic booms, war kept Cambodia's capital of Phnom Penh closed to business and development. The result is a spectacular stock of colonial relics from the old Indochine era. Plus a wide array of indigenous structures increasingly hailed as New Cambodian Architecture.
By Ron Gluckman /Phnom Penh, Cambodia
---
AT A CONGESTED INTERSECTION IN PHNOM PENH, Yam Sokly signals the driver to stop his cyclo, Cambodian's unique, bicycle-pedaled rickshaw. Yam tumbles onto a street cluttered with motorbikes and vendors.
Scanning several buildings, he smiles proudly, and proclaims: "This is it, the special corner I told you about."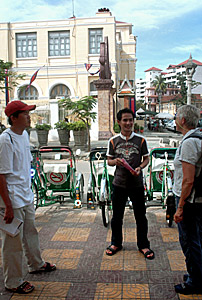 Eyebrows arch amongst our group, and not for the first time. Yet, they had risen with approval hours earlier, when we assembled at the main post office, a grand 19th Century edifice in ochre with white trim.
Yam (in the middle, at left), a local architecture student, is our guide on a tour of little-explored architectural gems in the Cambodian capital.
The post office plaza abounds with examples from the heyday of Indochine: the former Grand Hotel, serving passengers on riverboats a century ago, stately villas built by merchants plying the river trade, and a colonial police station; we visualize French officers fanning themselves in the tropical heat on the surrounding terraces.
We ooh and ahh, but Yam cautions us to wait; more impressive sights lay ahead. And they do.
Slowly rolling in our cyclos, we round a nearby corner and stop at a two-story building with huge open-air frontage and distinctive deco-tinged curving roofline. "The old Citroen showroom," says Yam, pointing out the car maker's distinctive signage, still visible above pajama-clad women playing cards at a café table underneath.
Nearby, along a riverfront where boats once docked from Paris, Hanoi and Shanghai, Yam darts into alleyways. None seem too promising, laundry hanging on lines, and children - sometimes chickens – playing in dirt paths. Then, he takes a sharp turn to reveal an ancient Chinese temple, or the arches of a 120-year-old church.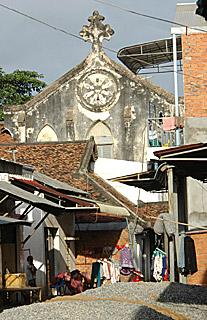 Few are mentioned in guidebooks, or known to many locals, making these discoveries all the more uplifting. Yam just smiles and winks: more startling sights are ahead.
Hence, the downtown corner seems a letdown – at first. For hours, we roll through Phnom Penh's leafy old French quarter, where broad boulevards with park greenbelts attest to a smart colonial urban scheme. Yam shows off former cinemas, the century-old National Library (still open, students earnestly pouring over enormous reference books beneath intricately-carved wooden panels) and the resplendent Raffles Le Royal Hotel.
Now, dusty from the streets, and weary from our sight seeing, we are swallowed up in traffic at the noisy city center. As we lurch out of our cyclos, I look from face to face and see everyone is equally perplexed. No one has a clue what is special here.
Yam expertly unravels the mystery. Pointing out buildings on various corners, he says each is another example of Cambodia's multi-faceted architectural heritage. On one, a Chinese shop-house from the late 1800s. On another, a faded hotel from the 1920s. Finally, there is a fine example of what is increasingly hailed as New Khmer Architecture, from the burst of construction following independence in the 1950s.
"Here it all is," Yam says happily. "Cambodia's architectural history."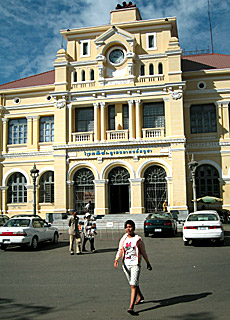 The diverse mix is the essence of the attraction, because taken in part, Phnom Penh cannot claim either the temples of Beijing or Bangkok, nor French colonial relics on the scale of Hanoi or Ho Chi Minh, more prosperous cities from old Indochine. The allure is finding it – Buddhist and Chinese temples, French administrative buildings and villas – all together, surviving in largely unaltered state.
Yet, there is a more significant side to Phnom Penh architecture that is often easy to miss, making a guided tour all the more illuminating. Just as the structures at Yam's favorite corner represent a confluence of styles, so too did Cambodia find itself at a kind of architectural intersection just after independence in 1953.
What ensued was a massive building boom unique to the region. Yam notes that 1,300 structures were erected around Phnom Penh within two decades of independence, an astonishing construction craze for such a small, poorly-developed country. And this was no ordinary building boom, according to architect and author Helen Grant Ross, who details an ambitious plan to transform Phnom Penh into a model urban center.
Young architects in the new republic created a new school of architecture, which she details with co-author Darryl Collins in their recent book, "Building Cambodia: 'New Khmer Architecture' 1953-1970."
The pair, Cambodian residents since the 1990s, identified over 1,000 structures that qualify as examples of an indigenous architecture. Inspired by the clean lines and simplicity of the modernist movement, New Khmer Architecture also drew heavily on visionary elements of the ancient Khmer temple complexes, emulating moats and open space to provide natural ventilation.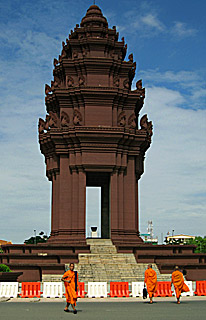 "This was not inspired by Frank Lloyd Wright, not an European clone," notes Ross, "but an authentic style that arose independently in Cambodia."
Perhaps the grandest example, and one visitors cannot fail to miss, is Independence Monument, a flamboyant, but exquisitely-rendered concrete tower in a prime Phnom Penh intersection. Inaugurated in November 1962, the tower with lotus flower top and Angkor-inspired design, received a facelift and new fountains last November.
The widely-heralded work is among numerous structures credited to former National Architect Vann Molyvann. Only in his 30s when he returned from studies in France, Molyvann is considered the key driver of New Khmer Architecture, creating in a short time an amazing body of work, including massive sports stadiums and grand theaters.
His signature design elements include modular box motifs of main buildings, often offset with extravagant triangular roof forms. The latter is exemplified in his almost pop-art design for the Chatamouk Conference Hall. Yet Molyvann's perfectly-balanced designs also drew on simple forms, like the traditional Cambodian palm-leaf hat that inspired his circular library at University Campus, visible on the road to the airport.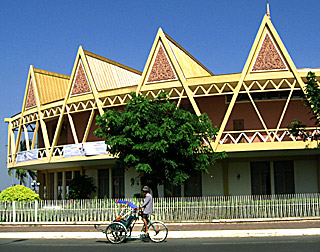 "Vann is pivotal. What is especially astonishing is how much he created is such a short period of time, and he never did anything bad," notes Ross. Sadly, she adds, his work never received the widespread recognition it deserved.
One reason is that his career was derailed by the chaos that consumed Cambodia in the 1970s, most notably the emergence of the Khmer Rouge, blamed for the deaths of as many as a fourth of the population.
While it would be crass to suggest any silver lining to such a dark cloud, Phnom Penh's eclectic architecture was spared the Asian growth that sent skylines soaring from Bangkok to Hong Kong.
Hence, instead of struggling to recreate its past, like Singapore, Phnom Penh doesn't need to. With its fairytale palace and majestic National Museum next door, it looks much as it did half a century ago.
Of course, that hiatus ended with the fighting. Now, Cambodia is growing at double-digit rates, and much of the capital's unusual architecture is under threat. Ross notes that some of Molyvann's finest work and other New Khmer structures have already been demolished.
The same fate has befallen some of Phnom Penh's grandest colonial relics. "Sometimes you see a building, and over the weekend its been razed," laments co-author, and art historian Darryl Collins.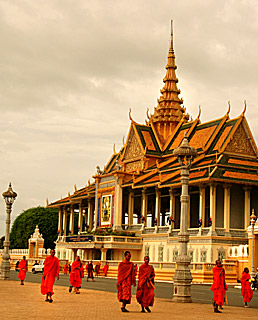 Hence, groups like Heritage Watch, plan to shift some focus from protecting temples from looting to architectural treasures of the capital. "We want to put up plaques, delineating important municipal structures," says archeologist and Heritage Watch founder Dougald O'Reilly. "We've already come up with a target list of 40."
Part of the problem is as much perception as priorities. Locals tend to flock to temples, which command most of scant maintenance funds and attention. Few see value in run-down old buildings, although that is changing as more colonial villas are transformed into hip bistros and hotels. As for New Khmer Architecture, Yam says Cambodians are largely unaware of the new style that emerged here.
The key is to increase awareness of all types of landmark architecture, says O'Reilly. "We need to simply highlight what is out there, and its significance, before it's gone. The first step is to get people thinking about this architecture."
Yam agrees: "People need to see for themselves Phnom Penh's unique architecture."
For now, there is no better way to do that then on a slow-moving cyclo, rolling along the sleepy boulevards of one of Asia's most underrated capital cities.

---
Ron Gluckman is an American reporter who has been living in and covering Asia since 1991, and visiting Cambodia since 1993. From mid-2005, he has been living part-time in Phnom Penh. He wrote this piece for Silk Road in January 2008.
All pictures by RON GLUCKMAN
---
To return to the opening page and index



push here
---