Year of the Mouse
What happens when the world's biggest entertainment company meets the Middle Kingdom? The answer is revealed when Disney opens upon Lantau Island, the first Disneyland in Hong Kong, and China.
By Ron Gluckman/Hong Kong
---
W

HAT HAPPENS WHEN THE MAGIC KINGDOM

meets

the Middle Kingdom?

We'll find out on September 12, the auspicious date that Disney has chosen to open it's new $1.8 billion park on Lantau Island in Hong Kon.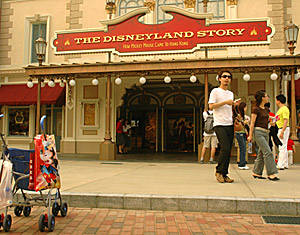 In development since 1999 and largely financed by the Hong Kong government, the first Asian Disneyland outside of Japan began as a bold gamble to revive tourism after the Handover to China, and devastating Asian economic crisis of 1997.
Tourism has since soared, with a record 25 million visitors expected this year (2005), mostly from the Chinese mainland.
But most tend to be business people, a trend Hong Kong hopes to change with the help of the family-oriented Disneyland.
Targeted at families, the newest Disneyland boasts the lowest ticket prices (US$38-45 for adults, $27-32 for kids) but is also the smallest of all the Disney parks.
The Hong Kong park mixes the iconic Disney mainstays like Mickey and Goofy, with lots of Chinese flavor, such as lion dances and dim sum (although protests from environmental groups have ensured that shark's fin is off the menu, following one of the most high-profile miscues in advance of the park opening).
Admission includes entry to all attractions, from Fantasyland, popular for snap-happy visitors as a place to meet Mickey Mouse and the rest of the Disney gang, to the rocket ships and robots of Tomorrowland.
There are also two ocean-view hotels (Hollywood and Victorian themes), an island devoted to Tarzan and special Disney-theme train linked to Hong Kong's MTR, the efficient subway system.
The latter will make the run from the high-rises of downtown's Central District to Disney's 126-hecatare fantasy land in just 25 minutes, making this a small world after all.

---
Ron Gluckman is an American reporter who spent nine years in Hong Kong and another five based in Beijing, besides plenty of time at the original Disneyland as a youngster. He filed this short story for DestinAsian's August/September 2005 issue
Check back for more coverage soon on the impact of Disney, and other news and features from Hong Kong.
All pictures by RON GLUCKMAN
---
To return to the opening page and index

push here
---