The Other Hong Kong
Away from the bustle and bright lights of Asia's most hyper-kinetic city, several islands offer the perfect getaway from Hong Kong. A quick boat ride away from downtown, and you find great hiking, ample greenery, great food and bargains in lodging. In fact, these islands of idyll not only make perfect hideaways, but great bases for exploring Hong Kong.
By Ron Gluckman/Hong Kong
---
H

ONG KONG HITS

the millions of people who visit every year in varied ways - as Eastern, exotic, entertaining, cluttered, heaving. Some find it Chinese, others charmingly international.

But nearly everyone agrees on one thing: It ain't cheap.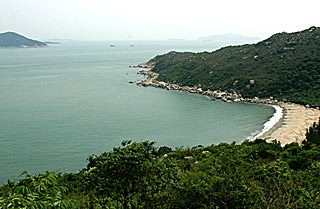 The biggest challenge in Hong Kong is finding a decent place to bunk, and not just for tourists. Locals battle for elbow room in the some of the world's densest neighborhoods, paying breathtaking sums for broom-closet flats that make Manhattan seem spacious and affordable.
Yet, there is another way, a secret path to spacious digs, nestled in spectacular scenery, and a bargain to boot.
When in Hong Kong, do what lots of locals do; head to the islands. Not Hong Kong Island, the city's business and nightlife hub. Beyond Central's skyscrapers and the Kowloon shopping malls are hundreds of islands. Several offer not only an escape from the pell-mell pace of Hong Kong, but intriguing destinations in their own right.
Lantau Island (with the big Buddha on the peak) has a fraction of the people yet is nearly twice as big as Hong Kong Island, with great beaches, fantastic parks and practically no traffic - except golf carts for whizzing around the odd enclave of Discovery Bay.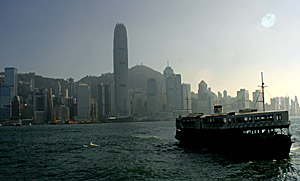 Hong Kong city folk regularly spend huge sums on charter boats just to dine at Lamma Island's famous Sok Ku Wan seafood district. Other isles have authentic Chinese villages, cleaner air, and less noise. Picturesque bays are filled with boats, fishermen tending nets for a living, not for tour groups.
Ferry service (30-50 minutes) is among the best and cheapest of any modern city, making the islands great bases for exploring Hong Kong on a budget. Best of all, the Outlying Islands offer the chance to really do something different on a holiday in Hong Kong - just far enough from the glamour and frenzy of the famous city.
Lantau Island:
Virtually all visitors to Hong Kong begin and end their trip on Lantau, landing or lifting off at Chek Lap Kok airport, opened on the north shore in 1998.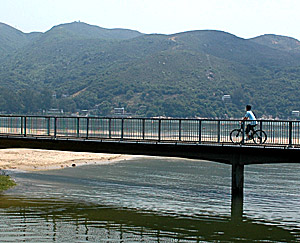 By 2006, a new Disney park near the island's eastern tip is projected to add 5.6 million more visitors per year, many of them Chinese mainlanders. Until then, Lantau is tracked primarily by adventurous day-trippers, who revel in its beaches and 31 square miles of parkland.
Most ferries from Central land at Mui Wo. The town's main street is fringed with open-air seafood and soup stands, as well as restaurants serving Western and international cuisines. Lantau is an amazingly friendly island. Start with a pub lunch at the British-themed China Bear, facing the dock—and before your meat pie hits the table, you'll make half a dozen new friends from around the globe.
A five-minute stroll east along the coastal road ends at Silvermine Bay, where you'll find most of Mui Wo's lodging, including the top choice on all the Outlying Islands, the Silvermine Beach Hotel. Below its windows is a wide stretch of gold sand protected by a shark net.
Or rough it: Nearly the entire western half of Lantau is within Nam Shan park, where walking paths swarm with butterflies. Camping anywhere costs nothing and almost always requires no reservation.
From Mui Wo, take bus #1 or a bike (Friendly Bicycle Shop, around the corner from China Bear, rents them for $4 a day) along the southern coast.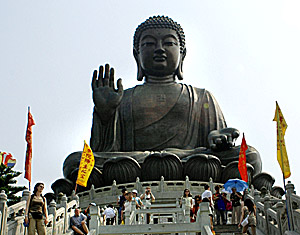 Four miles west, Pui O's shell-lined beach attracts not only picnickers but also a team of water buffalo that, nearly every sunset, wanders from the nearby rice fields to cool off in the surf. Savor the spectacle over margaritas on the patio at Treasure Island, and then crash in its B&B rooms, which were added this year.
Three miles further west is the pearl-white sand of Cheung Sha; overlooking the water is The Stoep, a Mediterranean and South African restaurant that's worth a stop. Past that, houses disappear, replaced by one gorgeous palm-shaded cove after another.
Small vegetable farms form mosaics of green and yellow up the hillsides, and their laborers wear the same bamboo hats with fly netting that are seen in much of southern China.
Thousands of tourists, principally mainland Chinese, come each year to climb the 268 steps to Po Lin (Precious Lotus) Monastery, atop a hill with views down to the South China Sea. The attraction is the summit's enormous Buddha sculpture, more than 110 feet from the pedestal to the curls on his head.
In the adjacent cloisters, you can observe prayer rituals and recharge with a vegetarian meal ($4 for noodles and bean curd).
Tai O, one of Hong Kong's most unusual sights, awaits nearby, at the end of South Lantau road. Until recently, the village of Tai O—actually on its own tiny isle—could only be reached on small boats dragged from shore by ropes.
Now there's a tiny bridge, but little else has changed in over a century: The village, often referred to as a Chinese Venice, is a jumble of wooden houses balancing on stilts over slow-flowing creeks. Like many of these islands, it was once a home to pirates.
You'll get glimpses of an old-fashioned life—fishermen repairing nets, carpenters carving boats by hand, women laying the fresh catch out to dry on rooftops. Tours sold in Central take all day and cost at least $30. In Tai O, half-hour runs are $2.50, and sightings are guaranteed. There's no advance booking; you'll almost certainly be approached by salesmen as you roam the boardwalks.
Cheung Chau:
With few Western residents and no Western restaurants, Cheung Chau is a throwback to a slower time. Here, incense sticks smoke in temples, and parks are filled with card games, the clatter of mah-jongg tiles, and gossip, pretty much as you'd find in towns throughout China.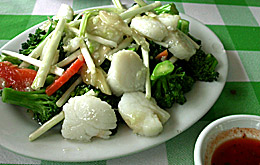 Despite the density—about 20,000 people on an island of less than a square mile—Cheung Chau, with green hills framing its harbor plied by Chinese junks, is still a picturesque place to pass a few aimless days.
Paths wind alongside tiny butcher shops, cheap noodle stalls, apothecaries offering mysterious herbs and Chinese remedies, and elders observing their families from benches in front of the old temples. On weekends, the population doubles with city folk soaking up the nostalgia and the sunshine.
"It's hard to imagine how idyllic it once was," says Canadian Murnie Weeks, an 18-year island resident who runs a tourist information booth. "But even with all the people," he says, "Cheung Chau is still a better place, where you can get away from Hong Kong and have a quieter life."
As soon as you step off the boat, you'll run into dozens of pushcarts manned by guesthouse owners. As with the dolphin-tour guides on Lantau, they don't speak English, but they use plenty of photos to land business; small double rooms start at around $25.
The only full-service hotel on the island, the 71-room Warwick, was recently remodeled and overlooks the busy beach at Tung Wan, a 10-minute stroll from the ferry.
The best food is found right off the dock, where a string of seafood restaurants lines Pak She Praya Road, the waterfront promenade, and serves up dishes of squid, shellfish, and garupa (a whitefish-like cod).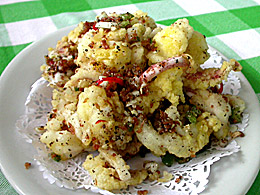 Family-owned Real Taste, on adjoining Pak She Sixth Lane, serves broccoli with mussels, as well as tourist favorites such as lemon chicken. Next door, Hing Lok is the island's only vegetarian restaurant, with adventurous combinations like fried pear with black beans.
Consider planning your visit to coincide with the intriguing Bun Festival, when villagers offer thousands of steamed lotus-paste parcels to the god Pak Tai, who saved Cheung Chau from (depending on the legend) a plague, pirates, or evil spirits. Every spring (in 2005, May 9 to 15), the islanders go mad, covering a trio of 50-foot-tall bamboo towers with thousands of buns.
At the festival's climax, worshippers used to scramble up these structures, but the practice was banned in 1978 after one of the structures snapped. Still, the annual celebration is probably the most colorful in the Outlying Islands, and it offers a rare chance to get a front-row seat for the sort of Chinese festivities that are normally too mobbed to enjoy in the city: banging drums, dragon dancing, parades, and elaborate costumes.
Lamma Island:
Lamma has 12,000 residents, including a large concentration of expats—teasingly nicknamed gwailo, or "ghosts," by Chinese—who moved here for the small-town appeal. There are no cars, no big stores, and few buildings over three stories tall.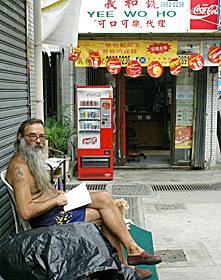 "If Hong Kong were the United States, then Lamma Island would be San Francisco," says British-born Nick Lovatt. Once a well-known radio personality here, he now sits shirtless in town a few days a week, selling used books. "It's a free place, where you can do what you want, and you know everyone by name or nickname. It's completely laid-back."
Half-hour ferry trips from Central usually land you in the village of Yung Shue Wan, on the northwest coast, where most services and people cluster.
A few minutes' walk from the pier, on the central lane threading through town, check in with a real estate agent such as Bali Holiday Resort or Sunrise Holiday Resort and rent a harborside apartment, with a furnished kitchen, for as little as $36 a night.
Living like a local can be endearingly quirky in a Woebegone sort of way: The neighborhood flower shop rents videos, and at the hardware store, customers pick up eggs and herbs along with nails.
There's a toy-town quality about Lamma, which, because of its narrow alleys, claimed (until recently) the world's tiniest ambulances and fire trucks, each less than five feet wide. They've been replaced by little vans and buggies, but policemen still patrol on foot or mountain bike.
Visitors don't need vehicles: Paved paths link the island's undeveloped bays with Yung Shue Wan. There are intermittent pavilions where you can sit and listen to birds rustling in the banana plants before you reach the peaks, where you'll be rewarded with spectacular vistas of many other islands.
Start the day with dim sum, the Cantonese specialty of dumplings and other small dishes, available until around noon. At Sampan Seafood, on Main Street, $7 buys a feast for two, including tsu mai (pork and crab-egg dumplings), fan gow (pork, peanuts, and vegetables in rice paper), and sin jok guun (minced pork, cabbage, and black fungus in tofu skin).
Down the street from Sampan, hold court with the island's counterculture Westerners, who debate environmental policies over muesli at the Bookworm—note the i love yoga stickers—or buy organic snacks and smoothies at Green Cottage, which has sidewalk tables where you can keep an eye on the town's many bohemian characters.
Evenings and weekends, charter boats descend on Sok Ku Wan, a village on the eastern shore, and unleash diners upon more than a dozen seaside restaurants, some of Hong Kong's finest. Top choice: Lamma Hilton (no relation), where the fried squid with spicy salt is incredible.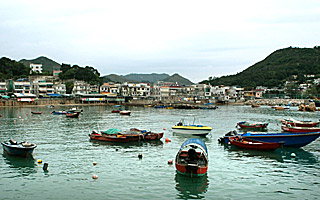 Public ferries from Central also land there; the one-hour walk to Yung Shue Wan makes for an easy day-trip loop. Near the hike's midpoint, on popular Hung Shing Yeh Beach, is Concerto Inn. With warning, the owners will porter your luggage from either ferry dock for free, leaving you to explore unencumbered.
Ferries board just below the Central metro (MTR) station, which is also where the train from the airport ($13) arrives. There is signage in English. Boats generally depart every hour, with greater frequency during rush hours.
For Lantau and Cheung Chau timetables, log on to nwff.com.hk; for Lamma, hkkf.com.hk. Rides take from 30 to 60 minutes. Tickets for standard service cost around $1.30 and don't require reservations, but fares and hotel rates rise about 40 percent on weekends. Prepay all ferry, bus, and subway rides with an Octopus card, available at all MTR stations and at most convenience stores.
FACT FILE
Lantau Lodging:
Silvermine Beach Hotel 648 Silvermine Bay, Mui Wo, 011-852/2984-8295, resort.com.hk, doubles from $117
Treasure Island Pui O Beach, 011-852/2546-3543, treasureislandhk.com, margaritas $6, rooms from $65
Lantau Food:
China Bear 3 Ngan Wan Rd., Mui Wo, 011-852/ 2984-9720, pints $4.50, meat pies $6
The Stoep 32 Lower Cheung Sha Village, 011-852/2980-2699, entrées from $11
Lantau Transportation:
Friendly Bicycle Shop Shop 12 Mui Wo Centre, 011-852/2984-2278, daily rentals $4
Cheung Chau Lodging:
Warwick Hotel East Bay, 011-852/2981-0081, warwickhotelcc.com.hk, doubles from $85
Cheung Chau Food:
Real Taste Pak She Sixth Ln., no phone, meals $5–$6
Hing Lok Pak She Sixth Ln., 011-852/2981-9773, meals from $5
Lamma Lodging:
Concerto Inn 20 Hung Shing Yeh Beach, 011-852/2982-1668, concertoinn.com.hk, doubles from $59
Bali Holiday Resort 8 Main St., Yung Shue Wan, 011-852/2982-4580, apartments from $36
Sunrise Holiday Resort Jackson Property Agents, 15 Main St., Yung Shue Wan, 011-852/2982-2626, lammaresort.com, apartments from $40
Lamma Food:
Sampan Seafood 16 Main St., Yung Shue Wan, 011-852/2982-2313, dim sum dishes $1–$3
Green Cottage 15A Main St., Yung Shue Wan, 011-852/2982-6934, smoothies $3–$4
Bookworm Café 79 Main St., Yung Shue Wan, 011-852/2982-4838
Lamma Hilton 26 South, Sok Ku Wan, 011-852/2982-8241, meals from $6
Shopping:
D&N Second-Hand Shop 73 Main St., Yung Shue Wan, 011-852/2147-2168
---
Ron Gluckman is an American reporter who spent nine years in Hong Kong (living on Lamma Island), from 1990-99, and continues to return regularly, reporting for magazines like Budget Travel, which ran this story in the summer of 2004.
All pictures by RON GLUCKMAN
---
To return to the opening page and index

push here
---