Behind Hong Kong's Yoga Boom
Hype is a huge part of the sudden success of yoga in Hong Kong, which boasts the world's biggest, most expensive facilities, top teachers and, of course, designer yoga gear. But the men behind the boom have carefully stoked the fires of this yoga passion, and they are just getting started.
By Ron Gluckman/Hong Kong
---
T

HE TALK OF THE TOWN IS TOUGH

to miss in Hong Kong.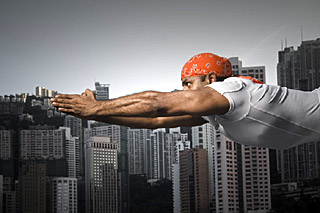 Compact and charismatic, Master Kamal's much-admired, perfectly-formed body graces scores of billboards blanketing the city. His million-dollar smile became a mainstay of magazines long before his recent television series and DVD cemented his complete mass-market appeal.
"He's fabulous," enthuses Wendy Lee, a longtime fan who can claim to be among the crowds weathering lengthy queues at some of Kamal's defining performances. The wait, she says, was more than worth it. "Master Kamal is the greatest. He's a superstar."
Master Kamal represents a new mode of idol for a city that has long embraced syrupy pop crooners, kung fu kickers and reedy fashion models. Kamal's performances feature plenty of on-stage prancing, and he uses a headset-mounted microphone to stir fans into delirious, sweat-soaked frenzy, yet he's neither hip-hop sensation nor rock singer.
Kamal qualifies as Hong Kong's first New Age Wonder. He's the top yogi in town.
Yoga has taken Hong Kong by storm, surging in a few short years from poorly-lit back-alley studios to lavish facilities atop penthouse suites and entire floors in five-star hotels.
"When we opened our first studio, everyone thought were crazy," admits Colin Grant, CEO of Pure Yoga, Hong Kong's premier yoga chain, claiming the largest, most lavish facilities.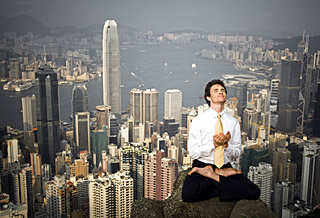 The first opened in 2002, in the Central Business District, where Pure Yoga splashed out on $1 million to equip what critics then ridiculed as an extravagant 7,000-square-foot studio. In April, Pure Yoga opened its third yoga studio in Causeway Bay, three times as big, and will soon add a Mongkok facility with 35,000 square feet.
"Business is booming, bigger than anyone, even we expected," says the 39-year-old yoga magnate, a Hong Kong resident for 28 years. "Business is explosive, and I don't even think we have scratched the surface yet."
The trend is all the more remarkable considering Hong Kong is world renowned as a 24-hour, seven-day-a-week work city known for its intense speed, stress and shopping, but never spiritual well-being.
Yet, yoga has carved out a om-inous niche in this hyper-kinetic city, complimenting the all-consuming pursuit of wealth with a newfound concern for health.
Kamal is widely acknowledged as the catalyst for the transition. Hailing from Visakhapatnam, in southern India, he is an accomplished yogi who has studied with some of the world masters.
His appeal lies in his inane knack for blending showmanship with spirituality. "It's really about creativity, and feeling good," he says with that glowing grin. "I came to Hong Kong with every style, but my own unique system. I had therapy, meditation, exercise. I really made it like a one-stop shop."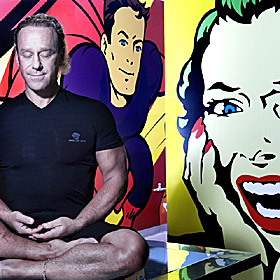 Arriving in Hong Kong in 1998, Kamal initially taught yoga at one of the local fitness centers. Workouts were then the rage; yoga wasn't on anyone's radar. "Hong Kong didn't even have any real yoga studios then," he recalls. "Classes had 4-5 students."
Kamal quickly spiced up the scene with his spirited stage presence. Fitness tycoon Eric Levine (at left), who brought Kamal to Hong Kong, calls him "the Mick Jagger of yoga." Like the Rolling Stones star, Kamal soon was wowing standing-room only crowds.
"You had to wait in line for the showers," confirms Lee, 32. "All his classes were packed, but still people came. He's a yoga star."
Kamal's own Planet Yoga now fills five floors of the sleek Silver Tower in Central; two more have opened in Bangkok and the brand is expanding across Asia. Kamal may be the poster boy for Hong Kong's yoga phenomena, but his is only the most recognizable face for a citywide trend that has had impact at the highest levels.
Check into the newest and most expensive hotels in Hong Kong, and rooms now come not only with stunning exterior views, but the option of inner nirvana. The Four Seasons, which opened along the waterfront in September (2005), boasts a high-tech oxygenated yoga room.
Director of publicity Abigail Walters shows off the chic powder-blue room with pumped-in oxygen. "The room color can be changed to suit any mood," she notes.
The Landmark Mandarin Oriental opened last August (2005), claiming the city's highest room rates and status as the downtown's first boutique property, as well as another rather unconventional first: a resident yoga expert. Norwegian Alexander Medin is among less than dozen teachers worldwide certified to teach Ashtanga Yoga.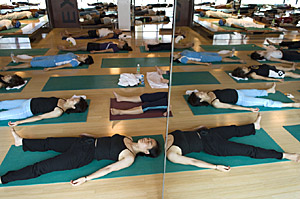 While skylights swept the Central sky, as celebrities swarmed the hotel during a series star-studded openings, Medin brought four of India's oldest and most renowned yogis to Hong Kong for a series of instructional sessions that some dubbed "The World Cup of Yoga."
The Hong Kong yoga sensation is "part of a worldwide story," says Levine, 49, whose California Wow claims "the world's Number One fitness centers" as well as two yoga brands in Hong Kong, Planet Yoga and Bikram Yoga.
"Yoga is big all over the world. It has been for years. But in Hong Kong," he concedes, "it's really something else.
"Hong Kong is used to the best. Our customers are millionaires, movie stars, CEOs. They expect the best. The best locations, the best teachers, the best yoga," he explains. "We've got the caviar of yoga in Hong Kong."
Take Bikram Yoga, named for legendary guru-to-the stars Bikram Choudhury, who has worked with everyone from Richard Nixon and Bill Clinton, to Madonna and Brooke Shields. Bikram is a distinct style of hot yoga, conducted in studios heated to 37 degrees.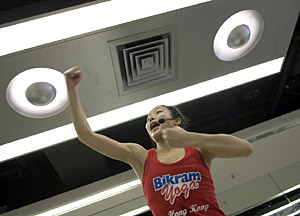 Practitioners rave about the effects of the exertion and resultant weight loss, up to a kilo per class. A global sensation, Bikram now offers instruction in 800 locations worldwide. When Levine brought Bikram to Hong Kong, he splashed out on a $2 million studio that opened last March in Tsim Sha Tsui. It's the largest Bikram yet.
"This is the largest, most beautiful, most expensive Bikram studio in the world," says Ida Ripley, a Canadian Bikram instruction who quickly became savvy about the local market. "This is Hong Kong. You either go big, or you go home."
Still, it pales in comparison to the 22,000-square-foot yoga palace that rival Pure Yoga opened a month later in the upper floors of the nearby Peninsula Office Tower.
This is perhaps the defining Hong Kong yoga studio – part five-star spa, part exclusive country club. Top designer yoga gear sells in the lobby boutique and sweeping floor-to-ceiling windows offer harbor views otherwise only seen in board rooms.
"People call us the Louie Vitton of yoga," chuckles Grant.
The upscale facilities, unparalleled anywhere in the world, according to Levine and Grant, seem all the more impressive when put into context. A decade ago, Hong Kong had no studios, and little yoga practice.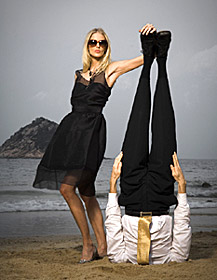 Classes started and stalled in a series of small backrooms in Wanchi or upon distant Lamma Island, the longstanding local center of the counter culture.
Linda Shevloff, a local yoga teacher and speaker at the Mandarin yoga summit, gave an excellent overview of the short history of yoga in Hong Kong. She recalled how there were no studios as late as 1998, and reminisced about a similar workshop held that year.
Lingering afterwards with a few other yoga enthusiasts, they formed the Yoga Society of Hong Kong. By the end of that year, the first dedicated yoga centers had opened.
She, too, credits Master Kamal with bringing yoga to the masses, and the opening of the first Pure Yoga as "a significant milestone." She added: "Now there is probably not a fitness club in Hong Kong that lacks a yoga teacher and virtually everyone in the city thinks they know what yoga is…. Yoga has gone mainstream."
Shevloff generally thinks the new attention is positive, but she and others fret about the way yoga is being commercialized.
While the presentation of people like Kamal and the lavish facilities have made yoga more palatable to locals, the ancient instruction has also been revamped in the process. Call it yoga with Hong Kong characteristics.
In most cases, that has put the intricate philosophy of yoga in the shadows, while the stretching exercises are often all that most students hear about. Billboards around the city make crass boasts about the benefits of yoga: weight loss, smoother skin, better sex.
"Yoga isn't about how many postures you can do, or losing weight, or a better skin tone," says Medin at the Mandarin.
(Surveys consistently show that weight loss and better appearance are overwhelmingly the main lure to most yoga students, the vast majority of which are Chinese women).
"This is all hype, marketing, not yoga," says Medin.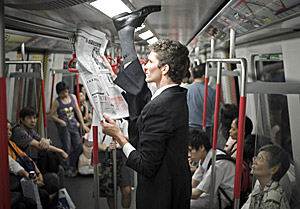 Far from cringing at such concerns, Levine and Grant, the two biggest forces behind Hong Kong's current yoga boom, not only accept the criticism, but concede qualms of their own. Perhaps that's because yoga has not only made both rich, but also brought each a sense of well being.
Levine started his yoga practice over three decades ago, as a teenager in Canada. He made a pilgrimage to India to study with the masters.
"Now, yoga is mainstream, and I think it's the greatest thing that has happened since I've been alive," he says. "Whatever draws people to yoga doesn't really matter, because yoga is wonderful for you."
Grant is much more of newcomer to yoga, introduced to the practice during a serendipitous twist to a Canadian holiday with Hong Kong pal Bruce Rockowitz.
The pair were meant to be playing golf, but rains drove them indoors. Athletic and restless, they turned to yoga at the suggestion of one of their wives.
"We tried it, liked it, then did it again," Grant recalls. Back in Hong Kong, they went to a local yoga class and were disappointed. Light-bulbs practically flashed overhead.
The two entrepreneurs promptly flew back to Canada, hired the teacher there, flew him to Hong Kong and launched the first Pure Yoga.
"I think the point is that yoga has been around all this time, it was just never presented to people this way. We've made it available to the masses," he says. "The facilities may be nicer, but really, it's still yoga."
Levine points out that nothing really matters beyond how yoga makes you feel. For Pui-Shan Tsang, 25, its worth the one-hour commute from her home in Tai Po.
"My friends told me about yoga. I used to work out, but this is a much better way to sweat," said the food manufacturing supervisor. "I have a l have a lot of stress in my job. This is a great way to lose weight, stay in shape and get rid of my stress."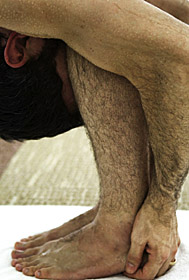 Hang-Shuen Yu, 28, is one of the rare men in the classes at Planet Yoga. (Kamal says 80-90 percent are women, which is consistent citywide). Yu has been doing yoga for five years, coming daily. An insurance salesman, he works long hours. "Yoga helps me keep in shape, but more important, it's good for relaxing."
Kamal concedes that the deeper messages of yoga, embodied in thousands of years of philosophy, are of scant concern to most students.
"They really are put off by anything that smacks of religion," he admits. "I do explain about the mantras. I chant. I explain clearly. But the lectures are kept short. Long talks are boring."
Francis Gairns, editor of Namaskar, the journal of the Yoga Society of Hong Kong, puts it all in perspective.
A lifelong Hong Kong resident and instructor at Pure Yoga, she says, "People come for all different reasons. They might come for weight loss or to look better. But yoga works. It does make them feel better. We see it every day."
Grant adds: "There are a lot of claims being made, but I believe in this. I've seen the results. People come out and feel great. We will let yoga do the talking."

---
Ron Gluckman is an American reporter who spent nine years in Hong Kong, from 1990-99, and continues to return regularly, reporting for magazines like Cathay Pacific Airline's Discovery magazine, which ran this story in February 2006.
Click this link for another take on the Hong Kong yoga boom
All Pictures by GERHARD JOREN
---
To return to the opening page and index

push here
---