Hong Kong's New Buzz
Disney is only one of many reasons why a record number of visitors are rediscovering Hong Kong in the mid-2000s, as it's once again among Asia's most exciting cities. With a slew of new high-end hotels, shopping palaces, rebounding economy and renewed vibrancy, the city is rocking like its 1990s heyday.
By Ron Gluckman/Hong Kong
---
H
ONG KONG IS HEAVING.
Strolling fashionable Hollywood Road, I'm quickly swept up by the boisterous crowds pouring into the narrow alleys that climb the slope above Central District. Charmingly dubbed Soho (South of Hollywood), this spider's web of cramped streets was once typical Hong Kong, a chaotic maze of print shops, laundries and flower stalls.
Now, it's hip Hong Kong: boutiques offering cool clothes, ceramics, candles and kites, plus myriad intimate diners, many with a mere handful of tables. Together, they form the city's most diverse culinary district.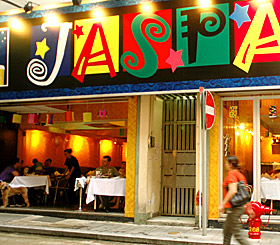 Whether you crave tapas, satay, African, even heavenly Himalayan dumplings, you can eat your fill here…. provided you booked in advance.
I haven't, so for several nights running, I meet old friends in Soho, then we scavenge seating. "What gives?" I ask, as we wander door to door. After all, it's mid-week in foul weather, with rain falling for days. Sold-out Soho in such conditions seems all the more perplexing since, on repeated visits in recent years, I recall ample empty tables, and enticing specials.
That, Tim Noonan, columnist for the South China Morning Post, Hong Kong's largest English daily, delights in noting, was then. "Now, Hong Kong is humming."
Tim and I go back a dozen years in Hong Kong, and he's taken much ribbing about its recent rash of problems, all too often, he recalls, by me. "Take a look around you," he says with relish. "Everywhere you go, every restaurant, every hotel in this city is packed." Tucking into his meal, he adds: "The buzz is back."
There is no better way to describe the Hong Kong that greets me in late 2005; the place is pumping. Crowds pack Soho nightly and throng nearby Lan Kwai Fong, long the prime local nightlife district, but for years a shadow of its 1990s heyday. Now it's rocking like there is no tomorrow. And so is the rest of Hong Kong.
Everywhere I go, I find the same upbeat optimism, devil-may-care spending and cocky confidence, common only to the rarest of boom cities. The feel is intoxicating. And remarkably familiar. Present Hong Kong resembles nothing so much as this city during its hyper-kinetic, pre-1997 peak.
The contrast is all the more striking since, for a decade, pundits have been proclaiming this city's demise.
"Hong Kong has always been like this, with these incredible bumps and booms," notes Michelle Garnaut, who runs M on the Fringe restaurant in Hong Kong and M on the Bund in Shanghai.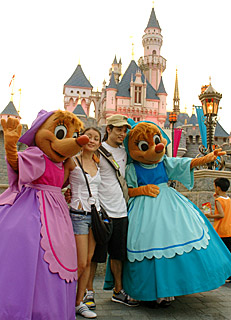 "For a long time, Hong Kong was down, down, the worst I've seen," says the 21-year resident. "Now, it's definitely up again."
The bounce follows a slew of measures designed to boost tourism; my visit is timed to survey the first payoffs. In mid-September, Disney opened a $3.5 billion park, the cream of a crop of new attractions meant to reinvigorate a city mired in unprecedented slump.
Coming soon are a revamped Peak Tower overlooking Hong Kong and $750-million refurbishing of Ocean Park. Already open or soon to follow: $300-million WorldExpo, the area's largest exhibition center; Sky Plaza, a $275 million airport mall; and a cable car to the Big Buddha, all on Lantau Island with Hong Kong Disneyland.
Then, there are plush new hotels and glitzy shopping malls by the score. Other schemes aim to brighten the local mood after years of negative growth and gloom.
Colored lights sweep the harbor nightly, but I spy few visitors watching from a spiffy new waterfront promenade in Kowloon. Most are too busy pushing into camera shops on Nathan Road, computer malls or fashion stalls.
The whole city vibrates with the same mad, exuberant tizzy. Trams and ferries are all full, and even idyllic outlying islands teem with traffic.
Much of it is Chinese, as millions take advantage of travel rules eased by Beijing to help revive Hong Kong. Yet anyone who thinks China is bankrolling a contrived turnaround is crazy.
Through last October, tourism reached new levels, month after record-breaking month. True, most visitors are Chinese, but greater percentage gains come from around the globe. Arrivals from Australia, New Zealand and the rest of South Pacific surged 42.8 percent in August, while visitors from Europe, Africa and the Middle East rose 29 percent. Even timid American travelers were up 7.6 percent.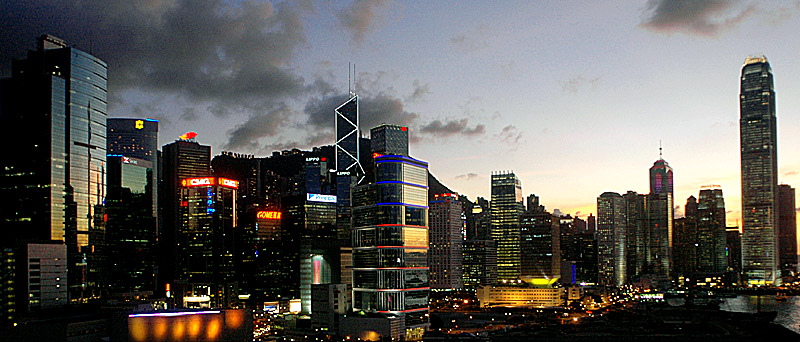 "Hong Kong is in the midst of a new boom," notes William Mackay, general manager of the Four Seasons Hotel, the bigger of two grand properties that are the first new top-line downtown hotels in over a decade.
"A few years ago, Hong Kong was dead," adds Susanne Hatje, manager of luxurious Landmark Mandarin Oriental, the first boutique hotel in Central. "Nothing was happening. Now, there are openings all the time."
With nearly 1,000 rooms and service apartments, Four Seasons is the brand's biggest ever. Yet even another two big Disney hotels doesn't concern Mackay. Last year, he notes, every Central hotel was sold out 100 nights solid, and the spillover stretched from Kowloon clear across the Chinese border in Shenzhen. "We are just getting going," he predicts.
Across the harbor at the Peninsula, the grand dame of local hotels, communications director Sian Griffiths concurs: "Things have been really hopping for over a year. We're definitely on a strong upturn." Still, she adds: "Business is finally back to 1997 levels."
---
Rumors of the demise of this former British colony circulated widely in the run-up to its mid-1997 return to China, most famously in a Fortune Magazine article headlined, "The Death of Hong Kong."
"What will change after midnight on June 30, 1997?" wrote Louis Kraar. "Everything… In fact, the naked truth about Hong Kong's future can be summed up in two words: It's over."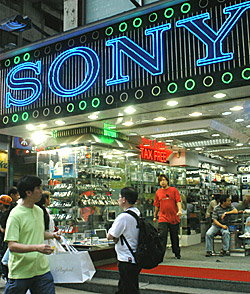 Fatalistic, for sure, but the story detailed widely-voiced concerns. Could China's Communist leaders resist tampering with Hong Kong's vaunted free trade and respected rule of law? Would integration erase Hong Kong's lucrative role as gateway to China, close but at a comfortable distance? Would Hong Kong lose its luster, reduced to irrelevance as just another dreary Chinese city?
"The death of Hong Kong was a figment of one writer's imagination," quips Alan Zeman, Chairman of Lan Kwai Fong Holdings and largely credited with launching Lan Kwai Fong.
"In 1997 and before, reporters were always asking me to say bad things. That was the mood of the time, but even then, I saw a rebirth coming for Hong Kong."
Easy to say now, with visitors on line to top 24 million in 2005 (twice that of Thailand). Yet optimism wasn't so prevalent post-1997, when the economy tanked, just for reasons nobody expected. Before analysts could sort out the impacts of Handover, Hong Kong was hit in quick succession by a series of unforeseeable blows: first, after-effects of the Asian Financial Crisis and dot-com meltdown; later, the residual impact of 9/11 and the War on Terrorism, then Bird Flu and SARS.
Tourism and investment withered while property values, the real measure of wealth in this cramped, hyper-ramped real estate market, plummeted. Unemployment soared to 10 percent as hard times hit with a fury that touched all. Many moved across the border to booming China, as I did, after living in Hong Kong through the 1990s.
Yet, every few months, I returned to watch this city grapple to redefine its relationship with Beijing and role in a rapidly-evolving China. Most moving were conversations in cabs in the early 2000s, conducted in perfect English. Previously, drivers had been immigrants from China. Now, retired civil engineers and professors took the wheel to make payments on nest-egg flats suddenly worth less than the mortgage.
The government mounted desperate measures to spark a turnaround, including huge investments in tourism, like $3 billion in sweeteners to lure Mickey Mouse and his Disney pals to town.
But the boldest move was appealing to Beijing to ramp up Chinese tourism, a total reversal of pre-1997 sentiment. The fear before was that too many mainlanders would spoil the evocative East-West fusion that had always been Hong Kong's unique appeal, to visitors and locals alike.
Beijing widened travel permission to a growing number of Chinese in a series of steps that quickly sent tourism soaring, and cash registers ringing. Despite initial foreboding, local media were soon touting "the new Japanese," especially as daily spending exceeded that even of Europeans and Americans.
One unexpected silver lining to Hong Kong's recent plight is that the rescue efforts have unquestionably speeded integration. "Hong Kong stopped looking down its nose at China," Garnaut says.
"Before, there was this sense of superiority, but the troubles changed all that. People embraced the mainland and its tourists, as the money poured in." She adds: "People finally got over their fear of China."
Still, enormous insecurity remains about what role this modern, aggressively-outward city that became more affluent than Britain can serve with a new parent vastly poorer and more insular. "The identity question remains," says native Lawrence Matthews, director of the company behind Jewel, Central's hot nightclub.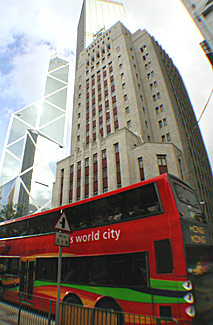 "It really depends on who you ask. The working-class is definitely becoming more comfortable and patriotic. But others feel separate from China," he adds, "more like a separate colony."
Indeed, Hong Kong has always had a different feel, and not just because of colonial icons like the century-old Legco Building with its baroque dome or the double-decker trams that rumble past Victorian-style Western Market.
The relentless 24/7 work ethic and money-making acumen has kept Hong Kong one of the world's most productive and profitable financial capitals. But there is also a magic and vibrancy to this neon-lit, concrete-strewn territory, riddled with delightful contradictions.
Half an hour by boat is Lamma Island, my home for a decade. With no roads or buildings over three stories, this is the local Greenwich, a laid-back haven for musicians, artists, writers and the resident counter-culture. No such place exists in China.
"The thing is, most of us never felt a part of the United Kingdom and that's pretty much the same now," says a former neighbor, Ricky, a Chinese photographer. "In Hong Kong, we were different from China, and that's how we still feel."
Pre-1997 anxieties have eased, he concedes. "One important factor is that China has changed, much faster than anyone expected. All the talk was always about Hong Kong changing, becoming more Chinese. But China has become a lot more like Hong Kong."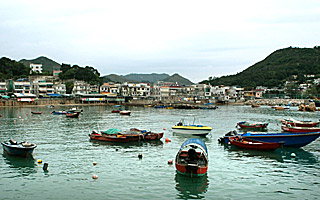 Capitalism may be the new craze in China, but Beijing remains unbending about so many things. Leaving Lamma, I ferry back to Central and make my way to another old haunt, Club 64. A colorful Lan Kwai Fong anomaly, this hole-in-the wall bar drew a loyal crowd with cheap drinks and avant-garde art shows.
Launched by Grace Ma, head of the local press society, it was an understated alternative to the colonnaded Foreign Correspondent's Club up the block, and quickly became a meeting place for democracy activists and local journalists. The name refers to June 4, anniversary of the Tiananmen Square massacre, marked here by annual street protests.
Local demonstrations continue to rile Beijing, and baffle commentators. Every time analysts proclaim that profit-minded locals put prosperity ahead of politics, pointing to dwindling attendance at some June 4 gathering as proof, crowds swell into the streets, as last December when hundreds of thousands marched demanding greater democracy.
That's promised in the Basic Law, the charter that detailed Britain's obligations to Handover, and China's for 50 years into the future. But Beijing refuses to allow an elected leader, installing a Chief Executive of its choosing.
Tempers eased when immensely-unpopular Tung Chee-hwa was replaced last year by more cosmopolitan Donald Tsang, but that hasn't settled the suffrage stalemate. Hence, it's a safe bet that protests will continue, but this much is certain: activists won't retreat afterwards to Club 64.
The week Disney opened, Club 64 closed. But Beijing pressure didn't pull the plug. Ma was unable to meet rising rents, which tripled as the property market bounced back.
Communism didn't kill Hong Kong's protest pub; capitalism did.
---
Democracy may be a danger for Hong Kong, but not Disney. Opening week, I travel to another of Hong Kong's three dozen islands to see how this trading post that bound East to West for nearly two centuries, manages the same feat with Mickey Mouse and the mainland.
"Hong Kong is in the midst of one of the world's fastest-growing tourist regions," Roy Tan Hardy, vice president, sales and marketing for Hong Kong Disneyland, tells me before I visit the second Disney park in Asia.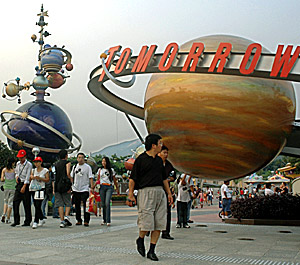 While the press touts the lure of China, and Disney concedes eyeing sites in Shanghai, Hardy is coy about playing the China card. "We expect, in the first year, China will be a third of the audience." The rest, he says, will be a mix of locals, Asians and western tourists.
That's the message I hear elsewhere. Nobody discounts the mainland market. But they are thinking bigger than the 1.3 billion customers across the border. They want Hong Kong to reach out as a regional destination to a broader base than ever before.
"We see a whole new phase for Hong Kong," says Zeman, who, besides being baron of Lan Kwai Fong, is chairman of Ocean Park. Far from fading in the face of competition from Disney, the 29-year-old local amusement park has launched an expansion plan with state-of-the art attractions and a trio of hotels, including Hong Kong's first spa resort.
"It will be extremely luxurious, six stars," Zeman says. The site will be atop the park summit, trading on billion-dollar views of the harbor and surrounding greenery.
Amidst all the controversy over Disney – the huge costs, concerns over how the US company could mesh with Chinese culture, and a series of snafus including a highly-publicized flip-flop on shark's fin (removed from menus after intense protests) scant outside attention focused on the enormous sums committed to Ocean Park, whose main asset is the fond local childhood memories.
Zeman maintains the two parks can co-exist, as Ocean Park adds different attractions like sea mammals and an ice world. The real key, he adds, isn't the changes ahead at Ocean Park, but in Hong Kong itself.
Zeman believes Hong Kong is in the process of transformation, from a city of shopping sprees and boardroom blitzes, to a family destination. "This is a whole new challenge for Hong Kong," he says. "In the past, hotels and restaurants were so business directed. This will take Hong Kong to an entirely new level."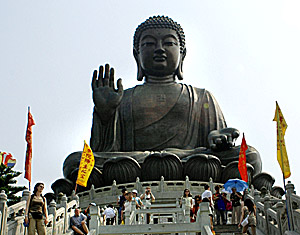 Contributing will be new attractions like Ngong Ping 360, surrounding the bronze Buddha on Lantau Island. A modest old-China theme park at the hilltop site will be served by a 5.7 kilometer cable car, set to open early this year. Modeled on the award-winning Skyrail Rainforest Cableway in Cairnes, and managed by the same Australian firm, it's meant to offer similar ecologically-sensitive thrills.
Critics aren't convinced. While Lantau is twice the size of Hong Kong Island, called the territory's "green lung," it's hardly rain forest. And green no more.
WorldExpo opened alongside the sprawling airport, where a golf course will be added along with Sky Plaza and new ferry piers to bring in more visitors from up the Pearl River in China.
This is a big flip-flop for a government so protective of the isle that Discovery Bay, the first big development, long remained an isolated enclave of high rises, served only by ferry. Now, a road pushes through to the airport, and Lantau is linked to the rest of Hong Kong and its seven million people by a new bridge and subway.
---
Is this Hong Kong's future, to become a Mickey-mass-market for mainlanders, a kind of Blue Light special of Asia? Will the Disney Magic come to define Hong Kong, much as the original Disneyland did in Anaheim, half a century ago?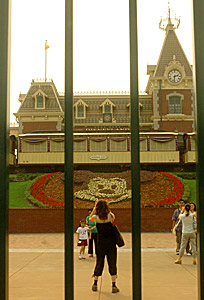 I don't think so and, after the doors shut on the special Disney-motif subway train and I return to Central, Disney isn't much discussed. Everyone is too busy shopping and socializing, wheeling, dealing then unwinding, all at the pulsing, Hong Kong pace.
Even the current rebound doesn't surprise anyone. "Hong Kong is the kind of city that yo yo's in terms of the economy and also how people react to the changes," notes Elaine Chu, publicist for Palau Group, which runs the Victorian Spa at Disneyland Hong Kong (the first spa-equipped Disney park, anywhere).
"This has always been a remarkably resilient place," adds Abigail Walters, director of public relations at the new Four Seasons, typical of many young adults raised here, who return for career reasons and are enthralled all over again. "Hong Kong has this special energy," she enthuses.
Much of it is bound up in an unique ability to adapt and reinvent itself. Critics call it superficial, but admirers see a survival-oriented city without compare. Hong Kong has always been fearless in pursuit of profit, willing to try anything and, if it doesn't work, move to something else.
The result has been unparalleled excellence in so many areas, including non-stop shopping and hotels that regularly top the world's best lists. Now, I find the city has found a way to combine six-star sleeping with seven-figure shopping.
On arrival, I check into the brand-new Four Seasons, with stunning views across the harbor to the 90-year-old Kowloon Railway Clock. Once the largest tower in Tsim Tsa Tsui, now it looks a child's toy discarded amongst all the hotels and glittering high-rises.
The Four Seasons sits in the International Finance Centre, designed by Cesar Pelli, resembling one of his iconic Patronas Towers in Kuala Lumpur. Hence, it's no surprise to find, at 88 stories and 415 meters, the IFC as the city's tallest tower. But, since this is Hong Kong, it quickly claimed the world's largest skyscraper advertisements.
On departure, I check out of the equally-new Landmark Mandarin Oriental. With only 113 rooms, the smart property addresses a rare and longstanding local shortcoming: the lack of a classy, intimate downtown inn.
Opening within weeks of each other, these two top-notch hotels share the same level of design and upper-crust clientele, as well as one other attribute: surround shopping. The Landmark takes its name from adjacent Central plaza. On a corner is the new Giorgio Armani and Emporio Armani megastore, bigger than all but Via Manzoni in Milan. From airport train, I wheel my luggage cart through IFC Plaza, past Louis Vitton, Prada and Gucci to reach the Four Seasons.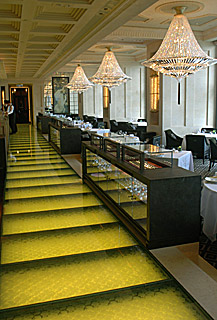 Both hotels are filled with flashy features. The Mandarin's shimmering gold MO Bar is already a fixture for the social set (and will become more so as Mandarin Oriental shuts for refurbishing). The Four Seasons, with vast lobby and walls of windows, trades on its open space and views.
But it also features a yoga room with pumped-in oxygen and hip color scheme that can be altered to fit the mood. The Mandarin, for all its elegance, is hi-tech and trendy; a sensational sound system comes with Ipod plug in. And pragmatic. Rooms come in three shapes: 450, 600, 900. These refer to the square-footage of each room, a quintessential concern of space-restrained Hong Kong.
That room-size can be a selling point in a city so often seen at a critical cross-roads in terms of its role with China, seems most reassuring. "At the end of the 1990s, I think the whole place needed therapy," Garnaut confides before departing for her regularly ride up to the Peak, then hike back. "I think SARS might have been the best thing to happen. It made people realize things weren't so bad, that they could always get worse."
Days later, I'm atop Victoria Peak myself. The sightseeing tower, with restaurants and diversions, is shuttered, to reopen soon with a new package of eateries and attractions, less than a decade since the last revamp. Down below, the same frantic energy plays out across the harbor: boats gliding in and out of berths with people and cargos; scaffolding marking high-rises on the way up, or being torn down for bigger, better buildings.
"This has always been the Magic Kingdom," says Tim Noonan. His point: Hong Kong doesn't need any new wands. It long was a place of infinite possibilities, where you could step off a boat or plane and become a company manager, or television announcer.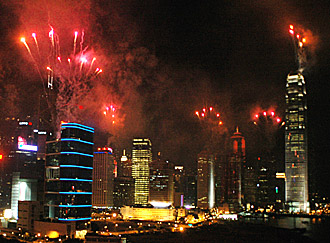 Looking down from the Peak, I see same dazzling view that captivated me in 1990, and feel reassured about my home for a decade. Sure, there are problems. Pollution clogs Hong Kong as never before, and the China question, ever looming, remains unresolved. But Hong Kong seems at last to have stopped fretting its new role in the New China and simply returned to what it does best – being one of the most exciting, ever-changing, dynamic money-making machines on the planet.
From the Peak, I try to spot the pylons for a new bridge linking the city to Macau. The next time, I'm back, or the time after, I'll be able to drive across the Pearl River for lunch in the old Portuguese colony. Or cable car across Lantau Island. Or something else.
Hong Kong has always been this way, heaving, changing, reinventing itself. Heading down to Central, I try to spot all the buildings and clubs I don't recognize from my last visit.
The number is larger than the smile on my face. Magic, I think.

---
Ron Gluckman is an American reporter who spent nine years in Hong Kong, from 1990-99, and continues to return regularly, reporting for magazines like DestinAsian, which ran an edited version of this story in its issue of February/March 2006.
All pictures by RON GLUCKMAN
---
To return to the opening page and index

push here
---