The Suffering Goes On
Six months after Sri Lankan government forces went on the offensive, our correspondent sneaks past sentries and censors to provide the first on-the-spot report from the former Tamil stronghold of Jaffna
By Ron Gluckman / Jaffna
---
H

UNDREDS OF PEOPLE CROWD the football pitch of this battle-scarred city. No games have been played here for ages, but today, at least, there is something to cheer. A half-dozen lorries trundle in, carrying bags and suitcases. Jaffna, a ghost city for months, is coming back to life.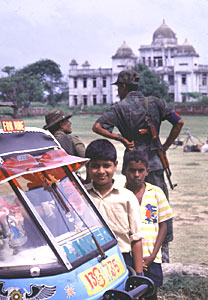 Three boatloads of refugees have arrived from Trincomalee, in the east, and from as far away as Colombo, on a three-day land and sea journey. To get here, they have had to skirt territory controlled by the rebel Liberation Tigers of Tamil Eelam. "They moved us in cargo boats, just like cattle," says an elderly resident who hasn't seen her home in nearly a year. "I don't know what to expect, but I'm hoping things will be peaceful now. And I'm glad to be home."
But, after 13 years of war, the people of Jaffna know better than to expect a peaceful homecoming. Even as the bags are being un-loaded in the field facing the rubble of what once was St. Peter's church, a few blocks away the army is searching for body parts in a blackened pit of earth along Stan-ley Road.
A rebel suicide bomber struck this tragic city on July 4. At the opening of a building supply center, a woman set off a blast that killed 23 people and wounded at least 70 more. Housing Minister Nimal Siripala de Silva, who is overseeing the rebuilding of Jaffna, narrowly escaped death, but suffered head injuries. The region's military commander, Maj.-Gen. Ananda Hamangoda, was killed.
The bombing did more than serve notice that the Tigers are still capable of striking almost at will, even in the midst of intense army security. More significantly, it shattered any notion that peace will return to Jaffna anytime soon. President Chandrika Kumaratunga acknowledged as much three days after the bombing, when she announced she had extended by a year her own deadline to end the war. Speaking in her home constituency of Aattanagalle, Kumaratunga pledged to restore peace by the end of 1997. In May, she had said she hoped hostilities would be over in six months.
The day after the bomb blast, this reporter made the first unfettered press visit to the occupied zone since the government's latest military campaign began last October. With a Russian pilot at the commands, our propeller-driven Antonov plane zipped in just above the waves to make a hard landing at Pilali airstrip, north of Jaffna. Low-level approaches such as this are meant to evade the ground-to-air missiles the Tigers have put to terrifying use in the past.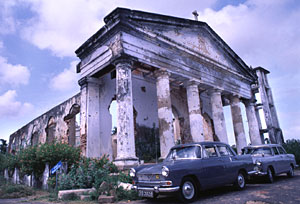 Though the government has held Jaffna city since December, the Tigers have simply slipped away east and south. "We can take control. That is no problem," says a major. "But holding the territory is another matter. We just don't have the men." Troops are stationed every 50 meters along the road from Pilali to Jaffna, and security is particularly keen. It is Black Friday, commemorating the anniversary of the first Tiger suicide attack -- on July 5, 1987, when 39 soldiers were killed by a truck packed with explosives in Nelliyadi. The rebels have often marked the day with violence.
Nothing really prepares you for the extent of the devastation in Jaffna. It is staggering. But just as surprising is how quickly the city is recovering. Residents complain about a scarcity of food and black-market prices, but stalls are open on every street, even if they stock only a few vegetables and some soap. However, most stores remain shuttered behind metal sheets pockmarked with bullet holes.
More than 60% of Jaffna's buildings are estimated to have been damaged. The city center has been especially ravaged. Armless statues stand amid the rubble of what was once a charming Dutch colonial seaside town. A sense of the old grandeur can still be felt at Jaffna University, which remained open throughout the years that the Tigers ran a rebel enclave here. The university reopened June 15, but with only half its staff and student body. "Many students are still stranded in Colombo," says acting Vice- Chancellor P. Balasunder-ampillai. "They can't get through Tiger territory, and there are only so many boats from Trincomalee."
Even if the students make it back, they will not find a normal university life. Most computers and equipment were looted. Business people and homeowners have the same lament. "Everything of value has been taken from my house and shop," says one resident. "I have nothing."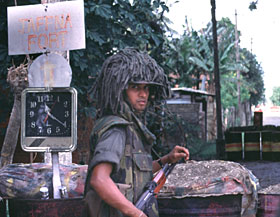 Bringing Jaffna back into the government fold is a quirky process. When the Central Transport Board returned to the town it fled a dozen years ago, more than 70% of the old staff eagerly reported for work. But company officials could find no trace of the 150 buses that were once in the depot.
"This latest bombing doesn't change our strategy in Jaffna," says defense spokesman Brig.-Gen. Sarath Munasinghe. "The LTTE should realize we will continue forward, step by step. This kind of action only inspires us more."
By all accounts, the military has been restrained in Jaffna, winning praise from a war-weary local population. "Still, we want the army to go back to the barracks," says one man. "We want self-rule, just like people all over the world. Nobody wants to see the army on their streets." But they won't be leaving yet.
---
Ron Gluckman is an American journalist who has been based in Hong Kong since 1991. He has made several visits to Sri Lanka and, in June 1996, became the first journalist to travel freely around the Jaffna peninsula since the war resumed the previous year.
For other reports from Sri Lanka, see his stories on the war's impact on tourism, and his interviews with two of the country's most famous residents, futurist and prolific author Arthur C. Clarke and President Chandharika Kumaratunga.
---
To return to the opening page and index



push here
---