A World of Wonders
The Statue of Liberty, Big Ben, the Great Wall and Mount Rushmore are all on display, alongside windmills, wooden shoes and Marilyn Monroe; where else - Japan
By Ron Gluckman /roaming around Japan
---
T

HOUGHTS OF GODZILLA AND KING KONG race up the spinal bean stock as my body grows to gargantuan proportions. The earth quakes as I leap laughable little barriers. Cars crunch underfoot and screaming people scatter in all directions, as I stomp forward to scale the Empire State Building.

The only danger is possibly tripping over the Arc de Triumph and crashing into Big Ben or the Statue of Liberty.

It's easy to feel like a colossal kid at Tobu World Square in Japan. From the Taj Mahal and Roman Coliseum to the London Bridge and Great Wall of China, more than 100 of the world's famous buildings, bridges and monuments are recreated in excruciatingly exact 1:25 scale.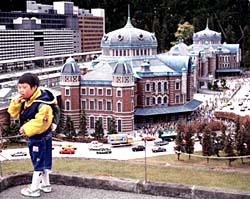 Phineas Fogg would seem like a slowpoke in such surroundings, where minutes take you around the same world that Fogg circled in 88 days. Michael Palin would barely find enough material for a postcard, let alone a television series and supporting books, from a tour of Tobu World Square.
But the Japanese always think big, even in miniature. That's why they built the entire world to precise scale at this odd site about two hours by train from Tokyo.
All of the world wonders are represented, along with numerous hometown favorites. This means that minor league attractions like Tokyo's train station and the airport, replete with realistic features like grounded Aeroflot jets, stand alongside Cambodia's Angkor Wat and the pyramids of Egypt.
The entire universe may have been built in seven days, but Tobu Railway Company took nearly seven years to create its imitation Earth, according to Hiroshi Miyahara, deputy general manager of the tourist site in Tochigi prefecture. Over $1 billion was invested in the miniature world, which opened in 1993.
That not only paid for the colorful paint job on the gingerbread turrets of Moscow's St. Vasilie Church and the intricate tile roof of the Masjed-e Emam mosque from Esfahan in Iran, but also an enormous population of wee people, 140,000 in all, each with unique features and functions in this Little Land.
The attention to accuracy is utterly amazing. Hundreds of tiny tourists mob Giza and the Roman Coliseum, pudgy white plaster skin bulging over too-short shorts. At the Yugang Buddhist caves, long-haired back packers argue over a map as others buy cokes from an ancient cooler set on wooden stand, complete with Chinese kids gawking at the foreigner visitors. In many ways, the miniatures actually offer a kind of realism missing from the real world.
Where else can you view Frank Lloyd Wright's sprawling Asian masterpiece, the Imperial Hotel, or the cupolas of Tokyo Station, both blasted to bits during World War II? Or obtain an overhead view of the sculptured towers of Spain's Sacred Family Church, or the majestic roof of the Taj Mahal?
After years of meticulous reproduction of these Old World wonders, the Tobu craftsmen really cut loose on the American section. Marilyn Monroe can be spotted in a picture window at the Hanover Trust Building, her skirt bellowing up. Nearby, vendors sell hot dogs at Central Park, where Tobu's tiny people toss itsy bitsy frisbees. There are even street rappers on the streets of Harlem, where robbers run from a bank carrying sacks of cash, mini-cops in hot pursuit.
Some sights can be unsettling, like seeing the Arc de Triomphe dwarfed by the Eiffel Tower. Or Manhattan's high rises from behind the Basilica San Marco. Or Yokohama Harbour linked to American Gate, with baby boats circling the Statue of Liberty. Lest it all seem strangely surreal, don't forget, this world was built by the same company that did the original Godzilla films.
Tobu is only one of the intriguing sites that endeavor to satisfy the Japanese's insatiable appetite for faraway places, provided they don't have to leave the Land of the Rising Sun to see them. And so, they roam at home, from one odd theme park to another, each more outlandish, more unusual, more mind-boggling than the last.
There is already a mushroom theme park near Mt. Akagi, where guests can enjoy a ``mushroom essence bath.'' A fruit theme park (``centered around the theme of fruit, which you can buy and eat,'' responded a stone-faced Tokyo tourism official to my inquiry) will be built for $337.5 million in Yamanashi prefecture.
And no visit to Japan would be complete without a bullfight or dancing troupes in wooden shoes. Both are among the offerings at the popular Spanish and Dutch theme parks. Husch ten Busch offers windmills, tulips, canals and Dutch Renaissance architecture. Shima Spain Village offers such Spanish attractions as an indoor roller coaster and something called ``Donkey Sherry.''
Blame it all on German Happiness Kingdom, which brought sausages, fat women bearing huge platters of fatty food, and songs you hate sung by barrel-chested crane operators on holiday, to the northern island of Hokkaido in 1989, followed by nearby Canadian World, which offers dog sled rides and a style of native exploitation long ago outlawed in the Great White North.
The list goes on and on. There's Niigata Russian Village and, in Aomori prefecture, the chance to visit a replica of Christ's Tomb.
Japanese also pillage their own history for modern amusement, paying particular attention to the popular period of samurai warfare. Nikko Edo Village, nearby Tobu World Square, is one of several Edo-era sites.
Ninja warriors and swordsmen battle on stage at the Theatre of the Warring States Period (with connecting Comedy House of the Warring States Period). The park includes recreations of old shrines and samurai estates, a red light district and haunted house. Over a hundred costumed performers wander streets crammed with little shops selling tourist crap of late 20th century vintage.
Commerce, of course, is the main theme linking all these Japanese parks. And commerce is the chief concern in top-secret plans to build the re-creation of Mt. Rushmore at the wacky Western Village.
More than $185 million will be spent on the 215-metre high replica of a mountain face in South Dakota depicting the features of four US presidents who have one other thing in common - none ever visited Japan.
But forget such details, say the the creators of the new Mt. Rushmore set to open this year, confiding, ``it will be better than the original.''
How so? Well, they explain, the real Mt. Rushmore doesn't have three floors of shopping and exhibition space inside, now does it?
---
Ron Gluckman is an American journalist based in Hong Kong, who travels widely around the Asian region for a variety of publications, including the South China Morning Post, which assigned this tour of Japanese theme parks in 1994. For another report on the unusual creations of this genre, please click upon Indoor Beach.
---
To return to the opening page and index



push here
---