The Vegas of Asia
Another week, another casino, and millions more in betting, as Macau continues to flex its muscle as the world's Numero Uno gambling center. Claiming the wildest wages, most tables, boldest gamblers and, now, the biggest casino (and building on Earth), Macau has been likened to Asia's Las Vegas, only on steroids.
By Ron Gluckman / Macau
---
T

HE SUN SLIDES ACROSS THE HORIZON, th

e sky deepens to a rich azure, and our gondolier breaks into song. Everything is picture perfect as he poles us past a stately clock tower rising over the canal, historic palaces lining the shores.

Venice, definitely. Just not Italy.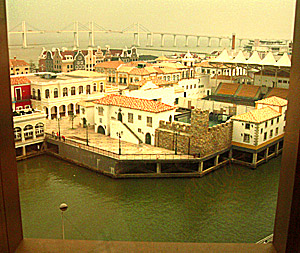 This eerily exact re-creation is, in fact, half a world away, at the $2.4 billion Venetian Macau Resort Hotel, on China's southeastern coast. Modeled on the Las Vegas casino of the same name, it is much larger and exceptionally lucrative, like seemingly everything in Macau these day.
Hong Kong's once sleepy sister city - composed of two islands, Taipa and Coloane, a tiny mainland peninsula and the reclaimed area of Cotai - has awakened from centuries of decline to become Asia's, and one of the world's, fastest-growing tourist destinations.
The site of a Portuguese settlement in 1557, Macau was the first European outpost in the Far East and a vital port for trade between China and the West. But after Hong Kong, with its superior deepwater harbor, was ceded to Britain, in 1841, Macau fell into a sort of southern European languor.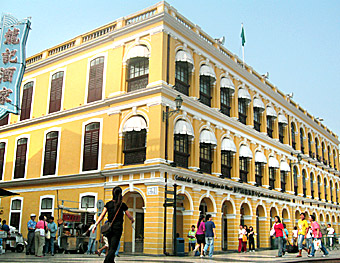 Although gambling was introduced in 1847, as a desperate attempt to end the slide, in the ensuing years the colony remained largely unchanged, a remote piece of Iberia where ivy-covered ocher, peach and lime green colonial mansions stood alongside cobble-stoned lanes.
Throughout the 20th century, visitors to Macau were primarily day-trippers from Hong Kong, an hour away by ferry. Then, in 1999, Macau was returned to China; in 2002, Wynn Resorts, MGM and Las Vegas Sands snapped up new gaming licenses and sublicenses.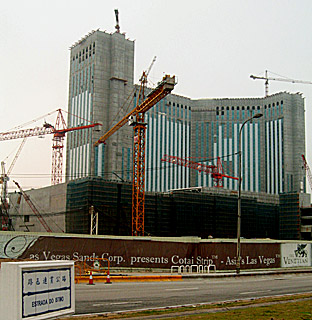 In 2006 the region's casinos raked in nearly $7 billion, bettering Vegas's take by half a billion. And in welcoming 24 million visitors that year, Macau became as popular as Hong Kong for the first time - in at least 150 years.
The Venetian, its largest casino by far, debuted last summer with 3,000 suites and 1 million square feet of retail space. But it's only the first tenant on the Cotai Strip, a new causeway consisting of less than a mile of swampland that connects the two islands.
By next year, China's answer to the Vegas Strip will claim a roll call of the world's finest hotels: Raffles, Four Seasons, Hyatt, Shangri-la, St. Regis, Conrad, Fairmont and more. There will also be museums, amusement parks, concert halls, convention centers and, of course, more casinos, including an underwater gambling hall at the nearby City of Dreams.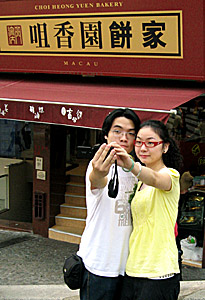 Yet for all its shoot-the-moon development, Macau remains a weekend destination: a relaxing splurge for American and European travelers after a long tour of China or a handy base for exploring Hong Kong.
The main sights are clustered together and can be savored in a day or two. Visitors can wander narrow lanes to discover old-world churches, cemeteries and entire neighborhoods dotted with Chinese temples, tea shops and fortune tellers and encircling parks with Portuguese names.
Spectacular cuisine is everywhere. Enlivened by a mélange of spices from Portugal's far-flung former colonies, an early version of fusion food is served in scores of atmospheric restaurants, like Henri's Galley (011-853-556-251) and Restaurante Fernando (011-853-882-264), a local favorite set on a deserted beach and offering huge platters of succulent pork ribs, pepper prawns and salt cod.
This artful balance between past and future, Asia and Europe, accounts for Macau's allure right now. And now is when to go, before change arrives at breakneck speed.
---
Ron Gluckman is an American journalist who was based throughout the 1990s in Hong Kong, across the harbor from Macau, and frequently returns to the area. This story appeared in Town and Country Magazine in January 2008.
For another, more in-depth story on Macau, see Viva Macau.
All pictures by Ron Gluckman
---
To return to the opening page and index

push here
---