Viva Macau!
Forgotten for more than a century, Europe's first outpost in the Far East languished in the shadow of Hong Kong, the more robust, vastly richer British colony across the Pearl River Delta. But now Macau is being reborn as China's Las Vegas, only much bigger.
By Ron Gluckman / Macau
---
J

ACKPOT! I FEEL LIKE I'VE HIT THE BIG ONE just by checking into Asia's – maybe the world's - hottest destination.

I arrived on the last seat of a packed ferry to find every hotel booked. But I score a suite with scorching views in the flashiest new resort. Everything is state-of-the art, from plasma TV rising at the push of a button from bed-frame slot to the remote-controlled, floor-to-ceiling drapes.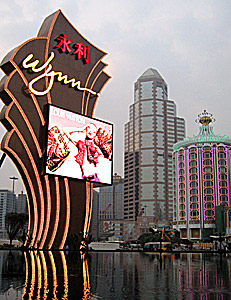 Flicking a switch, my curtains pull back and…it's Showtime. From my window, I watch flames spurt over an 800,000-gallon lake at the entrance to Wynn Macau.
The fiery fountain, with sizzling new shows every 20 minutes, is an undeniably ostentatious introduction to this glitzy $1.2 billion property. But it also serves notice that, as signs around Macau boast, this is "Asia's Las Vegas."
Actually, by many measures, Macau, is already bigger. Last fall, when Vegas mogul Steve Wynn opened Macau's most lavish casino – for the moment – few paused to glance at the Ming Vase and Renoir painting in the lobby. Throngs swarmed the gaming hall, lining tables two to three deep. Near riots greeted the opening of a series of other new casinos in this gambling-crazed city.
Last year, Macau casinos raked in $6.5 billion, passing Las Vegas, five times as big, with 10 times more hotel rooms. Macau claims the historical edge; gambling began in 1847 in a former Portuguese colony that celebrates its 450th anniversary this year.
Still, Macau's dowdy casinos barely topped $2 billion in 2000. Despite over a century's head start on the Nevada desert, nobody would have bet on Macau to suddenly shoot the moon.
This Monaco of the Orient, less than 27 square kilometers, languished for ages not in the shadow of Las Vegas, but nearby Hong Kong, 60 kilometers across the Pearl River Delta. In fact, gambling launched mainly to buoy the economy after trade immediately shifted to the superior harbor in Hong Kong.
In the ensuing century and a half, smart money flowed to Hong Kong, making it one of the world's richest, most dynamic cities. Across the delta, Macau, with its seedy casinos, loose women and banking laws, became Sin City of South China.
The turnaround can be tracked to the last days of 1999, when Portugal handed its old trading port back to China. Within days, Macau announced a shake up, ending local kingpin Stanley Ho's four-decade monopoly on gambling, effective 2002. Sheldon Adelson, arch rival of Wynn, sparked the first glint of Vegas glitz, opening Sands Macau in late 2004.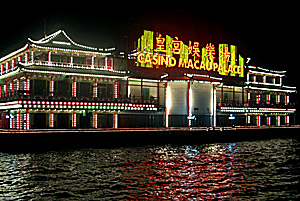 The place might seem sedate to Vegas stalwarts who would scoff at 850 slots. Adelson's Venetian has 2,000 one-armed bandits, and singing gondoliers poling canals below the 4,059-room resort. Sands Macau doesn't even rent rooms, a first for Adelson, but a crafty move. Instead, it offers VIP suites, up to 8,000 square feet.
I'm given a special peak. Palatial baths adjoin every bedroom, with private steam room and huge tubs underneath gaudy tile murals. The look recalls the saunas for which down-on-its-luck Macau became famous.
But these penthouses aren't decorated with me in mind. Sands doles them out free to high-rollers, mainly new-moneyed Chinese driving Macau's renaissance. There is Dai Pai Dong eating and hundreds of choices at a Sands tea bar. Chinese games and Asian-oriented slots fill an uproarious game floor.
"The notion that Macau becomes Las Vegas seriously undermines the value of both destinations," Wynn Macau President Grant Bowie tells me in his office, overlooking those flaming fountains. "Vegas is very American. Macau can become a must-see destination in Asia, but with its own unique identity."
Bowie and other Macau movers describe plans to expand local attractions, with hotel towers offering stage shows and mile-long buffets, plus massive halls to woo convention business, precisely the same tactic that transformed Vegas from sleaze center to family destination, and one of America's top tourist draws.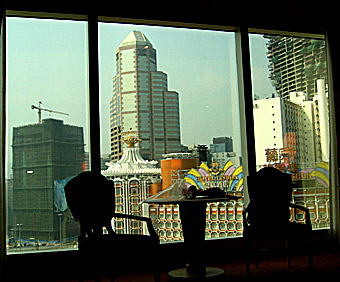 Local seasoning extends beyond the baccarat and Big-Small gambling popular with Macau's mainly Chinese punters. Take the Wynn, which Bowie says "is a gaming resort, not a casino."
Rooms are a spitting image of those at Vegas Wynn, right down to the rich red and cream décor. The elegant lobby is throbbing, but the pool largely empty. Ninety percent of tourists hail from Greater China; they prefer splashing at the arcade, on Prada, Dior, Bulgari, Fendi, Tiffany and Rolex.
Money – piles of it - is the differential in modern Macau. In Vegas, punters sip free cocktails, watching chorus girls and classic rock bands, playing blackjack at one dollar a hand. When Sands opened, its table minimum was $28 (since cut in half). The average Chinese gambler wagers $85 per hand, compared to $25 in Vegas. Adelson recouped his $265 million investment inside of a year.
The fast money fuels a blistering buzz and rampant construction: apartment blocks, bridges, towering hotel-casino-shopping plazas. Nor is the fountain the only flaming symbol of this reborn boom town. Ferries arrive every 10 minutes from Hong Kong. First view is Vulcano, anchor to the 80-hectare Fisherman's Wharf Project, with artificial eruptions on the hour.
---
Yet, the most impressive thing about the makeover of Macau is that it has barely begun. Such notions are hard to grasp on downtown streets jammed with shuttle buses, Chinese gamblers packed like Portuguese sardines, racing to the newest casino. Still, this represents mere warm-up laps for Macau's marathon rebirth.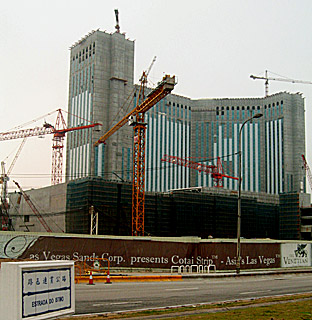 Felicity Wu meets me at the Sands, which kicked off this current gold rush, then tours me to the future of the world's newest tourist capital. Leaving the pell-mell construction of mainland Macau, we head towards Taipa and Coloane, forested islands that long served the recreation needs of Old China Hands in Macau.
Halfway between the isles, we stop. "Here it is," she proudly proclaims, "Cotai Strip."
We hop onto a stretch of dirt, less than a mile long. Nonetheless, analysts say, this will soon be bigger and more profitable than the entire neon-drenched Vegas Strip. Right now, it's Construction Strip. Hundreds of helmeted Chinese workers labor in dirt piles behind metal fences. Behind them, towers of concrete are wrapped in scaffolding, framed by countless cranes.
Later, Wu, public relations manager for Venetian Macau Ltd, which owns the Sands and is developing Cotai, shows me a project model. Over $10 billion will seed the site with convention center, sports stadium and Cirque du Soleil theater. Three million square feet of retail space will surround the densest array of luxury hotels on the planet. Four Seasons, Sheraton, Shangri-la, Raffles, Fairmont, St. Regis and Hilton are among marquee brands.
In all, 19,000 new hotel rooms will come on line, more than doubling Macau's stock. The Sands' flagship Venetian will open first, later this year. A replica of its landmark Vegas Venetian, it will boast rooftop golf course, 600,000 square feet of gaming and 1.2 million square feet of convention space, plus 3,000 luxury suites. At least one of three canals will have, instead of gondolas, Chinese sampans.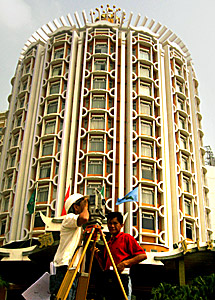 As we roll back on the dirt strip, studying the signs, I find Cotai is just one part of projected investment of $20 billion. Next door will be City of Dreams, with more hotels and perhaps the world's first underwater gaming center.
During my visit last October, new announcements came daily, each more grandiose than the last. That month, Macau greeted two million tourists, a record. For 2006, the tally topped 22 million, surpassing Hong Kong for the first time since the 1800s.
Of course, Vegas began much like this, bare desert irrigated by the dreams and money of mafia kings. But how much milk can this cash cow can generate? As we share a $150 sushi feast at Okado, one of six Wynn restaurants, an executive confides: "I think we've overbuilt."
The admission seems startling, more so by the end of my stay. It's the sole cautionary voice I hear. Instead, new casinos typically announce massive expansion plans --- even before completion.
Take Cotai Strip, ambitious when unveiled by Adelson with half a dozen hotels and 4,500 rooms. The model I'm shown depicts 10 hotels and 11,000 rooms. And hotels are the least profitable part of the picture.
"All those rooms really serve the gamblers," notes Felix Ling, general manager of marketing for StarWorld, which opened Macau's tallest hotel during my stay. The 38-story Galaxy StarWorld is the first of over $1 billion in local investment, including another casino at Cotai. When I query about room rates, he chuckles. "Four days of casino revenue covers the entire year of hotel revenue."
That's why Adelson doubled down soon after opening his high-roller Sands. More tables were crammed in, creating the world's largest casino, by table count. Also among the most profitable, helping Adelson become the world's second-richest man. Analysts and investors are bullish. Hong Kong listings with even dubious Macau mention shoot through the roof. Last year, Wynn stock soared 70 percent. The Sands was up nearly 130 percent, the S&P's top gainer.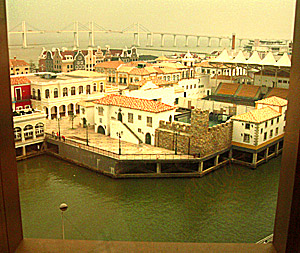 "You have to see Macau to believe it," says Richard Feldman. "There is this huge sense of movement. This sense of destiny. Of greatness. You can feel it."
Feldman seems unpredictable Macau booster, as one of the main movers of the Hong Kong party scene. He formerly headed the Lan Kwai Fong Association, representing Hong Kong's hottest nightclub district. But he's among hundreds who have chased the action across the Pearl River. Now, he's president of the Macau Fisherman's Wharf Association and, as head of Celebrate Macau Corporation, with a dozen bars and bistros, one of its main investors.
"Nobody realizes how huge this is," Feldman enthuses, guiding me through the world of wonders. There's a vast shopping center inside mock Tang Dynasty castle, Aqua Romanis (a Roman-themed shopping plaza with Centurion statues), a Roman Amphitheater, plus Dutch gables, Venice Canals, New Orleans bistros. Topping it all, in terms of cheek, entry to the amusement park with Vulcano is via a psuedo-Potala Palace, former home of Tibetan exiled leader the Dalai Lama.
Soon to open will be African village and Babylon-flavored casino. Plus Vasco da Gama Waterpark in the massive waterfront. The entire site is on reclaimed land, which has doubled Macau's size in recent years. With new bridges above, the dock area has the pleasing appeal of Singapore's boat Quay. "It will look much better," Feldman notes, "when you see all the yachts and cruise ships here."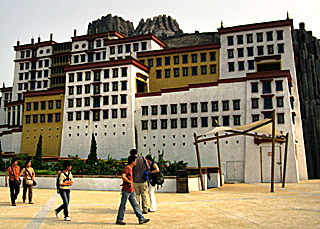 Or people. For now, the site big as Central Hong Kong seems vast movie set, lacking a cast of customers. Years behind schedule, Canton-pop stars from Hong Kong performed at a gala New Year's launch in 2005. Then, the deserted Wharf re-launched on New Year's 2006. This is the ultimate measure of the can't-miss stature of modern Macau: nobody even frets that it may flop again.
"The concern with all the construction is the question of demand, but so far, there is no sign of anything but," points out William MacKay, general manager of the Four Seasons Hotel in Hong Kong. The chain plans a Cotai property with 370 rooms and 400 serviced apartments. "That's a boutique hotel!" he jokes.
MacKay is confident the reinvention of Macau is on track, noting how long it took Las Vegas to evolve into comprehensive tourist destination. "These guys from Vegas know how to do things and have deep pockets," he says.
The trump card? "China is a huge, evolving market. Macau will find its niche."
---
Longtime visitors may wonder whether Macau really needed reinvention. For decades, its shuttered ivory-covered mansions and grand ochre, lime and pearl-white colonial edifices delighted millions of weekenders from Hong Kong, who were the main visitors until after the handover, when China relaxed travel rules, allowing mainlanders from selected cities to arrive en-masse.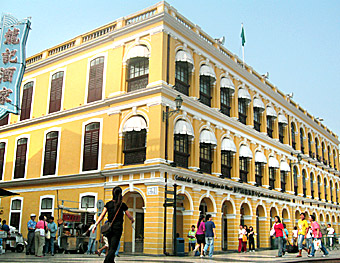 Macau then was the antithesis of its sister European colony, as friends and I noted on outings from Hong Kong, where I lived throughout the 1990s.
Hong Kongers typically worked six-day weeks, sending faxes long into the night. In laid-back Macau, locals reveled in long, lazy lunches that ran to dinner. Calls to government offices went unanswered for hours mid-day and many an official later confessed to me, with absolutely no chagrin, that they had been on siesta.
A Latin feel permeated Senado Square, the spectacular plaza that served for centuries as center of public life in Europe's first outpost in the Far East. A winding cobbled street snaked uphill to Fortaleza do Monte, sprawling 17th century fort, studded with canons. Nearby stood the stunning facade of St. Paul's Church.
First built in the early 1600s, the last version was destroyed by fire, but a stone wall survives as the iconic image of historic Macau.
Yet everywhere were reminders of an unique port where European and Chinese cultures collided, creating distinctive blends of architecture, and a lifestyle unique to Asia. The delight was always in wandering the spider's maze of alleys, amidst Macau dried meats and Chinese medicine stalls to discover churches, cemeteries, entire neighborhoods set around parks with Portuguese names but surrounded by Chinese temples, tea shops and fortune tellers.
Exploring Macau's spectacular cuisine has always been a rewarding adventure. As a stopover for Portuguese ships plying trading posts from India to Africa, Macau's kitchens became a repository of cloves and nutmeg from Indonesia's Spice Islands, curry from Goa, satay from Malaca, African stews and spices. The resultant mix, savored in mouth-watering local specialties like African chicken, may well be the world's first fusion.
So, it was with hearty appetite but slight trepidation that I returned to one of my favorite getaways only to find this historic city has never looked better.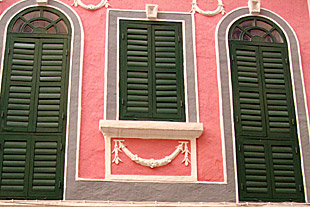 Buildings on Senado Square were painted in smart pastels, while the entire plaza had been re-tiled in swirling patterns, a lost corner of Iberia. And thus it will remain. The restored 16th century square spearheaded a successful campaign to list the entire historic heart of Macau as a UNESCO World Heritage Site in 2005.
"Things have changed a lot since the listing," enthuses Maria Helena de Senna Fernandes, deputy director of the Macau Government Tourist Office. Tourism from Japan is up, and more western groups are scouring the 25 different sites in the heritage zone, she says. "There has been a definite shift in perception."
Macau itself seems to have shaken off its long slumber. Aside from the annual Formula 3 Grand Prix, running half a century, this laid-back Latin city has long seemed content to take a backseat to Hong Kong, savor its long lunches, live off its casino tax and molder. The only other longstanding Macau events are the local races, understated compared to Hong Kong, home of the world's richest horse races. Macau races, and wagers on dogs - in the Canindrome.
Of course, resting on ones laurels has its advantages. Hong Kong lost most of its historical architecture to redevelopment. Macau's lackadaisical approach spared much of its unique Euro-Chinese essence.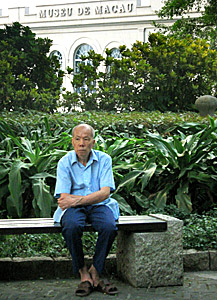 "I think Macau has always kept its eye on preservation, well before the boom," says Jennifer Welker, Macau writer and author of "The New Macau." The government, she adds, has wisely and widely promoted its UNESCO listing to showcase sites outside the casinos.
Efforts to diversify the tourism portfolio picked up pace in the late 1990s, with Portugal funding new museums and cultural projects before its departure. Key was the Museum of Macau, inside the hilltop fort, featuring fabulous interactive displays of daily life in old China (push buttons to hear hawkers sing distinctive songs about their wares or service).
Ironically, funding came from casino taxes, which have long provided the majority of Macau's municipal budget.
But the old-style casinos also provided a nest for less desirable attractions. The city has long been criticized as a money-laundering center, particularly for North Korean counterfeiting schemes. And Macau's brothels and saunas hardly offered economic advantages; GDP declined from 1996-1999.
That was when gang warfare erupted on the streets, largely over control of various casino slush funds and drug action. Tourists weren't reassured by the Secretary for Security, who promised that they needn't worry about getting caught in the cross fire because Macau had "professional killers who never miss their targets."
---
My last days in Macau pass at the Westin Resort, sprawling across 150 acres of greenery at the farthest end of Coloane Island. This is as far as you can get away from the pulsating neon of the new casinos and still be in Macau.
The isolation made this a favorite Hong Kong retreat. "But people in Hong Kong looking for a quiet getaway no longer find it in Macau," concedes General Manager Humayoon Shaikhzadeh.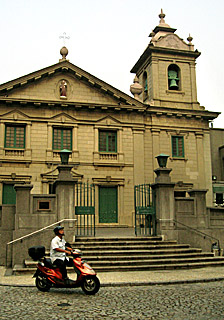 Indeed, the Westin still loans out bikes and offers great beach hikes, but the talk around the pool is casinos and conferences. Macau is humming so much even the Westin is now enveloped by the buzz. With better roads and bridges between islands, shuttle buses make downtown runs in 20 minutes. Before, it seemed a world away.
Strolling the beach, though, the sand seemed as serene as ever on my walk to Fernandos, a famed Coloane haunt. We called it Fernando's Hideaway.
It has no signs, and scant ambience, just bamboo or wooden tables. Business cards and bills of various worldwide currencies are tacked to walls for decoration. On the beach, I lose my way. A British woman points back the way I came.
"Fernandos is that a-way," she says, adding after a quick glance at her watch: "And you'd better hurry, it's 9:15." Sure enough, soon as I'm seated, a taxi packed with tourists arrive in party mood, only to be turned away. The waitress notes a clock; 9:32, two minutes past closing.
Yet the food is more mouth-watering than I remember: platters of pepper prawns, succulent pork ribs and Portuguese cod.
Some fear such local landmarks, like Henri's Galley or Platao, dishing out spectacular Macanese cuisine, will be pushed aside by the casinos. Welker says some of that has already happened, partly a consequence of soaring rents.
"Macau has changed, not always for the better," admits Shaikhzadeh, who has been with the Westin Macau since before the handover. "But it's a much more livable city nowadays. There are just more options, more shopping."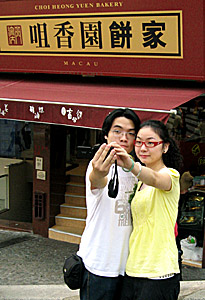 And more prosperity. Over and over, I meet residents who have returned due the boom. Wages, formerly a fraction of the pay in Hong Kong, are comparable and should continue to rise as Macau faces a looming labor shortage.
Deutsche Bank estimates growth should run 20 percent annually for the next three years, when 40,000 additional workers will be needed. With a population of 450,000 and strict overseas worker restrictions, that will be a tough order to fill.
Manpower is Macau's major concern, says Fernandes, followed by occupancy. Visitors have typically been day-trippers. Even with all the new hotels, stays still average 1.2 nights.
And that's with 12,000 rooms, according to Karmen Yeung, vice-chairman of the Macau Hotel Association. Within three years, he notes, the number will double.
The key to putting bodies in those beds will not only be expanding attractions, but the kind of business Macau attracts. Hence, the emphasis on conventions and conference facilities in all the mega projects. Over two billion people live within five hours of Macau; five times as many as within the same reach of Las Vegas.
Getting them here, though, is the catch. Ferries to Hong Kong, are overbooked. A bridge is planned but years away. Macau is building new docks, but not fast enough for casinos. Many plan independent ferry service, supplementing their helicopters and private jets for the high-rollers. "Access is one of the biggest problems Macau faces right now," notes author Welker.
Yet Fernandes just smiles. "Macau has been in business for many centuries and knows how to adjust. These are happy problems to worry about."
---
Ron Gluckman is an American journalist who was based for a decade in Hong Kong, across the harbor from Macau, but now divides his time between Bangkok and Phnom Penh, when not on the road for various magazines. He filed this piece from Macau for Destinasian in early 2007.
For a more recent update on Macau, see Asia's Las Vegas
All pictures by RON GLUCKMAN.
---
To return to the opening page and index

push here
---