South China's Sin City
Instead of high rises and the rule of law, Hong Kong's sister colony on the Pearl River is awash in laundered cash, casinos, prostitutes and gang warfare. While others worry about human rights, the Godfather of Macau says the Portuguese enclave needs more than peace and quiet
By Ron Gluckman / Macau
---
R

ussian and Thai prostitutes roam the nightclubs, loan sharks prowl the casinos, and several high-profile gangland slayings maintain Macau's seedy reputation as the Sin City of the South China coast.

This Portuguese colony has known many vices over the centuries, but none have proven as lucrative as gambling. When Stanley Ho arrived from Hong Kong at the outbreak of World War II, Macau was mainly dark, dirty streets. Nowadays, Ho pulls the curtains in his lavish offices above the Lisboa Casino, and looks over a sea of neon.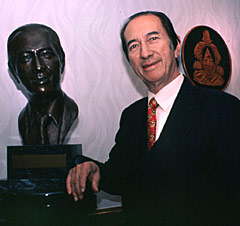 The Las Vegas of Asia lures nearly eight million Chinese gamblers each year. High rollers can play baccarat, leer at topless dancing girls from Paris or wager fortunes at the greyhound races. But no matter how they spend their money, in the end, it all goes to Ho, known locally as Sun Gor, or "Big Brother Sun."
The godfather of this gambling enclave an hour away from Hong Kong, the 76-year-old Ho holds an exclusive franchise for all casinos in the colony. Through his Sociedade de Turismo Diversoes de Macau (STDM), he controls many hotels and much of the property development. Ho has a major stake in the new airport and its airline, Air Macau. His empire encompasses everything from the local jockey club, lottery and dog races, to the TV stations that promote them. And should punters somehow flee his casinos with change in their pockets, Ho still extracts a final cut. Most visitors come from Hong Kong on the world's largest fleet of high-speed ferries, run by Ho's Shun Tak Holdings, a Hong Kong listed company with market capitalization of over US$1 billion.
One of Asia's richest men, Ho has little trouble getting government approval for his endeavors. In a sense, he owns the government, too. Under terms of a casino franchise agreement that runs two years beyond the return of Macau to China in 1999, Ho's STDM bankrolls over half of all government revenues. Naturally, any discussion about the future of Macau should begin with Ho. But, while money surely talks, Ho hardly ever does.
"Macau will never compete with Hong Kong," he says in a rare interview. "It's too small, and Hong Kong is far too affluent. The future for Macau is to grow closer to Hong Kong. We need more ferries, more development."
While others endeavor to protect and promote Macau's peaceful qualities and Portuguese legacy - dark, winding alleys, colonial mansions with expansive balconies and grand plazas and quiet cafes - Ho wants Macau to move in the opposite direction. "I'd like to see Macau with a population of one or one and a half million by the year 2,000," he says. That would only add to the crush in Macau, which is already considered among the world's densest cities, with a population of 425,000 in less than 20 square kilometers.
Already, in recent years, Macau has invested heavily in concrete highrises, as the speculative frenzy of the final days before the Chinese takeover of high-priced Hong Kong infected even easygoing Macau. But, most of Macau's new buildings remain empty, and rents have plummeted.
Ho discounts the current overstock of apartments in Macau, saying mainland investors merely moved too fast, as they often do. "The Chinese really don't understand a free market economy," he chuckles. "It's all new to them, and they have some lessons to learn. That's where Macau can help."
Certainly, Ho has already delivered a private tutorial. When Chinese operators began eyeing his lucrative gambling contract, he reportedly spread cash lavishly around to cadres. Historically a backer of charities and projects undertaken both by the Portuguese and the Chinese, Ho knows better than to choose sides.
"I'm not a gambler," he says. "People call me the casino king, but I don't play."
What Ho does is make money, heaps of it. The multi-billionaire doesn't release details of his fortune, but his gambling operations alone bring in US$700 million in profits each year. His net worth was estimated at more than US$2 billion by Asian Business magazine last year. Not bad for an immigrant who arrived in 1941 with little more than US$1 in his pocket.
Working in trading and shipping, Ho began assembling his fortune by deft dealings in difficult times. He learned Japanese during the war, and has been reported to have profited heavily during the Korean War. "Ho made his fortune as a gunrunner to North Korea," notes one old Asian hand. Macau has for decades served as a shipping point to North Korea and, recently, several North Koreans in the colony were arrested for passing huge sums of counterfeit US bills.
But Ho hit the jackpot in 1961, when he and a relative bid successfully for a stake in a casino. Ho, descendent of a wealthy Eurasian family from Hong Kong, took an aggressive role. He began running hydrofoils to Hong Kong, cutting the commute time in half. He expanded to more hotels and casinos, and plowed the profits into other enterprises, including his Hong Kong property holdings.
Macau, though, is his home, and he's a big booster. "Look, when I came over from Hong Kong, it had a population of a million. Now its almost seven million. Macau had a population of half a million. It hasn't changed. We must grow.
"I know many people don't want this. They like to look at the difference between Hong Kong and Macau, and praise the 400 years of peace and quiet.
"But," the godfather adds, "I like a busy city. I think Macau deserves more than peace and quiet."
---
Ron Gluckman is an American journalist based in Hong Kong, who travels widely around the Asian region for a variety of publications, including Manager Magazine, which ran this piece in 1997. Similar stories on Macau by Ron Gluckman also ran in Asiaweek, and were carried by MSNBC.
For another story on Macau's transition to Chinese rule, please click upon the other colony. To see a related story on China's takeover of Hong Kong, please see the Man who beat Beijing.
---
To return to the opening page and index

push here
---