Paradise Protected
A mainstay on the Diver's Hall of Fame, the picturesque atolls of the Maldives offer a satisfying taste of paradise. Yet this fragile ecosystem lacks food, water, even bungalow basics. Still, even without making it a buzzword, eco-tourism is working in the Maldives.
By Ron Gluckman /in the Maldives
---
A

GROUP OF ITALIANS set off to find the perfect mix of sun, sand and sea. South of India, they found isles set in pristine water with aquarium-like reefs and palms aplenty. One dropped a message in a bottle: "Found paradise. Come quick."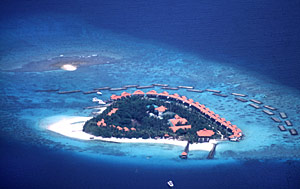 That was 1971, long before the Maldives even had commercial flights. A few decades on, there are world-renowned resorts and direct charters from Europe. Yet, little else has changed. The Maldives remains the picture of paradise, and the message still hasn't gotten out.
"I think all Europeans share this dream. I know I do," says Armando Kraenzlin, who is Swiss, but from the Italian part. "We fantasize about a deserted island, like Robinson Crusoe, with nothing on it but a palm tree. To us, that's paradise."
Kraenzlin bought his island in the Philippines, but he doesn't get there much. Instead, he helps others realize desert-island dreams as manager of the Four Seasons, a luxurious resort on its own isle close to the Maldivian capital of Male.
From there, it's a long haul by float plane to Soneva Fushi, also set on its own island, among the largest in this sprawling archipelago. Kunfunadhoo Island is trimmed by an enormous, aqua-marine barrier reef, packed with the same day-glow fish that populated the cartoon flick, "Yellow Submarine." From the shore, you spot manta rays, sharks, turtles and surrealistically-ornate Picasso fish.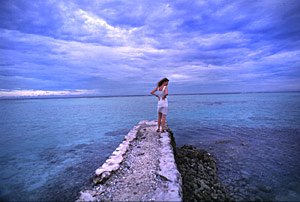 And that's just the view from the shore. Not surprisingly, the Maldives tops the Diver's Hall of Fame list. Among its own honors, the Soneva Fushi was recently voted "World's Best Resort" by readers of Conde Nast magazine.
"Sometimes, when guests drop down out of the sky, I feel like I should bellow, 'Welcome, to Fantasy Island," says resident manager Julian Moore, parodying a popular television show. On that program, guests went to a remote island to live out fantasies. "Here, they come to get away from the world," he says.
It's easy at Soneva Fushi, and around the Maldives, where the motto is "No shoes, No news." Despite stellar service and hundred-dollar spa sessions (the menu reads like a wine list), what really makes the Soneva Fushi special is its understated opulence. Facilities have tile or dirt floors. TVs are tucked away. Guests, many millionaires, stroll about in sandals, and pedal jungle-draped paths on clunker bikes left beside luxurious beachfront cottages.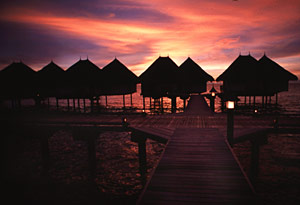 At the Four Seasons, bungalows sit on platforms over a teeming tropical reef. "Often we greet guests at check in and don't see them again until they check out," notes Kraenzlin, with a proud smile. "They take all meals in the rooms. They live on the balcony, staring into the sky and the sea."
At up to $1,000 per night, it's not cheap chilling. But even middle-range resorts ($200 for entry-level packages) aren't for penny-pinchers. Across the Maldives, paradise comes at a premium. That's because practically everything is imported. Food, wood for the buildings, even soil for vegetation, is shipped from Sri Lanka or India. The Maldives has nothing except crystal-clear water and dazzling coral atolls. That word is one exception; it comes from the Maldivian, "atolu."
There are over 1,000 of the tiny coral-encrusted islands in this aquatic republic, which stretches 800 kilometers. Less than 300 square kilometers is land. This is the real Waterworld - 99.6 percent of the Maldives is H2O.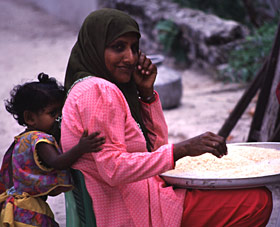 Tourism might seem a strange mixer, especially since the Maldives is staunchly Muslim. (Although friendly, to a fault. My bottle of gin was confiscated at the airport - and returned at departure - by smiling customs agent Mohammed Ali. Don't bring videos, either; they must be screened by island censors). Indeed, after the "discovery" by Italians (still the biggest visitors) a Danish firm came to do a tourism study. The verdict: tourism was impractical in the Maldives. "Ever since then," says Agisa Abdulla, Deputy Director of the Maldives Tourism Board, "we've been proving them wrong."
Half a million tourists come each year - twice the number of residents - and the rate rises 8-10 percent per year. "Eight percent is sustainable," Abdulla says. That's the pace the Maldives has chosen, and like everywhere else, it's targeting high-end tourists. Unlike the rest, it's getting them.
With its fragile ecosystem, mass tourism would sink the Maldives. Only 88 resorts have been approved, and just one per island to minimize impact. Each must provide its own water and waste disposal. Resorts aren't allowed on inhabited islands - swimsuits and fundamentalism don't mix.
The result serves as a model for island nations across the Pacific, if not around the globe. While Nauru looks to the end of its guano gold mine, Maldivians enjoy the highest per capita income in South Asia. Tourism pulls in 70 percent of the foreign currency.
The Maldives is also a leader in the trendy field of ecotourism, although you don't hear the term bandied much. "Ecotourism is one of those buzzwords that every country defines in its own way," notes Moosa Zameer Hassan, environmental analyst with the Ministry of Tourism. "In our view, it's really sustainable tourism. But it's all the same in the Maldives, nature based."
Still, residents debate issues like global warming in local tea shops. No wonder. A one-meter rise in sea level would swamp 80 percent of the Maldives. Hence, little-known President Abdul Gayoom, Asia's longest-serving leader, has become a poster boy for global warming.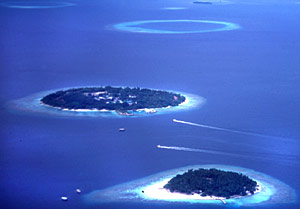 Thus far, tourism has paid for schemes like the Great Wall of Male, a coral barrier around much of the capital. Not that there aren't problems, both natural and manmade. Much of the coral was reportedly devastated by warm waters in the wake of the last big El Nino, but resident reef watcher William Allison notes: "Recovery is well under way." He says corals should continue a growth pattern that will bring back colorful coral gardens within 5-10 years.
And while some fret that many resorts aren't as careful with rubbish as they claim, the trend is clearly towards increased environmental awareness across the islands, especially as upscale resorts set the tone by pulling in the top dollars that go to the cleanest, most aesthetically-pleasing resorts.
So it all works, so far, at least. Tourists bask in luxury beyond the means of locals. But they see it thusly: visitors work like dogs for 50 weeks to spend a week or two in serenity, spending enough to keep Maldivians rocking in rope hammocks for the rest of the year.
In the Maldives, the message in the bottle reads: "Paradise maintained."
---
Ron Gluckman is an American reporter who is based in Asia since 1991, roaming around the region for numerous publications, including Time Magazine, which ran a version of this story in summer 2001. This is the original version.
Pictures by Ron Gluckman
All words and images are copyright RON GLUCKMAN, protected by international law barring any reproduction or reprint without the permission of Ron Gluckman
---
To return to the opening page and index

push here
---