Spa-tacular
Set on its own exclusive island in the distant Maldives, the Soneva Fushi resort is largely regarded as one of the world's best. Rustic villas and opulent service are among the reasons this retreat is renowned among the class that craves relaxation. And lest some tension linger, this outpost in paradise offers the ultimate in spas.
By Ron Gluckman /in the Maldives
---
R

&R HAS BEEN THE AIM OF HOLIDAY-MAKERS since the concept of vacations started, many centuries ago. In recent years, though, the emphasis has clearly shifted from recreation to rest. Forget thrills, the current craze is to chill.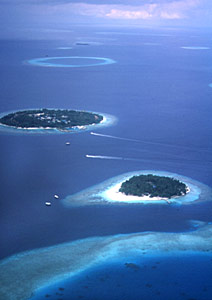 Spas are the rage. Brochures read like menus: herbal rubs, de-stress tonics, flavored facials. Moonlight rubs, New Age music, oils and ointments. These are buzzwords of countless resorts all boasting spa nirvana. Nowhere delivers quite like the Soneva Fushi.
Set upon its own lush island in the pristine Maldives, a string of pearl-like coral atolls southwest of Sri Lanka, the ultra-exclusive Soneva Fushi is a surprisingly friendly resort that delightfully defies categorization. Upscale, for sure. Guests fly by float plane from Male, the Maldivian capital, and pay up to $1,000 per day to stay in casually-decorated villas tucked neatly amongst well-tended tropical forests.
Despite stellar service and hundred-dollar spa sessions, what really makes the Soneva Fushi special is its understated opulence. Facilities sport tile or dirt floors. Televisions are tucked away underneath wicker baskets (used mainly for complimentary in-room movies, if used at all). Guests, many millionaires, stroll about in sandals, and pedal jungle-draped paths on clunker bikes left alongside luxurious beachfront cottages.
Sonu Shivdasani confides that comfort rather than flash features was the aim at the outset when his boutique resort chain, Six Senses, opened the island resort in 1995. The name is a clever blend of those of the owners, Sonu and his wife, former Swedish model, Eva Malmström, and the nearby island of Eydhafushi. Sonu and Eva oversaw all the design and interior décor themselves.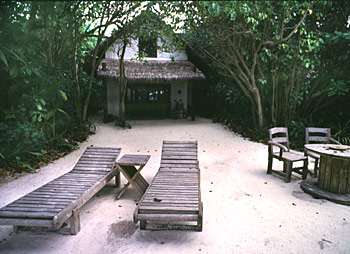 Padded chairs in intriguing native designs add to the rustic charm of a resort that naturally stirs fantasies of Robinson Crusoe and the like.
"Sometimes, when guests drop down out of the sky, I feel like I should bellow, 'Welcome, to Fantasy Island," says resident manager Julian Moore. In that television program, guests journeyed to a fictional island paradise to live out their wildest fantasies. Here, he says, "they come here to get away from the world."
It's easy to do at the Soneva Fushi, where mobile phones are checked in at the door. The motto is, "No news, no shoes."
Instead, guests unwind with big books on beach chairs, snorkeling sessions in reefs teeming with colorful fish, all just a few steps across the sand from each luxurious villa. And, inevitably, repeated soaks in one of the world's most famous spas.
"A lot of executives come here specifically for treatments," says Johanna Osterbladh, supervisor of a spa that features four treatment rooms set around a central pond. Each features waterfalls and candles, plants and relaxing aromas. "Most people don't want to do anything or see anyone. They just want to be taken care of and relax."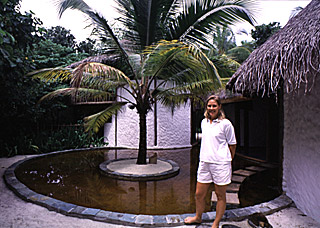 The full-service spa offers a rub for every ache, an ointment to salve every imaginable itch. There are Swedish, Thai and Japanese Shiatsu massage. Also sports and deep-tissue rubs. Jet-setters can start with "Jet Lag Neutralizer" then move to the "Face Lymphatic Drainage" (reduces puffiness).
The options are endless, everything from ear acupuncture to "Affinoderm," a body treatment that involves being submerged in marine algae (said to "attack fatty contours and promote figure slimming").
Especially popular with couples is "Aphrodite," a romantic dual massage by the beach, at sunset or under the stars, featuring a pair of therapists, lots of oil and a bottle of champagne.
Prices run around $70 per hourly treatment. (Aphrodite is a 90-minutes for two, $230 including the bubbly.) Not cheap, but as Osterdbladh points out, "People want the best. That's the mandate here. Quality is the main consideration." Besides, she adds: "Nobody looks at the prices. You don't save up to come to the Soneva Fushi."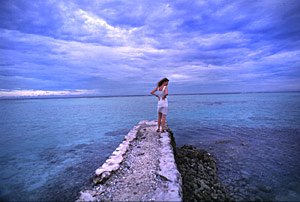 Indeed, that's typical across the Maldives, where even mid-range resorts charge $200 per day for entry-level packages. That's because practically everything in the Maldives must be imported.
Food, wood for the buildings, even the soil is shipped from India or Sri Lanka. The Maldives has hardly any natural resources - except crystal-clear water, breathtaking fish and dazzling coral atolls. That word is the one exception, this island nation's lone export ; it comes from the Maldivian, "atolu."
Then, there is also tranquility. It infuses a thousand coral-rimmed isles making up this intriguing aquatic republic, which stretches 800 kilometers. Paradise, one finds upon arrival in the Maldives, was never lost. At the Soneva Fushi, it abounds.
---
Ron Gluckman is an American reporter who has been based in Asia since 1991, roaming around the region for numerous publications, including Time Magazine, which ran his report on the Maldives in the summer of 2001. This story was subsequently printed in Mabuhay, the magazine of Philippines Airlines.
Pictures by Ron Gluckman
All words and images are copyright RON GLUCKMAN, protected by international law barring any reproduction or reprint without the permission of Ron GluckmanAll words and images are copyright RON GLUCKMAN, protected by international law barring any reproduction or reprint without the permission of Ron Gluckman
---
To return to the opening page and index

push here
---