From Shanghai to Vegas
The ghosts of a once great international enclave in Shanghai gather amongst the slot machines and bright lights of a human pit hole to recall the glory days of a magical land that once was but will never be again
By Ron Gluckman/Las Vegas
---
"We were flying when flying was dangerous and sex was safe."

A

MIDST THE SLOT MACHINES AND GAMING TABLES, the romance of old Shanghai swirled in the air. Flush with nostalgia, more than 1,000 former expatriate residents of China arrived in Vegas, coming from as far away as Russia and South Africa, to reminisce, share school songs and scrapbooks, and mourn friends lost since the last Old China Hands Reunion and Conference. The four-day affair, the largest ever held by the group, revived memories of the glory days that foreigners relished in China's treaty ports in the first half of the century.

The milieu for the confab could hardly have been more incongruous. As elderly folk gathered at the outrageously gaudy MGM Grand Hotel to recall strolling Shanghai's magnificent Bund waterfront in their youth, they found themselves rubbing shoulders spandex-clad, tattooed fight fans flocking to see boxing champ Mike Tyson's latest bout. America's most over-amped city was all lit up for another gladiator duel. But, as ex-jailbird Tyson dispatched his latest victim in a torrid rain of blows, next door, a more mellow atmosphere prevailed. In the ballroom, Glenn Miller's music played, tears flowed as old soldiers and old lovers embraced, and, for a few magical moments, it was the 1940s all over again.

China's treaty ports offered foreigners special privileges and isolated them in lofty colonies from the turmoil engulfing the rest of the Middle Kingdom. But they were also cultural hybrids, gathering points for avant-garde Chinese thinkers as well as triad bosses. Many worlds mingled and overlapped in the enclaves in ways that haven't been seen since World War II brought the enchanting arrangement to a sudden and severe halt.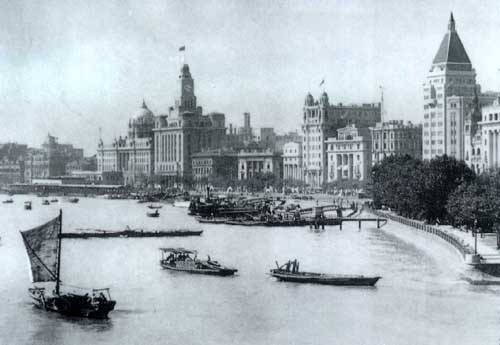 Shanghai, to many people, represents the ultimate in excess, a Sodom of Sin on the China coast. This stereotype is reflected the wild opening scene of "Indiana Jones and the Temple of Doom." Former residents say the portrayal of pre-war Shanghai as a wide open city of rogues, loose women and non-stop revelry was, if anything, only too tame. "There were parties every night, grand parties," said Robert Augestad, who was born in China in 1924. His father had been a Norwegian seaman, and Augestad likewise roamed the world before settling in San Diego County. "I've been all over, but there's nowhere like Shanghai," he said.
"Shanghai was the city that once was and never will be again," sighed Harry Olaussen, a former member of the Canadian parliament, who lived in Shanghai from 1929-1949. "It was a special place and a special time."
Mario Machado, an Emmy-winning broadcaster from Hollywood who organized the conference, explained the unique allure of Shanghai, where he was born. "We lived our lives with great penache," he said. "Shanghai was magical. We were a proud group of people, a diverse group, bound by a special comraderie. We had theater, culture, sports, everything. We didn't know we were magical then, but we were."
Indeed, that was the overwhelming appraisal of the businessmen, students, sea captains, accountants and diplomats who once called Shanghai home. Although the conference encompassed over a dozen foreign enclaves in China, Shanghai was the best represented, accounting for 80 percent of participants. And no wonder. During its pre-war heyday, Shanghai had over 40,000 foreigners. They were a mixed bag: French and British traders, Austrian doctors, Bagdhadi bankers, American adventurers and Russians fleeing the revolution. And this eclectic group only seemed to blossom during World War II with the infusion of 20,000 Jews from Europe; Shanghai was a haven for Holocaust victims.
Many of the rag-tag refugees were forced into ghettos or interment camps in Shanghai under the Japanese. Oddly enough, even their memories were fond. "Life didn't seem that terrible, although there were deprivations," said Evelyn Pike Rubin, hawking copies of her memoir, "Ghetto Shanghai," among a half dozen authors in attendance.
An entire era was evoked as free-wheeling and unforgettable. Felix Smith, a swashbuckling pilot who flew countless missions for the US Army, then later for the Nationalists against the communists, added: "Through it all, we lived an Alice in Wonderland existence." He discounted the peril of this exalted period. "We were flying when flying was dangerous and sex was safe."
There were heartwarming tales by the score. Judith and Karl Moranz live in San Jose, but both their families once lived blocks apart in Vienna. The families came on the same ship from Italy, and departed Shanghai on the same ship in 1949, as the communists swept into the city. Yet, the couple didn't meet until 1959 in New York, at a reunion of Shanghai survivors. Karl proposed three months later.
The conference bulletin board was a mosaic of such memories: photographs of school plays and football clubs from the 1940s stood amongst tattered strips of paper begging information about lost friends. Observers that could stood, leaning on canes or crutches, to survey the pieces of their collective past.
"It's sad to think that this much history is fading away," said Sue Fawn Chung, a professor of Chinese history at the University of Nevada Las Vegas. Chung was on hand with a team of volunteers, conducting nearly 100 oral interviews with the Old China Hands. She mentioned plans for documentaries and future studies on a wider scale, but wasn't overly optimistic. "There's no money," she explained. "We'd need a grant to do this right."
Fears about funding seemed incongruous in Las Vegas, the world capital of quick cash. Just a few steps from the ballroom, a serenade of slot machines rang through the MGM Grand as millions of dollars changed hands at the betting booths, and tickets for the fight sold briskly at US$400 and up.
Nobody seemed to mind the brevity. Tyson, the man with Mao tattooed down his right arm, delivered a knockout within two minutes. Just as fast, the bimbos tottered off on stiletto heels, and the fight freaks moved to the next party. In the ballroom, though, aged dancers held desperately to another era. Eyes shut, they swayed to half-century old sounds. They were "In the Mood." And, amongst the clamor of the casino, they were back in old China.
---
Ron Gluckman is a reporter from San Francisco, the "Shanghai of the West," who first came to China in 1990 and has returned many times since. He lives in Hong Kong and roams around Asia for a variety of publications, including the Wall Street Journal, which ran this article in September 1996. For a full story on the amazing community of refugees who survived the holocaust, please click on Shanghai Jews. To visit modern Shanghai, click the coolest city in Asia.
Historical picture from archive; photographer unknown.
---
To return to the opening page and index

push here
---
[right.htm]