Siem Reap - Cambodian art enclave
Move over Ubud and Hanoi; Asia's got a hot new arts center - Siem Reap, upcountry in Cambodia. Gateway to the ancient temples of Angkor, the riverside town is swarming with tourists, and sustains a growing crowd of artists and art galleries.
By Ron Gluckman /Siem Reap, Cambodia
---
ALREADY THE GATEWAY to the temples of Angkor, the quaint Cambodian town of Siem Reap is fast evolving into one of Southeast Asia's top art enclaves.
Since its debut three years ago, the Angkor Photography Festival, an annual year-end event, has become the region's premium photo showcase. With the success of the festival—which reels in some of the world's top photojournalists—the local art scene, too, has been attracting notice.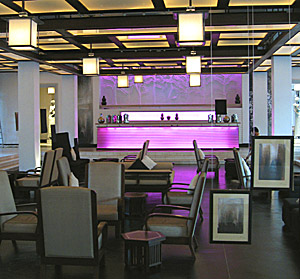 Eager to take advantage of this newfound attention, galleries have joined together to promote Cambodian art and artists. Last year, they began producing ArtVenues, a brochure that lists the town's top galleries and details self-guided art walks.
"We wanted to build on the excitement of the photo festival in promoting the wide spectrum of arts in Siem Reap," says Nicholas Downing, the general manager of Hotel de la Paix, which stages regularly changing exhibits in its own The Arts Lounge (Sivutha Blvd.; 855-63/966-000; www.hoteldelapaixangkor.com).
Many are provocative, like the recent show, "Lines & Lost Lines," which included performance pieces and visual art from Kong Vollak, an emerging Khmer artist. One installation featured ice blocks hung from the ceiling. They later melted and dripped into a pool designed to be flooded in the manner of Angkor's ponds. Guests were invited to kick off their shoes and splash around.
"Some exhibits are very polarizing, very controversial," Downing concedes. "But that's the whole point of art. To get people talking, thinking. This scene in Siem Reap is really sophisticated, with lots of artists wanting to ride the wave of something special.
"Siem Reap is really taking off."
---
The Arthouse - This space features the sculptures and photos of longtime local resident Sasha Constable, a founder of the Peace Art Project, a sculpture project focused on turning weapons into art. Constable—who is a descendant of the 19th-century British landscape painter John Constable—also serves as the curator, advancing the work of up-and-coming Cambodian artists like Svay Ken, Leang Seckon, Srey Bandol and Tor Vutha. Old Market Area (above The Warehouse); 855-12/699-249; www.thearthousesiemreap.com.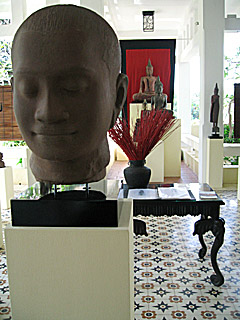 The Linkway Gallery - Housed in the elegant, historic Raffles Grand Hotel, this outdoor space specializes in Angkor-era statues and art. Indeed the entire hotel serves as an art gallery, with around 500 pieces scattered throughout its premises. (Raffles Grand Hotel d'Angkor, 1 Vithei Charles de Gaulle; 855-63/963-888; www.siemreap.raffles.com).
McDermott Gallery FCC - No individual has done more to put Siem Reap on the art world map than John McDermott, an American photographer whose famous pictures of the Angkor temples, using infrared film to produce evocative, antique-looking photos, are the only work by a foreigner exhibited in Cambodia's National Museum.
This gallery —his first of three—is devoted to his Angkor photographs from the 1990's. McDermott has recently added a second fine-art photography exhibition space in The Passage (The Passage, Old Market; 855-92/668-181; www.mcdermottgallery.com), a cobbled lane bursting with new galleries, cafés and boutiques. (FCC Complex, Pokambor Ave.; 855-12/274-274.
Red Gallery - McDermott's latest venture is this small, stylish gallery at FCC Complex. The red walls and porthole windows might allude to Old Shanghai, but the wares are paintings, photos and sculptures from local and regional artists, including Cambodian photographer Mak Remissa's vividly colored, abstract prints of fish, bronze sculptures by Sasha Constable and images of Cambodia on diminutive silver gelatin prints by Czech photographer Jaroslav Poncar. (FCC Complex, Pokambor Ave.; 855-12/615-695.)
---
Ron Gluckman is an American reporter who has been living in and covering Asia since 1991. He is currently based in Bangkok, but spends much of his time in Cambodia, where he wrote this piece for the April 2008 issue of Travel + Leisure (Southeast Asia).
All pictures by Ron Gluckman.
---
To return to the opening page and index



push here
---