</p>
Woodstock...for elephants
Every year, elephants parade through the streets of Kandy in the spectacular Perahera. Hundreds more migrate to

Minneriya

in the

largest gathering of Asian elephants. They feed, frolic, fight and mate in a spectacular show that marks a trend truly worth celebrating: alone among Asian elephants, they are on the rise.

By Ron Gluckman / Kandy, Minneriya and Yala Park, Sri Lanka.
---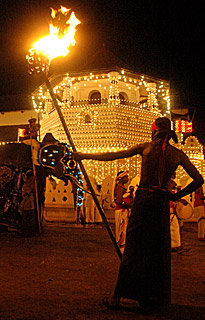 T

RUMPETS BLARED, DANCERS SPUN

in hypnotic swirls, and everywhere there was fire. Jugglers twirled torches or balanced blazing coconut shells, while children leaped ecstatically through smoke and flames.

Such was the delightful delirium last month at Perahera, the annual national Sri Lankan carnival that ranks with the world's most colorful. The highlight came with a nightly parade of elephants, 50 in all, bedecked in lavish robes embroidered with gold.

The magnificent display not only emphasized the reverence accorded elephants around this island, where traffic stops whenever they cross roads, and children at temple fairs scurry under their legs for good luck, but was a reminder of an Asian wildlife tale most rare. Sri Lanka's elephants, you see, are on the rise.

At Minneriya National Park, two hours north of Kandy, even as Perahera concluded, another gathering was gaining speed. Hundreds of elephants were making a slow trek to the park for an annual spectacle dubbed "The Gathering."

Like a long Elephant Woodstock, it lasts a few months into October, with vast numbers of elephants frolicking in full view of mesmerized visitors.

"The Gathering is one of the most unforgettable and fantastic events in the international wildlife calendar," enthused Gehan de Silva Wijeyeratne, head of Jetwing Eco Holiday, and a renowned island naturalist. "From an elephant-watching perspective, it's phenomenal, beyond compare."

Jeeps into the 9,000 hectare park provided confirmation. Far across the horizon stretched the magnificent mammals. Groups of 100 were repeatedly sighted. But the real thrill, said many African safari veterans, was an unique opportunity to see so many elephants close-up, for so long. Captivated, we watched as they fed, fought, courted, cared for babies and just lulled away the hours, elephant-style.
The lure to all these large beasts was the lush grass revealed by receding waters of Minneriya Tank, a reservoir built in the Third Century. For centuries, the manmade lake has compounded what is itself a remarkable anomaly. "Small islands are not supposed to have large animals," joked Mr. de Silva. "Someone forgot to tell this to the elephants."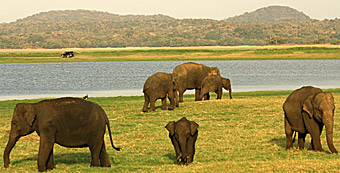 The timing couldn't have been better. Wracked by decades of civil war and still recovering from last December's tsunami, Sri Lanka was consumed by national sorrow after the shocking assassination of popular Foreign Minister Lakshman Kadirgamar, gunned down on the first day of Perahera.
Amidst such misery, the reappearance of the beloved elephants provided a welcome reason for cheer.
Elephants are on the decrease everywhere across Asia. That was the story here, too. Numbering perhaps 10,000 last century, elephants declined to fewer than 3,000 on this small island. But the population has since rebounded. There are probably 5,000 elephants on the island, said Jayantha Jayawardana, author of "The Elephant in Sri Lanka."
Compare this to Thailand, which claimed several thousand elephants a century ago. There are now estimated to be a couple thousand left. Although revered in Thailand and around the Southeast Asia, the same sad story is playing out for the jumbos everywhere, but here. Of Asia's 13 nations with elephants, Sri Lanka is the sole place where the numbers are increasing.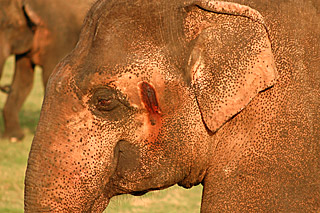 Not that the former Ceylon is paradise for elephants. An average of 10 monthly perish in clashes with humans, said Mr Jayawardana. Three were smashed by a train just a few months back. The collision only highlighted the dilemma of this densely-populated island, where competition for diminishing land can be fatal. Five people each month, on average, are also killed by elephants, mainly farmers trying to protect crops from the ravenous beasts.
In Habarana, a small village on the south of the island, on the outskirts of Yala Park, the home of R. D. Prima Ranasignha bore scars from one attack. The mother or two pointed to where a stray elephant had punched holes in her mud hut. A bent metal roof had also been bashed. "He came from the jungle. We tried to chase him away, but he got mad and rammed the house."
Many neighbors have had the same problem, which explained cans strung from trees and the large wooden tower erected to warn of new attacks. Moving away from the park and its elephants isn't the answer. She said they had no land, and no money to move. Besides, stray elephants are pests, but they also provide her livelihood. Like many in the area, her husband is a seasonal safari guide.
Around the island, elephants gave Sri Lanka a much-needed lift after last year's tsunami. Tourism was decimated, noted Udaya Nanayakkara, chairman of the Sri Lankan Tourism Board. Actual numbers of visitors aren't down as much as spending, as European holiday makers have been replaced by Indians lured by vigorous discount promotions.
But the parks continue to pull in tourists from far and near, eager to explore a series of well-run parks. "You can come again and again," explained Frazana Jameel, on a visit to Yala with her husband, two children and another family of four. "You never get bored with wildlife."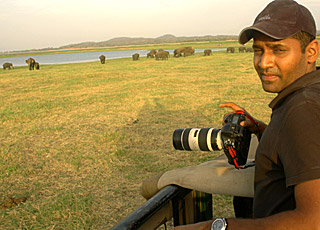 As always, elephants are the big attraction. Possibly too big, worry some. "There are simply too many elephants for the available habitat," said Mr Jayawardana. "We have to face the fact that we have insufficient land on this island to support them all."
Culling would provide some relief, said Mr Jayawardana, a member of the Asian Elephant Specialist Group, an advisory group. Some animals might be domesticated, delivered to temples that keep them for fairs and festivals. Others could be sent to countries like Vietnam, China, Laos and Malaysia, once home to huge herds, but now places where the animals face extinction.
Asia could also look to Sri Lanka for other ideas like wildlife safaris. Modeled after African safaris, they are hugely popular in Sri Lanka, creating employment and pouring vital tourist dollars into the park coffers.
While elephants linger in Thai cities in pitiful conditions, begging for bananas at tourist hotspots, in Sri Lanka they not only abound in wilderness, but star each year at Perahara.
And, for a few months, celebrate their own existence at The Gathering.

---
Ron Gluckman is an American reporter who has been living in and covering Asia since 1990. He roams around the region for a wide variety of publications, including the Asian Wall Street Journal, which ran this story in September 2005.
The Perahera Festival, one of the finest in Asia, is held for 10 days each year in Kandy, climaxing on the Full Moon, usually in August. Elephants move to Minneriya as the waters recede each summer. Generally the peak viewing is August through early October, when hundreds can be seen across the plains.
All pictures by RON GLUCKMAN
---
To return to the opening page and index

push here
---