The Best Joe in Java
After thrashing through the wild jungles of eastern Java, smart adventurers take a turn through banana plantations and rubber trees, to an aromatic oasis that serves home-grown feasts and pots of coffee that are fit for paradise
By Ron Gluckman / Kaliklatak, East Java
---
F

ROM THE KITCHEN COMES THE RICH AROMA OF EXOTIC SPICES like nutmeg and clove. On the table, a feast awaits: soup filled with wild mushrooms, platters of banana fritters and fried ferns, and a fresh vegetable casserole. Besides sweets of cinnamon and chocolate, there's also sinful agar, a vanilla pudding with coffee Jell-O.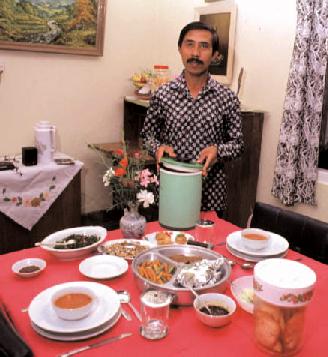 To this glorious Garden of Eating, the houseboy adds a huge pot of Javanese coffee, thick enough to stand up even the heaviest spoon.
There is something special about sipping Java, as coffee is called in many parts of the world, in the land that made it famous. Better yet, we're drinking Javanese coffee fresh from the source, at the very plantation where it is grown, roasted and brewed.
In fact, every ingredient on the table - from the bountiful main courses right down to the tiny grains of pepper - comes from the surrounding soil. At Kaliklatak, at the eastern end of Java, a short ferry ride from Bali, images of Eden are everywhere.
More than a few visitors have likened R. Soehoed Prawiroatmodjo to Indonesia's own Luther Burbank, the famous American botanist who eschewed laboratories in favor of lush flower gardens of his own creation.
At 1,000 hectares, and employing 600 workers, the highly-successful Kaliklatak rubber and coffee plantation is Java's largest. The ranch claims 115 hectares of cocoa, 550 hectares of coffee, 130 hectares of rubber trees, 80 hectares of cloves, plus an assortment of nutmeg, cinnamon, pepper, vanilla and all varieties of fruits and vegetables.
More than anything, though, the plantation has proven that the pursuit of profit needn't ruin paradise. At Kaliklatak, commerce coexists with immense natural beauty. Scores of orchid species mingle with American cactus, palms from Saudi Arabia, parrots and monkeys. Statues and religious shrines add a mystical spell.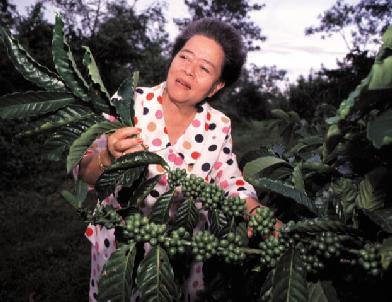 The ranch, which rents 20 cottages to curious visitors, also produces bananas so fine that Kaliklatak's variety, Pisang Ambon Kuning, was long ago named the National Banana.
"The government asked me to plant 200 hectares more of bananas," says I.H. Soehoed Prawiroatmodjo, who has run the ranch since her husband died in 1982. "I told them I'm too old. So I gave them some seeds and said, 'do it yourself'."
Age hasn't hampered this sprightly matron, who drives her jeep around the ranch, stopping to pull unsightly weeds from around the rubber trees with her own strong hands. Nor is she timid about expressing her opinions, even when criticism of the ruling family is involved. She is particularly angry about the way the president's son, Tommy Suharto, brought financial ruin to the nation's once-thriving clove industry.
Few in Indonesia would be so bold, but Prawiroatmodjo has always enjoyed the ability to level with the nation's leaders. While working as a journalist in the 1950s, she traveled with long-serving Suharto's only predecessor, President Sukharno.
Her journalism career was cut short after meeting her husband, a military leader who retired a few years later. He wanted to move to the country, to make things grow. They looked at numerous parcels for a retirement villa, but knew Kaliklatak would be their home from the moment they first saw the sprawling ranch, tucked on a forested hillside overlooking a volcano and the sea.
"My husband was a real Javanese," she says. "He believed the saying, 'Put before you the ocean, behind you the mountains; in between the land will bring you happiness'." And, it has.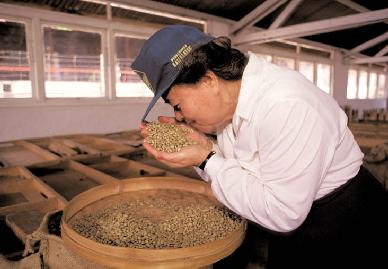 Kaliklatak produces 300 tons of coffee in a good year. Rubber is harvested daily. Each worker tends 500 trees, collecting the thin trickle of white sap that runs slowly down the circular notch cut into each one. Banana plants are harvested twice a month, producing five to six tons monthly.
Assessing all this bounty, and the beauty of Kaliklatak's spacious gardens, it's hard to believe that this magnificent and productive plantation was left in ruins following World War II. Hard work transformed the soil, and the Prawiroatmodjos devoted themselves to restoring the land's spiritual qualities.
In a book printed two years after her husband's death, Mrs. Prawiroatmodjo recounts his dream to build more than a mere ranch, but also a model village. It is centered by an ornate fence, with carvings that tell the history of the people of Indonesia, from the creation of the sun and the moon, until modern times.
The spiritual gate and fence were finished in 1960, but the family continued to add shrines and statues throughout the plantation. They invested heavily in ornamental plants and established nurseries for their favorite flowers, shrubs and trees. They experimented with a variety of crops, which flourished in the rich volcanic soil.
"My husband said we should plant spices. That was his idea, so that visitors would know what Indonesia had to offer, and why the Dutch came to these islands, for the spices," she says.
Even after all this time, the Dutch still come, along with Europeans, Americans and tourists from every part of Asia. They come from Jakarta or Bali to Banyuwangi, then make the 15-kilometer drive through towering forests of teak to the plantation on the picturesque slopes of 9,000-foot Mt. Merapi.
Bookings are made through a select group of travel agents by visitors who generally hear of the plantation from former guests. Kaliklatak does no advertising. "Tourism is my hobby," chuckles Mrs. Prawiroatmodjo.
Indeed, guests are often more serious about the visit than she seems. Dik and Rudy Schreuel stopped by during a personal pilgrimage. Rudy, 76, had lived in Indonesia until the mid-1960s. His son Dik, 41, had been born in Indonesia, but was sent back to Holland when he was only four. Their ancestors had been in Indonesia since 1830.
"It's funny being back," says Rudy, sipping tea while looking over colorful cloves and coffee and vanilla beans from a plantation lookout tower. "But it's more beautiful than ever."
While Dutch names are common on the Kaliklatak guest log, far more visitors are couples on vacation,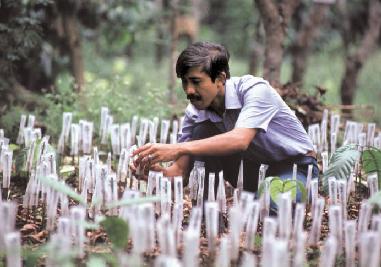 seeking a romance along with adventure after lounging for a week or two on the beaches of nearby Bali. At Kaliklatak, they stay in cottages with two bedrooms, bath, living room and lovely verandas. Each of the 20 cottages, or Pondoks, is of an unique design, as are the surrounding gardens.
Guests can take tours of the rubber factory, where the sap is pressed and squeezed until thick bundles of latex are produced. They can also watch workers sorting the four grades of Kaliklatak coffee, most of which winds up ground into the thick paste that makes the pungent Javanese coffee. Or they can wander freely around the plantation, which is really a community unto itself, with over 300 houses, several stores, three schools, a mosque and a church.
Bedtime comes early on the plantation, unless guests find a singing session in one of the ranch towns. The workers are friendly, and eager to welcome guests.
Supano, one cottage worker, has lived on the ranch his entire life. He was born here and attended a plantation school. Both his parents lived here even before the Prawiroatmodjos bought the plantation. Supano, 38, says he expects both his children to grow up and work on the farm. His wife feels the same way. They met in the farm school. She was born here, too.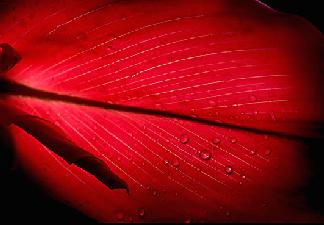 And you could hardly find a better place to spend your life, as many visitors find. "Guests often come for one night and stay for three," says Mrs. Prawiroatmodjo proudly.
Kaliklatak offers a rare sort of rustic luxury; primitive pampering. Understandably, some visitors roam no further than the wicker furniture on their own personal veranda, where they are served by their own personal houseboy, who produces colorful and nutritious meals that bring new meaning to the theme of home cooking. Much of the food is harvested on the plantation that very day.
And topping it all off are piping hot pots of Java - fresh from the ranch, here in the heartland of Indonesia.
---
Ron Gluckman is an American journalist based in Hong Kong, who travels widely around the Asian region for a variety of publications, including Asia, Inc., which ran this story in 1995. For another story on Indonesia, see Pasola.
The photos on this page, and most of the scanning for this web site, are the work of David Paul Morris, an American photographer who often travels with Ron Gluckman. For other examples of Mr Morris' work, turn to Postcards from The Beach, Urge to Merge, Melbourne Comedy, Hung Le, the Man Who Beat Beijing, Coober Pedy, Pasola and China Beach.
---
To return to the opening page and index



push here
---