Turning Red China Green
With the world's worst pollution, China desperately needs to go Green, but government repression stifles the formation of any rainbow coalitions. Yet a retired history professor has shown that subtle tactics can produce results in cleaning up the Middle Kingdom.
By Ron Gluckman/Beijing
---
HISTORY PROFESSOR LIANG CONGJIE has always loved a challenge - such as helping to compile a 74-volume encyclopedia on China that involved hundreds of editors and years of work. Now, when most of his contemporaries are contemplating retirement plans, Liang has set his sights far higher. He has decided to devote the rest of his life to cleaning up China.
"We knew from television about Greenpeace. But there wasn't anything like that in China," says the president of Friends of Nature, the mainland's first non-government organization on the environment. "My friends and I began wondering, why not here? We decided to try."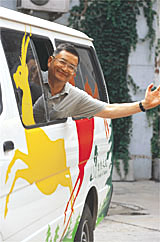 The pioneers at FON make an unlikely band of eco-warriors. Peering through big, wire-rimmed glasses, 68-year-old Liang resembles a kindly grandfather. He favors a style of knitted shirts and casual slacks that would not look out of place on a golfing green. The other founding members are his fellow teachers at the Academy for Chinese Culture, a private philosophy institution.
To this collection of scholars, Liang has added students, housewives and taxi drivers. "The membership is everybody," he says proudly. "It's less like a Western environmental lobby and more like a club. We have a homey atmosphere. And I like it that way."
Yet few in China take this nature club lightly. At least not anymore. Since its inception in 1993, a string of high-profile activities has earned FON a reputation as China's most influential environmental lobby. Among its victories: protecting the habitat of a rare species of monkey from destructive logging and drawing international attention to the slaughter of the endangered Tibetan antelope.
Liang, who has met American President Bill Clinton and British Prime Minister Tony Blair, has also been outspoken on the controversial Three Miles Gorges Dam and industrial pollution throughout the country.
Taking on enormous odds runs in Liang's family. His grandfather was a visionary who pushed for Western-style reforms to save the tottering Qing empire. His father, who had been one of the country's leading architects, is best remembered by Beijing residents as the man who battled to save its ancient city walls - unsuccessfully. Liang, however, has learned to pick his battles well.
"My strategy is to first support the government since it has the regulations to help improve the environment," he explains. FON is "artistic" in its tactics and tries to keep on good terms with officials. But as an NGO, he says, "it's also our mission to act as watchdog." Nonetheless, it has been a struggle.
"You hear about how the Chinese live in harmony with nature, but that's all words without real meaning," Liang says. "Chinese people don't have much understanding about ecology."
Part of the problem, he says, is ideological. "There has long been this notion that pollution was a problem afflicting Western industrial societies. Everyone thought, how can a socialist nation suffer this?" The other big problem facing Greens in China is greed. "Corruption is the biggest enemy in our country," he says. "The big polluters are also the big profiteers."
Environmentalists around the globe are used to formidable challenges, but nowhere is the work more dirty, dangerous and urgent than in China.
China is home to nearly one-quarter of the world's people, who try to eke out a living - and feed themselves - on barely 7% of the world's cultivable land. Every year the deserts claim more land, and water remains a life-and-death issue. In some provinces, there have been riots - and killings - as rural peasants battle for precious water rights.
The government concedes that at least half its waterways are polluted, and a heavy reliance on coal keeps the air dark and ugly. All 10 of the world's most polluted cities are gasping for air in China.
Amidst all this crying need, Liang musters a network of some 500-700 members of his Friends of Nature. Despite their dedication, they are hopelessly outnumbered by the polluters, environmental thugs who not only conduct dirty businesses, but fight dirty to protect it.
Combating the polluters is often not only popular, but often dangerous. Many activists have received death threats. Wardens in Tibet have been killed chasing antelope poachers. Last year, a FON newsletter was dedicated to Liang's friend Gisang Sonam Dorje, a member of the "Wild Yak Brigade" who was killed in a shootout with poachers.
A year before, another member of this anti-poaching squad was found dead in his home. Officially it was ruled suicide; but he had been shot three times.
Still, FON isn't shy about standing up to environmental bandits. In one of its earliest coups, members secretly videotaped local officials in western China, who offered to supply illegal lumber from a sensitive monkey habitat. That footage aired on national television, reportedly raising the ire of Prime Minister Zhu Rongji.
"He quickly put a stop to it, but the local officials were outraged," says Liang. "They made threats, and our people had to go into hiding."
They didn't quit, and Liang remains unrepentant. He's also becoming better-known, more connected and increasingly effective. In September, he was in the Philippines to pick up a Ramon Magsaysay Award, the Asian equivalent of a Nobel Prize.
Magsaysay trustees noted Liang's courage as a trailblazer in China's nascent civil society. Not only has he drawn the attention of key officials to environmental issues, Liang has showed that by maintaining FON's independence, activists can play a "critical role" in addressing urgent public concerns in China .
Chasing awards, though, has never been the goal of this thoughtful teacher, who doesn't mince words when the talk turns to tactics and the urgency of his quest. "Sometimes you have to take unusual measures to win the battle," he says.
Still, Liang denies familiarity with guerilla tactics espoused in western eco-warrior handbooks. Instead, he simply figures too much is at stake in China to worry about the risks. "We have to consider any tactic to get the message across," he says.
Tilting at windmills runs in his illustrious family. His grandfather, Liang Qichao, was a visionary in the late Qing Dynasty, who pushed western-style reforms in a last-ditch, but unsuccessful attempt to save the corrupt system.
His father, Liang Sicheng is among China's best-known architects, who attended Harvard and Princeton, while his mother studied drama at Yale University. Liang's father, who founded Qinghua University's architecture school, brought numerous western innovations to the mainland, particularly an experimental style of urban housing that melded modernism with China's traditional courtyards; thousands of students still tour a few surviving courtyards in the central city core.
His father's name is on a plaque outside the UN building in New York, which he helped design, but Liang Sicheng is best remembered by Beijingers as the man who selflessly battled to save the old city walls, also unsuccessfully.
Thus far, Liang has managed to parlay such guangxi (connections) into a string of successes, all the more startling when one considers that his seven-year-old Green group functions with only three paid staff and an annual budget of about US$23,000.
Liang takes a token payment, surviving on his teaching salary from the academy. His wife and two children are supportive. His wife plans to start giving English lessons to aspiring environmentalists at FON. Their daughter is currently at a New York university, studying environmental ethics.
Friends of Nature has quickly become the darling of western environmentalists, who provide not only project grants, but essential books and other educational material for free. Equally enthusiastic has been the mainland media, which Liang credits as being supportive from the start.
And, for every high-profile victory, there have been scores of everyday advances.
Among the major campaigns being waged by FON are a variety of educational activities targeting children. Funds from a Green group in Germany have paid for a van that tours Beijing area schools, entertaining children with eco-games and videos. A partnership with Project Hope opens the doors to thousands of rural schools, where Liang plans to send volunteers to teach the Green dictum.
Still, so much remains to be done. "Our rivers are black and our lakes are running dry," Liang laments. "And our skies are dark. "I remember, as a boy in Beijing, blue skies," he adds sadly.
Still he refuses to give up hope. "I can see a real difference since we started our work, especially in the attitudes of the general public towards environmental issues. People are more sympathetic, more thoughtful, more understanding.
"It's still a huge battle," he admits, "but we've made a start. It sometimes may not seem like much, but it's a seed. And from the tiny acorn, big trees grow."
---
Ron Gluckman is an American reporter who has been based in Asia since 1990, when he began visiting China for a wide variety of publications, such as Asiaweek Magazine, which ran this story in August 2000.
Picture courtesy Ricky Wong/Asiaweek
---
To return to the opening page and index

push here
---