Beijing By the Book
Long a literary wasteland for anyone unenthusiastic about Communist Party propaganda, China has been opening up, little by little, not only to foreign ideas, but also internationally-acclaimed books. With two literary festivals underway in Beijing, China's capital is finally making literary strides in its quest to become a World City.
By Ron Gluckman/Beijing, China
---
SECURE IN ITS REPUTATION FOR TRADITIONAL Chinese culture, for a long time Beijing didn't pay much attention to the outside world. Not long after China's capital won its Olympics bid in 2001 and began hyping itself as a world city, a friend retorted: "What kind of world capital can you have, if you cannot buy books to read, or a daily newspaper with your coffee?"
The criticism stung, especially because it was true. International papers were strictly limited to five-star hotels, and unless you read Chinese you had to make do with Jane Austen novels or airport thrillers - if you could find those. Now there are bookshops and magazine racks in most malls with plenty of material in other languages. The final proof that Beijing is becoming more sophisticated: This month the capital is hosting two international literary festivals.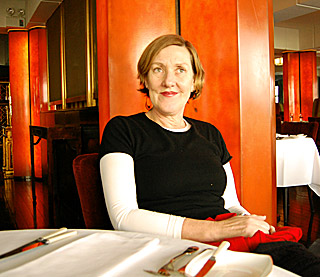 Two women, both lifelong lovers of reading, are opening Beijing's cultural door. Michelle Garnaut, who runs the Capital Literary Festival that will end on Sunday, is a self-described "literary groupie." Her M at the Fringe in Hong Kong, which opened in 1989 and is now temporarily homeless, was as much cultural oasis as restaurant. The Shanghai International Literary Festival is hosted by her M on the Bund restaurant. Now, after launching restaurant Capital M Beijing, comes a Beijing festival to match.
Aexandra Pearson is the woman behind the Fifth Bookworm Literary Festival in Beijing, running through March 18. She first came to Beijing in the 1980s, when her father was posted to the British diplomatic mission. Working in Beijing as a consultant in the 1990s, she ran lending libraries on the side. She soon expanded: Scouring for books at second-hand shops in England and markets in Beijing, she opened Bookworm in 2002, a tiny café in San Li Tun, a popular dining and shopping area of this city.
Bookworm quickly became a centerpiece of the fledgling Bohemian scene. Besides book readings, there are chamber concerts, journalism summits and environmental gatherings. And, since its daring launch in 2006, the Bookworm International Literary Festival.
The two Beijing festivals offer over 150 events between them. That's without tallying another 150 at Ms. Garnaut's Shanghai International Literary Festival (which is also ongoing and will run until March 18) and at Bookworm shops in two other cities, Chengdu and Suzhou.
The range is wide and purposefully eclectic. Last Sunday, for example, I started the day sipping cappuccino at Ms. Garnaut's Capital M Beijing, with dazzling views of Tiananmen Square, listening to author Ian Whybrow talk about children's books; he's written a hundre of them. Then, I went to the Bookworm to hear Argentinean Guillermo Martinez discuss his best-seller "The Oxford Murders." My evening wrapped up with a Bookworm panel discussion on crisis reporting by some of the world's top correspondents.
For local scholars, these festivals offer the chance to engage top international China writers like Peter Hessler, Ian Johnson and Jonathan Watts. "I never imagined there would be so much interest in China," marveled Mr. Hessler, who came to China in 1996 as a Peace Corps worker, a period recounted brilliantly in his debut, "River Town."
Later the Beijing correspondent for the New Yorker, he notes that many publishers rejected his first book. "A number of them responded by saying, 'This is good, but we don't think anybody wants to read a book about China.'" A decade later and with two more bestsellers under his belt, his talks in China are sold out.
So there's clearly a market for international literary ideas and discussion. But one mark of the intellectual software of a society is its own, internal ability to generate these ideas and discussions. In this respect, China is still weak, judging by the fact that few Chinese writers are part of these events.
"We try to get Chinese writers," responds Ms. Pearson, "but it's hard." Chinese literature, at least in recent terms, and of international circulation, is still in its infancy, but she is doing her best to change that. This year, she invited more publishers and agents "so they can meet writers here, and help give recognition to them outside China."
Both women note that these are not Chinese festivals but international literary events, which offers the space for budding Chinese intellectuals to interact with established foreign writers. Sure enough, following his talk, Mr. Martinez was surrounded by young Chinese writers, discussing everything from Argentina's emergence from dictatorship, to eroticism in fiction.
Indeed, Ms. Garnaut and Ms. Pearson's larger achievement is nurturing such interactions in a society better known for its censorship. When Bookworm started, for instance, local expats in Beijing—accustomed to more open societies with better access to books and ideas—found a light in the literary darkness of China.
How dark the Middle Kingdom is for those trying to express themselves was again evident last weekend, when journalists were being rounded up and roughed up. Fearing the Jasmine revolution import from the Arab world, authorities over the past month have taken an iron-fisted approach to calls for protests.
But, in a way, that grim reminder of censorship also highlights how remarkable it is to be able to hear David Sedaris or novelist Andrew O'Hagan at these festivals. The two founders may not spearheading the kind of movement the Communist Party fears, but they may be sowing the seeds of more vibrant Chinese expression.
"The interesting thing is always the interesting perspectives, the ideas," says Ms. Garnaut. "It can open up a new world, which is really what literature is all about."
---
Ron Gluckman is an American reporter who has been living in and covering Asia since 1991. He no longer needs to weigh down his luggage with books (or coffee or cheese) when traveling to Beijing. This story ran in the Asian Wall Street Journal in March 2011.
All pictures by RON GLUCKMAN
Words and pictures, copyright Ron Gluckman
---
To return to the opening page and index

push here
---