M on everything
With her culinary skills and no-nonsense approach Australian Michelle Garnaut quickly became a local legend in Hong Kong with M on the Fringe. But her move to Shanghai brought international fame with M on the Bund, a landmark restaurant that revived the historic Bund District. The dynamo behind the Shanghai Literary Festival, she is about to open two more restaurants in China, expanding the M-pire.
By Ron Gluckman /Shanghai
---
WHEN SHE FIRST ARRIVED IN HONG KONG, in the 1980s, Michelle Garnaut might have seemed like little more than just another Australian backpacker working the bar and bistro circuit. By the end of the decade, though, she had moved from chef at 1997 in Lan Kwai Fong to open her own M on the Fringe – twenty years ago.
This year, with a gala party, the 51-year-old diva of international cuisine in China celebrated her 10th anniversary with M on the Bund, the landmark restaurant that put Garnaut, and Shanghai's riverfront district – on global maps. Nowadays, with all the trendy cafes, luxury showrooms and five-star hotels doing booming business, the Bund seems a sure bet, but when Garnaut arrived in 1999, the Bund more resembled a run-down ghost town than a historic district that once was China's wealthiest and liveliest. Garnaut's M brought it back to life.
Since then, Garnaut has expanded her adjoining cocktail bar into the Glamour Bar, now taking up an entire floor of the Bund building, and a destination unto itself. She also spearheads the Shanghai Literary Festival, an extraordinary annual mix of readings and talks that have featured such authors as Gore Vidal, John Banville, Alan Hollinghurst, Pico Iyer and Ma Jian.
Still a contented Hong Kong resident, Garnaut spends increasing time in China, where her business continues to flourish. The Shanghai restaurant alone employs between 150-200 people. Over a recent lunch at M on the Bund, Garnaut reflects on her first decade in Shanghai, and almost two decades with M in Hong Kong, talks about the wild roller-coaster of change in China and her plans for expanding the M brand even further on the mainland.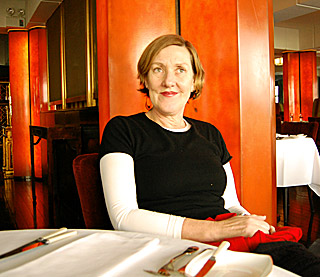 What are your observations of Shanghai, after 10 years on the Bund?
"Things have changed so fast. I mean, it's amazing to think back 10 years ago, and there was really nothing here on the Bund. Even five years ago, there was nothing like now, in terms of high-end clubs, shopping or restaurants - just us. Now you look at this area, I mean, it's hard to imagine.
"The whole dining scene in Shanghai is like a million miles from what it was like five years ago. We were really the only serious international restaurant outside of the hotels. Even five years ago, there was a lot of uncertainty here.
"Now, though, the dining scene in Shanghai is much more sophisticated. It's really blossomed."
What makes M on the Bund successful?
"I think the key is we don't pay attention to what anyone else is doing. We just concentrate on what we do, and what works for us. That means simple, wholesome food. I used to call it Australian home cooking, or western food, but really, it's international food.
"We don't do fusion. I think that's important. We focus on what we do, which is western food, well executed and unpretentious. That means, no infusions, no odd combinations of things designed to stimulate your left cortex. If you order goat cheese salad, then what you get is a great goat cheese salad. If you order a luscious lobster tail, then that's exactly what you are going to get. We don't try and shock anyone. We just deliver dependable, delicious, traditional food."
Why the Glamour Bar, which you opened on an entire floor in 2006? I've heard you call it a Bar for Adults.
"Really, that was unpredictable. I remember thinking: What are we doing? We're restaurant people. But it's really worked out nicely and changed things tremendously for M on the Bund, having this big bar.
"It's a beautiful room, with the same view as the restaurant. Some people come to Glamour and never leave. They can have drinks, have a meal, listen to a Chamber Group, or hear some sort of reading. It really started by accident. When the space became available, we thought, we can't have some disco moving in there, so we took it ourselves.
"It's really given us tremendous possibilities, like hosting the Literary Festival in a proper venue, instead of trying to fit it in between lunch and dinner."
What about the Literary Festival: How did that come about and why you?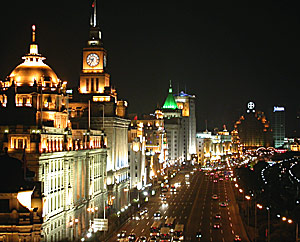 "It's really been amazing. Essentially we just try and break even. Last year there were over 50 events. Nobody gets paid. We share some costs with the literary festival in Hong Kong, and get lots of sponsorship help, like hotel rooms. The consulates get involved. Without the great kindness of many people it wouldn't be possible at all

"We've been amazingly lucky – we've had Gore Vidal, great people; last year Arundhati Roy. In the beginning, we needed big names to attract interest, but now we go for a wide variety of writers and books. We try and balance the program, so there is something for everyone, every day. It's become a real festival.

"I feel privileged to be involved, because I just love good books and being around literature. The funny thing is, I remember going to a fortune teller when I was 19. I was in Melbourne then, working as a waitress. The fortune teller told me when I was in my 40s, I'd be involved in literature. Naturally, I thought I'd write a book! I never thought I'd be running a literary festival."

Have you been around good cooking all your life?

"Not at all! My mother was a dreadful cook. I think maybe the reason I got involved in cooking was because I grew up eating all this plain food. I've been interested in food all of my life.

"I think food nowadays is really an international experience, like travel and culture. It's really become quite sophisticated and important."

Has your style changed much over the years at M?

"Not really. There have been some changes, but I think the essentials of what we do are pretty much the same. We try and present unpretentious, tasty food, well executed, not fussy.

"After 20 years in Hong Kong and 10 years in Shanghai, we've developed a kind of M style. Part of that is due to consistency. I think, in both locations, we've probably only had eight or 10 chefs, so that is hardly any turnover in 30 years combined."

We have heard talk for some time about more expansion in China?

"Well, we have had plans for some time for Beijing. We have a lease for a location, a really fabulous location, maybe the best location in Beijing, right on Tiananmen Square. It was meant to be open in time for the Olympics, but there have been all these delays that have nothing to do with us.

"We just have to wait. If we got the OK, we could probably open in four months. I hope to open by the end of the year, but really, given the economic situation right now, we're quite content to wait it out."

And what about Guangzhou?

"Yes, we've explored many sites there. In many ways, it's like Shanghai when we entered the market. There is really no high-end western restaurant in Guangzhou, outside of the hotels.

"There are a lot of attractions – Guangzhou still has the highest per-capita income in China. So we're interested, and could have something there by the end of the year, or next year.

"But we aren't really looking to build an empire of M franchises. Actually, what I would really like to do is maybe another Glamour Bar, in Beijing. I spend a lot of time there, and have because of this new restaurant, and think the time is really right. There is really no good place for a drink in Beijing."

So you are bullish on China?

"Definitely. Besides, China is what we know and what we do best. I mean, why open a bar in London? We know China, and have a reputation there. Besides, there are a lot of people these days traveling regularly, Beijing, Shanghai and Hong Kong. Everything is getting more sophisticated and interconnected.

"China might seem a bit like a roller coaster right now, but people forget that it's always been a roller coaster. It's tough now, but the reality is it was really tough even before the economic crisis. Look back over last year. No one could get a visa for months before the Olympics, even people who had been in Hong Kong for decades, going to China two or three times a week for years.

"But I'm feeling positive. I just feel a lot more comfortable these days in China. Five years ago, there was so much more uncertainty. Maybe I've just become more local, and am more comfortable with the vagaries of the market."

Any final message?

"Oh yeah, for all those people who said, 'who is this stupid gweilo woman, who doesn't even know China, going to Shanghai, where she is sure to fall on her face.' People said, 'who would come to the Bund?' But they said the exact same thing in Hong Kong when we opened the Fringe and there had never been a serious restaurant above Queen's Road. 'Who would go there?'

"In Shanghai, of course, it was much, much worse, because nothing was going on along the Bund, and really, it was early in China. It was really like talking to Martians. They said, 'Nobody in Shanghai cared about food, quality or atmosphere.' But they were wrong."

---
Ron Gluckman is an American reporter who has been roaming around Asia since 1991, for a wide variety of magazine, including Prestige, which ran this piece in April 2009. Interviews with Michelle were done in Shanghai in January 2009, when she was celebrating the 10 year anniversary of M on the Bund.
All pictures by RON GLUCKMAN. Pictures and words, copyright Ron Gluckman
---
To return to the opening page and index

push here
---