Beijing's OhOh Olympics
As China races to the start of its 2008 Olympics, a brand-new Beijing, with flashy architecture and a host of innovative infrastructure is all ready. But heavy-handed restrictions and Beijing's paranoid style of over-management - as well as the persistent pollution - could ruin the party.
By Ron Gluckman/in Beijing
---
LOOKING UTTERLY SURREAL as it surfaces in Beijing's sewer-thick haze, the National Grand Theatre hovers over the Great Hall of People like some hallucinatory monster. For obvious reasons, locals call it the Alien Egg; otherworldly, it resembles a gigantic, glistening metal egg hatched from deep in the bowels of outer space.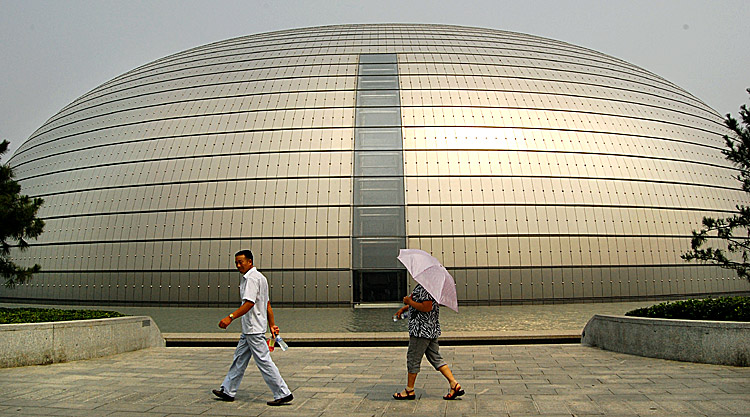 The source of considerable controversy during its oft-halted construction earlier this decade, it has become, since completion last year, a celebrated icon, delineating a new, increasingly avant-garde Beijing, eager to attempt daring architecture that would never even be considered elsewhere.
Yet, perhaps the most remarkable thing about this dazzling civic monument is how unremarkable it has now become. During my residence in Beijing, from 2000 to 2005, the Titanium Egg – as most termed it; others, the Giant Turd - was constantly debated by architects, derided by the media and public. Not just because of its unique design, which would surely seem provocative anywhere. But also the immense cost and, especially, the location, smack in the stodgy Stalinist heart of this communist capital, close to Mao's tomb, the Forbidden City, and Tiananmen Square.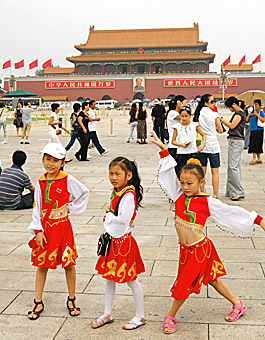 And, the architect was foreign. When a roof collapsed several years ago at the Paris airport, designed by the same French architect, Paul Andreu, killing a Chinese man, the media screamed anti-Chinese conspiracy. Once again, this Alien Egg seemed doomed.
Despite stubborn resolve on most matters, Beijing can move at hyper-speed. Hence, yesterday's outrage can quickly become today's shrug of the shoulders. Andreau's egg, ingeniously enclosing three theaters, reached by escalators descending into an artificial lake on which the entire structure seems to serenely float, is not only a darling of global architecture critics. More significantly, it's become a playground of picnickers. Around the lake, couples hold hands in romantic rapture, like in any world capital.
When I recently have my first view of this brilliantly-hatched egg, an elderly Chinese man stoops on a stool in the surrounding park, fiddling in the grass. On inspection, I see he is making a toy grasshopper, an age-old park occupation in these parts.
Much of Beijing these days exudes the same intriguing contrast: unrelentingly bold architecture, of a size and scale unseen elsewhere, and this unrelenting drive to modernity. All juxtaposition with human push carts, coal stoves and hovels only a few steps from the Stone Age. Scratch the surface of the new cosmopolitan capital, as journalists invariably do, and the ample scars of urbanization are quickly revealed.
Still, nothing short of awe accompanies my return to a city that was my introduction to China nearly two decades ago, and home for five years. No matter how often I come back, the kinetic qualities of this undulating urban landscape, undergoing unparalleled transition, both rivet and repel me. This time, though, I am cocooned in comfort, and constantly surprised.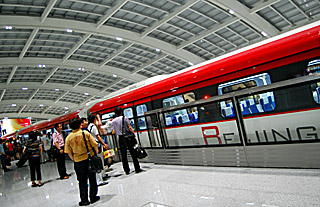 The serendipity starts at Beijing's new airport terminal, largest in the world, designed by stararchitect Sir Norman Foster. Landing at Terminal Three, I ride a short shuttle train to the distant baggage arrival area, thinking: this is the most modern and efficient thing I've experienced in China. But more – much more - lies ahead.
From the airport, I avoid the notorious ring-road traffic, reaching downtown on a new speedy airport express train. Friends express surprise that it is running. Focus falls instead upon another launch the same week, of a super-fast train between Beijing and Tianjin, cutting travel time between the capital and its port to 30 minutes. Local media boasts – falsely – that it's the fastest train on Earth. At 350 kilometers per hour, it beats bullet trains in Japan and Europe, however the title belongs to the world's only Maglev, or magnetic levitation train, in – where else? – China.
That train, gliding over a small stretch of track, is in Shanghai, which used to claim all the glowing raves about China. Shanghai's skyscrapers were tallest, its museums, clubs and restaurants the finest. Beijing always had – and still does – the best art and music scene. Nowadays, though, the biggest projects, and boldest architecture are in Beijing.
"Beijing definitely has a huge buzz these days," reflects David Laris, star chef behind the restaurant Laris at the famed Three on the Bund in Shanghai. Now, he is in Beijing, helping to open a handful of outlets at Opposite House. This shimmering Wizard of Oz-like emerald palace designed by Japanese architect Kengo Kuma, is poised to set new standards for style – and spending - in the capital. Rooms start at nearly US$800 per night. The target, manager Anthony Ross notes, are film stars, fashion designers and jetsetters – a crowd Beijing has never attracted. Till now.
"When I got to Shanghai, there really wasn't much there in terms of facilities," Laris recalls. "I saw Shanghai turn a corner, and now, there is the same feeling here, but more so. Things here are moving even faster. Beijing is becoming really cool."
Much of this is due to preparations for the Olympics, which have gripped Beijing almost since the day it claimed the right to host them in 2001. The facilities, without doubt, are world-class, not only in function, but form. Crowds gather daily to gawk at Herzog & de Meuron's National Stadium, with stunning wire-mesh exterior that sparked its nickname, The Bird's Nest, and the dreamy, National Aquatics Center, with its translucent exterior and clever cellular texture.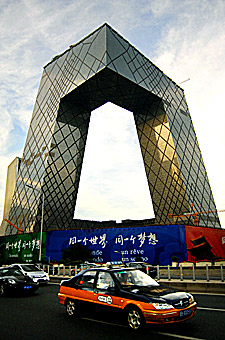 Even more evocative are many buildings underway, like Beijing's tallest skyscraper, topped by perhaps its ritziest hotel, a Park Hyatt. And nearby, CCTV Towers, already stopping traffic with an out-of-the world design. One tower resembles a giant boot. The other looks like… nothing ever seen before, as it totally twists all notions of architecture. Lacking any right angles, or conventional lines, it looks like a gargantuan letter Z; locals dubbed it The Twisted Donut. Designed by Holland's hip architect, Rem Koolhaas, it's merely the star attraction in a skyline aggressively reshaped in recent years.
As in Shanghai, many buildings look audacious, or awful. Describing them stirs lively debate in cocktail parties. "You see the big Bottle-Opener Building?" Or, the Window Squeegee Skyscraper? Among the most derided are twin towers with provocative tips; some term them Lipstick Towers. One journalist friend prefers the Vagina Towers, and calls Koolhaas' landmark, Walking Pants. No mystery where it's headed!
But what about Beijing's direction? After the Olympics are over, the protest banners repacked, medals awarded and the hoopla forgotten, what kind of a city will it be? And what life awaits local residents after the glare of the spotlight moves elsewhere?
Grand questions, to be sure, all properly scribbled in my notepad prior to arrival. Yet assessment quickly falls by the wayside. Like locals and much of the outside world, I'm overwhelmed by the controversy and quibbling that dogs practically every step Beijing takes in the final sprint towards its cherished Olympics.
For weeks, we read about rules and strict new regulations, each seeming more absurd than the last. Simply getting a visa becomes an ordeal. Piles of paperwork are required – letters of sponsorship, plane tickets, confirmed hotel bookings. Even then, approval is far from guaranteed.
In my case, hours at an embassy erupt into a screaming match of a scale unknown since, well, since I lived in China. Talk about effective tourist promotion: I leave exhausted and already sick of China – long before actually visiting.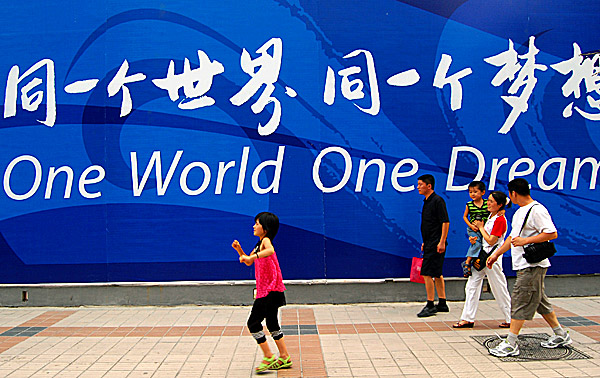 Nor does a welcome mat seem out for anyone. Thousands of long-established foreign residents of Beijing, teachers, entrepreneurs, businessmen – estimates top 100,000 – are forced out when visas aren't renewed. Thousands more are left stranded in Hong Kong, or overseas, including key company representatives and product buyers.
"Beijing is basically shutting down for the Olympics," a local travel agent tells me, days before leaving with his entire family. Denied visas, they are resigned to missing what should be boom times. Instead, he says, business plummeted 50 percent due to visa restrictions on visitors. Around town, hotels report occupancy rates of 20-40 percent. The gloom seems harsher since all expected to be full, charging record rates.
And on and on it goes, as the capital suffocating in the ghastly air reels from regulation to new decree. Archaic laws dating to the Cultural Revolution are revived. Foreigners are registered in door to door checks. Couples cannot share hotel rooms without proof of marriage. Workers returning from family visits are not allowed back into Beijing without a resident's file, which many have never had.
Other campaigns aim to reshape the city's character. Maggie's, a Mongolian girlie bar, is shut down, and beggars, homeless and dissidents swept out of view. Then come the directives on behavior: manner guides for locals; do's and don'ts for visitors.
One thing is clear: craziness will not rein on the rooftops of Beijing. That's the message I get at check in at Hotel G, among a wave of new boutique inns opening in the Chinese capital before the Olympics. Some call it G Spot, because of risqué elements like mirrors over beds and Intimacy Kits, containing vibrators and condoms.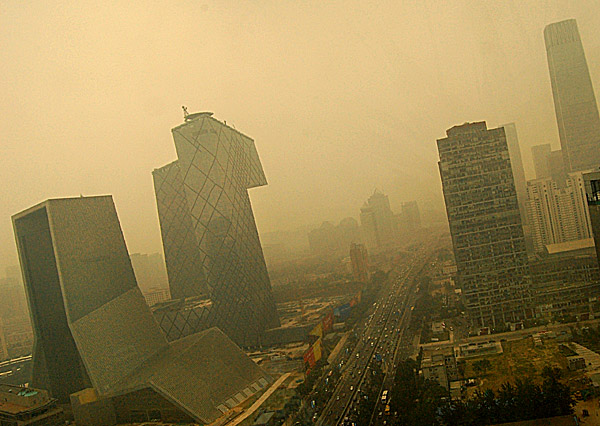 Daring, for sure, but over-the-top? Not just yet. Manager Nikolaus Ellrodt tours me around a trendy 110-room hotel that seems more suited to Hollywood than Beijing, pointing out flamboyant wall art and sexy features. Windows are lit in various hues that guests can program, choosing from seven colors to reflect their mood.
"We want guests to indulge themselves, in any way that they like," he says slyly. This, he adds, is part of changing attitudes in Beijing, where such kits, and hip hotels, didn't previously exist. "Beijing is really changing, opening up, becoming a world city."
Perhaps, but don't even think of setting the G-spot window box to shades of revelry, at least not in the Olympics Era. This point is driven home when Ellrodt guides me to the rooftop terrace, where luxurious lounges surround a bubbling Jacuzzi. The hip crowd can sip mojitos at a rooftop bar, and soak up the gray skyline. Someday, perhaps. For now, there are no sun lounges. Or rooftop bar. Or Jucuzzi. This part of G Spot is G Not, thanks to a citywide ban on rooftop bars. "There is the fear that someone could fire a Stinger missile from a roof," quips another hotel manager.
"Beijing's idea of a party is to pour huge buckets of anti-septic over everything," says one Australian, whose textile exports have been hard hit by factory closures, part of a last-gasp effort to clear the foul air; construction halts, cars are banned, but grim skies prevail. Another local says guards halted a barbecue in his apartment block. "Gatherings of more than six people are no longer allowed in public," he explains.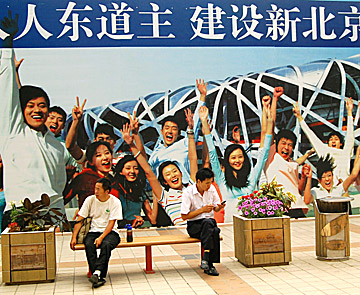 Hence, there is a contradictory sense of heightened anticipation and anxiety, with the entire capital under-wraps, up-tight and on high alert. Still, even staunch critics sense the exhilaration, which really resonates for me. Years of yearning have brought us here, to the night before some celestial Christmas. All of Beijing is buzzing about the goodies about to be unwrapped.
When I check into the Beijing Raffles Hotel, part of a complex that includes the city's oldest lodge near Tiananmen Square, all is uproar. Banners rise in the parking lot one afternoon as I duck inside, producing a beautiful sea of undulating Olympic flags. But they are gone when I come out. Passing Tiananmen, scene of the landmark 1989 protests and crackdown, huge Olympic displays are raised one night in rainbows of colored lights, only to disappear before dawn. "It's like before prom night," says a local photographer. "Beijing keeps looking in the mirror, and changing its look."
Legions of volunteers appear outside Raffles two weeks in advance, and more teams man stands in airports, subway stations and busy streets. "This is definitely a step up from any other Olympics. You certainly didn't see anything like this excitement in Australia," says Raffles General Manager Riaz Mahmood, who was in Sidney during the Olympics in 2000. "Back then, hardly anyone paid it any mind.
"Beijing is transfixed, and transformed. It's really remarkable to see all the banners, and flowers blooming everywhere," he adds. "The Chinese are so full of pride. Everyone is involved. You really have to give them an A+ for enthusiasm."
Equally impressed is Derek Flint, general manager of The Ritz-Carlton, in Beijing's growing Financial Street. "This is definitely going to be the biggest Olympics ever," he predicts. "I think it is bound to be the most successful Olympics ever staged."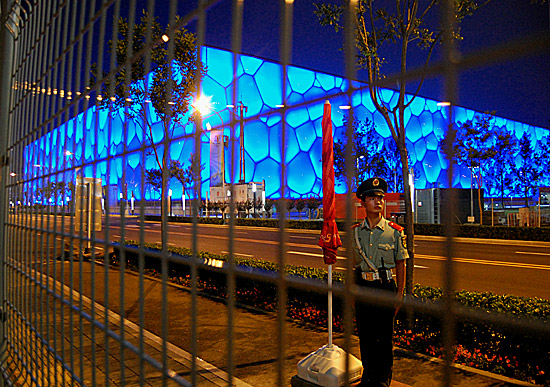 Still, many remain fearful that something may go wrong, leaving Beijing stung and bitter. "Most of us just want it to be over," says a local friend. "We all worry about how it will go. The best thing is to just get it over, as soon as possible."
Yet, whatever happens, despite all the criticism, Beijing already seems a winner. All the new stadiums and subway lines are pluses, but I grade progress in the people. Everywhere I wander, I find Beijingers friendlier, freer with conversation, and more assured. For all the hiccups and human rights complaints, Beijing has clearly matured.
Nothing drives this home more than a conversation with a hotel publicity maven, who is proudly describing her free spirit, enthusiastic about lesbian clubs she likes. Perhaps they existed before, somewhere underground. But nobody talked so freely about such intimate matters.
Then talk turns to pride, and the Olympics. "No people my age pay much attention to politics," she says, but then grows somber. A series of challenges – the riots in Tibet, the protests against the Olympic flame, the Sichuan earthquake – have ignited a new sense of Chinese unity. "These have been hard times lately," she says. "That is why the Olympics mean so much.
"For us," she sighs, "it is a breath of fresh air we need so much."
---
Ron Gluckman is an American reporter who has been roaming around Asia since 1991. He lived in Hong Kong from 1991-99, and Beijing from 2000-2005, and remains a frequent visitor. He filed this story for Closer Magazine live from Beijing, while covering the preparations for the Olympics in August 2008.
All pictures by Ron Gluckman
---
To return to the opening page and index

push here
---