Flash city
The world's most renowned architects are flocking to Shanghai, where they are building the world's biggest skyscrapers and hotels, futuristic model towns, theme cities and numerous other never-seen-before projects. All the innovative puts this Chinese city in the vanguard for style, ambition and experimentation. Once again.
By Ron Gluckman /Shanghai
---
"IT'S GIGANTIC, LIKE A BIG THRILL," says Johannes Dell, hands twisting as if trying to wring the right adjectives from the air. Silently reflective for a few seconds, he finally adds: "It's like paragliding, which I do. It's that same feeling, like jumping off a cliff."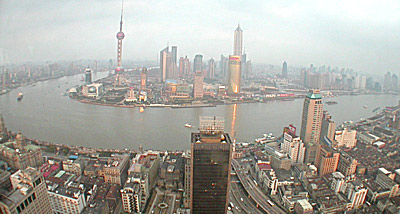 Dell, from Frankfurt, isn't describing an action sport, but his occupation, surprising since he is an architect, stereotypically a straight-laced field defined by sharp lines and well-tested designs.
Perhaps elsewhere, but Dell sits in his office in Shanghai, 22 floors high, affording dazzling views of a cityscape crackling with energy.
In every direction, enormous cranes flank forests of fast-rising skyscrapers, while swarms of cars zip on spaghetti strands of spanking-new elevated motorways encircling them.
In the hundred years right up through World War II, Shanghai was the center of action in Asia, a neon-lit, anything-goes metropolis with few rules and endless opportunities. Until the Communist Party took power in 1949 and dimmed the lights in Shanghai for half a century.
Reforms through the 1990s reversed the flow. Nowadays nightclubs, chic restaurants and luxury hotels and high-rises open by the score monthly, as Shanghai races to reclaim its reputation as flashiest, most fun and futuristic city of the Far East.
This city moves like no other. Shanghai rocks, frantic, full-out, like fifth gear on the Autobahn. You feel its pulse, buzz to the adrenaline. You not only see it, but hear it, smell it: the roar of redevelopment, air thick with the dust of perpetual construction - tunnels, bridges, highways, mini-cities shooting up.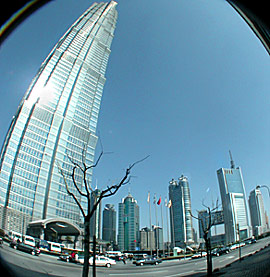 "There is no comparison anywhere, certainly nothing like anything anyone has ever done," says Dell. "The time when cities were built from zero in Europe are over."
Shanghai's era of empire-building is just restarting, and foreign devils (what Chinese call outsiders) are flocking back with grand designs for this emerging megalopolis. The projects seem like science fiction.
Already, Shanghai claims the world's fastest train (the German-built Maglev), longest underwater pedestrian tunnel and world's tallest hotel (the 88-story Grand Hyatt, complete with highest swimming pool and longest laundry chute).
All are in Pudong, a Manhattan-like district of gleaming skyscrapers sprouting across the Huangpoo River on what was vacant land just a dozen years ago.
From my room at the new Westin Hotel, I look over the river and marvel at Pudong's bright, hyper-kinetic skyline.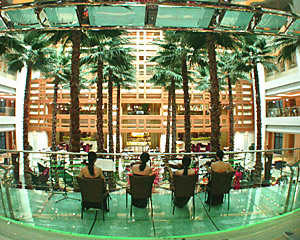 The Westin itself boasts the world's largest glass stairway, lit in blue, green and purple, overlooking a thicket of petrified palm trees in kitsch lobby. Subtle, Shanghai is not.
Likewise this latest creation of American architect John Portman, an early pioneer and prolific designer in Shanghai. No other foreigner here has such a marquee name: the Portman Center includes the Ritz-Carlton Hotel, where presidents and prime ministers stay.
He also built the immodestly-named Tomorrow Square, looking like a Stinger missile fired on the downtown skyline. But this Bund Center, three towers including the Westin, may be Portman's most audacious yet. The pretentious main tower is actually topped by a massive golden crown.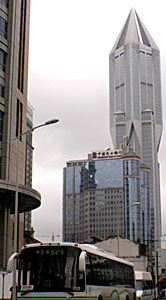 Still, it hardly stands out in such grandiose - often grotesque - surroundings.
My view of Pudong, for instance, is dominated by a sky-high pile of gigantic silver and pink balls that seem a school science project run amok. The Pearl TV Tower is tallest - ugliest, add many - monument in Asia.
And there is plenty of competition in the post-modernist playground of Pudong, where it is easy to imagine a mad scientist, clipboard in hand, checking them off: "Skyrocket topped with giant ball; OK. Space needle with satellite dish; yup. Giant bank of green glass with weird geometrical cut out; dozens."
This architectural battlefield is my destination the next morning, for the groundbreaking of a high-rise destined to dwarf them all, and everything else on the planet.
Bridges, car tunnels, subway, underwater pedestrian shuttle. So many options connect Pudong to Puxi, or Shanghai proper, and none of them, including Pudong itself, even existed when I first visited in 1990.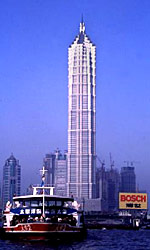 I choose the ferry (US$0.12 cents roundtrip) to cross a river jammed with traffic - wooden junks, low barges carrying concrete, rice, lumber, and container ships, loaded with toys, textiles and household appliances, the products of 200 million people living in towns and working in factories far up the Yangtze River, sweatshops of the world.
All that toil connects to a triangular plot in Pudong that sums up this city's aspirations. One corner is still bare land but will soon hoist the final pole of an ambitious new financial district.
Already up is the metallic Jin Mao, third-tallest building on Earth and China's largest. The sleek, silver tower is also one of the country's finest buildings: all flash from opulent lobby to rooms with heavenly views at the Hyatt, perched on the top floors of this 430-meter tower.
Shockingly, Shanghai's deal-makers will soon look down on the Jin Mao from the World Financial Center's observation deck, a daring open bridge bisecting a huge circle cut through the top of what will be the world's highest tower. The hole is to relieve wind pressure at the top, over 460 meters high.
Stalled since the Asian Financial Crisis of 1997, the project restarted in February. Cost estimates have soared above $600 million, as the tower has stretched higher in the sky.
Yet nobody doubts it will be built, particularly now that Taiwan has its own record-beating skyscraper. As Shanghai has demonstrated repeatedly in Pudong, stretching limits is simply a matter of drive and determination. And dollars.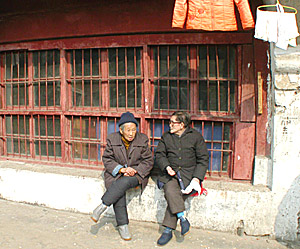 "Shanghai is becoming a global city in a hurry," says Paul Katz, who designed the WFC with partner Jamie von Klemperer of Kohn Pedersen Fox, the American firm behind New York's World Bank Headquarters and Rockefeller Plaza West.
The pair have ample experience building tall, having designed record-breaking towers for Taiwan, Hong Kong and Korea. Plus Shanghai's tallest outside Pudong, Plaza 66, a playful skyscraper with leaning-tower-of-glass entrance and golden ice cream cone top.
"When we started here, Shanghai was a city of bicycles," chuckles von Klemperer.
Portman goes back further. Son of the founder of his family firm, John Portman and Associates, he moved to Hong Kong in 1979 to coordinate Asia projects. Always his eye was on Shanghai.
"It was the beginning of a birthing process," he recalls. Back then, few foreign architects were willing to risk reputation or expense on the China wager. "Now, everybody and his brother is rushing to China.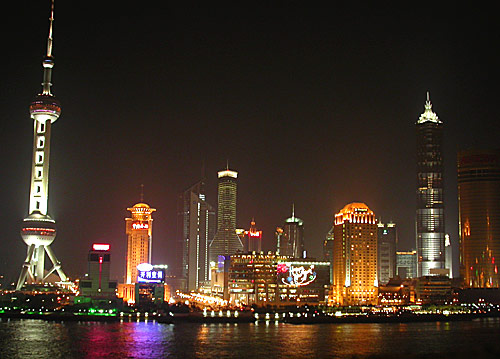 "Shanghai is getting some of the best architects in the world, and all the architects want to be there. There is simply so much opportunity. China is the Golden Land of opportunity. Shanghai is going to be the next world-class city, no doubt about it."
The list of architects at work in Shanghai reads like an honor roll for the industry: from iconoclastic individuals like Sir Norman Foster and Michael Graves, designer of Disney hotels, to mega-American firms like KPF and Skidmore Owens & Merrill, designer of Chicago's Sears Tower and John Hancock Building, as well as Shanghai's Jin Mao.
I. M. Pei, who gave Hong Kong its Bank of China and Paris its Louvre Pyramid would like to provide a similar signature structure for his hometown.
The attraction is only partly profit, but also the opportunity to have impact, on an unprecedented scale.
"China is like nowhere else in the world," confirms Meinhard von Gerkan, founder of Hamburg's GMP. He's sketched civic and exhibition halls for many Chinese cities, airports, train stations. Pudong is building a huge Von Gerkan-designed archive hall.
Bigger yet is his master plan for a city of 300,000 people to serve Shanghai's new dockyard, connecting a couple offshore islands. "China has such freedom," he says, smiling at the bold ambition.
"In Germany, in Europe, everything is so constrained. For architects, China is a fresh source of opportunity."
Take Dell's firm, Albert Speer & Partner, GmbH, already the butt of some jokes for its Final Housing Solution. Certainly, the distinctively German-flavored Automobile City is unparalleled, a mix of housing, offices and amusements to cost $10 billion.
Right now, the 160-hectare site in remote Anting is mainly weeds, but will soon have Formula One racing and ample research and development facilities devoted to the kind of German efficiency - and investment - that Volkswagen brought to Shanghai.
The German city is but the centerpiece of a master plan with an entire European Union of suburbs: Italian town, British town, even Dutch town with canals and good cheese. "I've never worked on anything like this," concedes Dell. But who has? He chuckles, "That's China."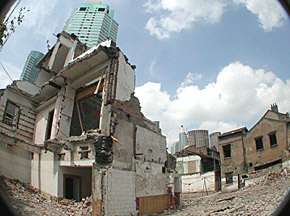 Indeed, across the Middle Kingdom, modernization is the new Great Leap Forward, with cities razing the utilitarian concrete blocks of socialism, erecting steel-and-glass cathedrals to new-found capitalism.
Most are predictable, showpiece palaces, befitting an emerging architectural power. "With China, there is a lot of passion, but it's just not there yet with construction and technique," concedes Lyndon Neri, who oversees Asian projects for Michael Graves.
"That's only understandable, since they have no experience with Paris, London or New York. It's hard to pull five-star quality out of a hat."
There are exceptions, notably the Jin Mao and Frenchman Jean-Marie Charpentier's Grand Theatre, with intriguing oriental-industrial architecture.
Some also praise the National Museum (by Shanghai Architectural Institute), a squat, round building with roof handles resembling a traditional Chinese bronze pot. Elsewhere, are too-many repetitive towers strewn with ill-fitting Chinese features.
"I'm so jaded on Chinese architecture," says E. C. Liu, of Hong Kong's Sui On Properties, developers of a 128-acre downtown site. "I mean, if you see one pagoda-topped building, you've seen them all."
Liu, an American architect from a Shanghai family, has been back 12 years and says, "The Chinese want big, modern. They really have no taste."
Still, they are learning, fast. And the zeal to impress is infectious. Von Gerkan unrolls plans for a Space-Age city of observatories and museums, in an Aztec-looking lakeside community, complete with pyramid.
Sketched for a new town north of Beijing, it will probably never be built, he knows. Still, the very possibility fires his senses. "They gave absolutely no instructions. They said, 'Give us ideas for a place like nowhere else in the world.'" He nods happily. "China is so refreshing."
Not that it's a smooth ride, by any means. Potential rewards, however grand, are offset by huge risks, including rampant corruption and no contract guarantees in a land with a fledgling legal system.
For every running project, architects detail a dozen that ended in disaster. Architect Daniel Ng praises a Foster building, sort of. "The look is Foster," he says, but explains that cost-cutting scaled down the finished project, and drove off the famous designer.
Graves, the pre-eminent American, recalls designing a hotel in Shenzhen, the border town north of Hong Kong. The project stalled, but on subsequent visits he describes seeing several eerily familiar hotels in the Copycat Kingdom.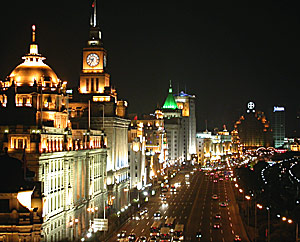 "You hear horror stories all the time," says Neri. "Architects aren't paid, buildings changed, designs copied. You really have no protection here. China is a cowboy place."
As we speak, Neri guides me through Shanghai's Bund, a stretch of colonial relics that once comprised China's Wall Street, wealthiest district in the Far East. That was before the People's Liberation Army chased away all the capitalists - and capital.
Since then, the Bund has sat vacant, an eerie ghost town of Brownstones. Graves hopes to stir things up with his refurbishing of one seven-story edifice. Neri shows me the designs and interior. Right now, it is gutted, but will soon reopen with a Nobu, the famed Japanese restaurant, an Evian spa, jazz clubs and art galleries.
"Shanghai wants this, to be like Paris, Rome. They want their future now, tomorrow," he says, as we stroll outside, back through the stately Bund, a neighborhood that could be New York, or Paris.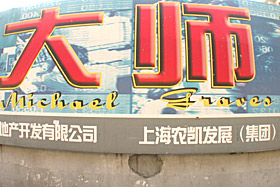 Suddenly Neri stops at a building site. Billboards name his boss, Michael Graves, in big letters. "This is what I mean," he says, explaining that Graves was initially consulted in the early stages of planning, but has nothing to do with the site. "You cannot buy a renaissance." Or copy one.
Yet Shanghai needn't fudge. This unique Chinese city already had its renaissance, the legacy of which continues to draw back similarly spirited adventurers who transformed the place in the 1800s.
Shanghai was a fishing village during the Tang Dynasty, silk and cotton weaving town in the Ming. Then, the British wars flung open the city walls to foreigners, and this treaty port flourished. China's first electric lights were flicked on at the Astor Hotel (now the Pujiang, a favorite of backpackers), where Charles Chaplain honeymooned.
Shanghai had China's first banks (1848), streetlights (1882), running water (1884) and telephones (1881), as well as the first autos (1901) and trams (1908).
This Paris of the East was equally famous for its excesses. Some 70,000 prostitutes worked the city, many around Hui Le Li - Seeking Happiness Lane, where houses had names like Sweet Dew and Lingering Smile, according to Tess Johnston, author of "A Last Look: Western Architecture in Old Shanghai." Hotel room service offered girls, boys, drugs. "Opium was just what you had," chuckles a woman who lived in Shanghai before World War II, "after dinner, like desert."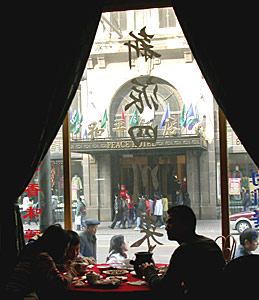 The world's most adventurous architects flocked to this wild, wealthy city in the early 1900s. Amongst them was Ladislaus Hudec, a Czech graduate of the Royal University in Budapest, who made his way to Shanghai in 1918, after being exiled to Siberia by the Russians.
Hudec is responsible for numerous local landmarks, including the Park Hotel, facing the old race track on Bubbling Well Road (Nanjing Xi Lu); it was Asia's tallest building upon opening in 1934, with retractable roof over the 22nd floor nightclub.
Hudec, married to a German named Gisele, also designed the fine German church, part of a solid Germanic collection. The magnificently colonnaded embassy on the Bund featured a German post office and nearby German Club (1907) was Shanghai's tallest building before the boom of bank and office towers on the Bund in the 1920s.
German influence - and residence - was considerable. Newspapers and plays were produced in German, and there was the Deutsche Gemeinde, Deutscher Hockey Club and Deutscher Theater.
Becker and Baedeker, Shanghai's lone German architectural firm built many office blocks and villas. Sadly, only one survives, a three-story house in renaissance style, locked away on the grounds of the Shanghai Conservatory of Music.
"You see the German style, the influence around town," says Dr. Wolfgang Rohr, the German Consul General in Shanghai. "It's not like not like Qingdao, where if you take your glasses off, you might think you are in Germany.
"We didn't have a concession here in Shanghai, but the Germans were here. You still can see that."
The best evidence is in the leafy neighborhoods of the old French concession. Besides German-looking homes, you spot onion-domes of Russian churches, sprawling America-style compounds and numerous old French villas.
Best are the eclectic blends, the tossed salad of eastern and western architectural flavors. Examples abound, the true charm of old Shanghai.
That's the feeling of the Shanghai Historic House Association, formed by Johnston and Patrick Cranley. Initially, the aim was tours of mansions around town. Lately, has come a greater push for documentation and preservation, as so many historic buildings are vanishing.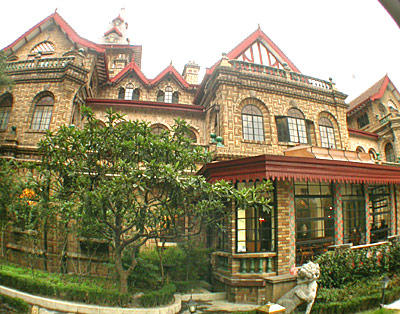 "Architecture here is unique from the world perspective," says Cranley. "If you look only at the Bund, this is European. But around Shanghai you see a blend of Chinese and Western found nowhere else. Shanghai has its own architecture."
Case in point, the Shikumen, or Longtang, stone housing tossed up by the British for a massive influx of Chinese in the early 1900s. The gray and brown tenements suggest Birmingham, but are essentially Chinese, rows of houses forming interior courtyards in the traditional style.
Other cities have courtyards and apartment blocks, but Shikumen are distinctly Shanghai. Or were. Many wonder if the pace of modernization, and the wrecking balls, will leave any of the Shikumen, or old Shanghai intact.
Cranley is cautiously optimistic. He points to preservation lists recently issued by the city for the first time. Also, his association has had impact, raising not only awareness of the old dwellings, but their cash value, too.
Rents have skyrocketed as landlords realize the growing international population and artistic locals will pay top dollar for dowdy old homes. Then, there is the success of Xin Tian Di (meaning, New Earth Sky).
When Hong Kong developers Shui On were granted permission to redevelop 128 acres of prime downtown real estate, there was one catch. An 80-year-old building had to be spared, not because of architectural features but rather the shady characters shuffling in and out of its gates. Among them, Mao Zedong, future founder of the People's Republic of China. His colleagues were the first cadres; together in this Shanghai Shikumen, they formed the Communist Party.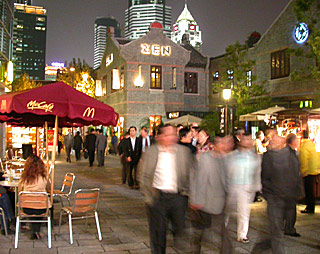 Shui On initially had modest preservation plans, says Liu. Then, came bulky American Ben Wood, a protégé of Benjamin Thompson, famous re-designer of Boston's Faneuil Hall, which turned a dilapidated 150-year-old market hall into a historic-flavored mall.
Wood has done much the same with Xin Tian Di, revamping the blend of East-West. Outlets like Starbucks, Italian and French restaurants, modern galleries and boutiques now operate in lovingly refurbished Longtans.
"I disdain preservation," says Wood. "I don't believe you should proclaim things dead and turn them into museums. You should breath life into things."
He has. Xin Tian Di is packed nightly and, across China, communities are wooing Wood to other historical projects; one is underway in Huangzhou.
Even Johnston offers grudging respect. "I've learned to live with it. At first, I was horrified," she says, "but I've seen the alternative. The future, I realize, is more Xin Tian Dis." Adds Liu more pointedly: "I really think the future of Shanghai is its past."
Xin Tian Di has also spurred renewed Chinese reappraisal of their heritage. Professor Guan Zhaoye, an architecture instructor at the country's top school, Qinghua university says there are two sides to foreign participation in the revival of Shanghai.
"On the one side, they bring modern fashion in architecture; on the other side, however, they raise the expense." Adds Guoxin Ma, who designed Beijing's National Olympic Center and Capital airport: "Architecture is a globalized profession. Foreign architects work here because it is the last big market in the world. Both sides can learn from each other."
Dell notes: "This is a historic time. Right now, there is a lot of trial and error. Shanghai is searching for an architectural expression."
Then he looks out the window, at the buzz of the world's fastest-growing city, and adds, "I think they will find it."
---
Ron Gluckman is an American reporter who has been living in Asia (Hong Kong, Beijing, Bangkok and Phnom Penh) since 1991, roaming around the region for numerous publications, such as GEO, which ran this story in its special issue on China in the summer of 2003.
All pictures by Ron Gluckman

---
To return to the opening page and index

push here
---