Chongqing - Hot, hilly and now, suddenly hip
Once derided as China's hot and hazy furnace city, this booming Yangtze outpost is actually growing in appeal. Millions of tourists flow through every year for the Three Gorges tours, but now, those that stop over and pleasantly surprised by the world's biggest city.
By Ron Gluckman/Chongqing
---
NO RESPECT. THAT'S THE LAMENT of Chongqing, fast-growing gateway to China's Wild West that is, by some measures, the world's largest city.
This up-and-coming commercial center already claims fabulous cuisine, vibrant nightlife and the billion-dollar vistas of cities like Hong Kong and San Francisco, as Chongqing is similarly draped across rolling hills caressed by water.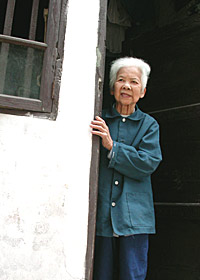 Yet few tourists sample the views, even though millions pass through every year.
That's all most do - pass through. A typical visit stretches just a few hours, from airport pickup to dockyard delivery; Chongqing is mainly on tourist maps as the launching pad for cruises through the nearby Three Gorges.
Only the odd visitor goes ashore for a look. The rest dine then recline on board. Itineraries focus upon the early morning boat departure; Chongqing rarely merits even a footnote.
Hence, this city remains under-booked and overlooked. And no wonder. Guidebooks aren't flattering but neither are local guides. They greet tourists at the airport, squeezing in a two-hour city tour on the way to the boats. Invariably, they introduce Chongqing as "the City of Seven Hs."
Catchy, but hardly a good recommendation, since a handful are hot, humid, hazy, hilly and hot-tempered. It's time to update the H list with a more appropriate adjective: Happening.
Those familiar with Chongqing may be shocked with this pronouncement – particularly if they haven't visited in the last couple of years. Then, Chongqing was a grimy, gritty place.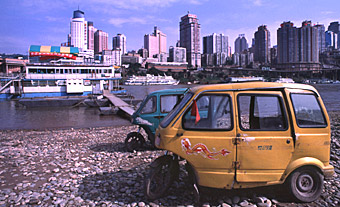 Swamped with smog, this industrial center was known as one of China's Furnace Cities, sweltering in summer, when the ring of hills and persistent mist send temperatures soaring.
Still, there is a Cinderella charm to Chongqing. Perhaps not yet transformed into princess, this dowdy wallflower of yesterday has definitely blossomed. Modern Chongqing is dressed up in bright boulevards, new bridges and tunnels, with a soaring skyline to rival any city in China.
The makeover results from China's ambitious plan to develop its vast western frontier. As designated capital of this Go West campaign, Chongqing has been the first great beneficiary.
Billions of dollars flow quarterly from federal coffers, financing the kind of near-overnight renaissance never seen anywhere – at least, outside of China. Beijing, Shanghai and Guangzhou are already further along in their own redevelopment. There, as here, entire neighborhoods face wrecking balls, and centuries of urban history are turned to dust every day.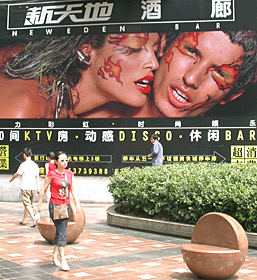 The same story plays out across much of China, where contrasts between old and new are striking. Nowhere more so than in Chongqing, which has never had much international exposure or modern development. And never been a major city.
Perhaps because of the gloomy past, greatness isn't taken for granted by a cocky populace, more treated as an unexpected gift. You cannot help but notice the positive buzz. Likewise the unabashed civic pride, typical of heartland people, and altogether appropriate, since Chongqing is marked as a regional center, modeled on Chicago, an inland metropolis to serve the western frontier.
"Part of the attraction to Chongqing is seeing this city in the midst of its incredible transformation, a marvelous thing to experience," notes Manfred Schneider, general manager of the Holiday Inn Yangtze Hotel.
"The excitement of Chongqing is enveloping yourself in the city. I think there is much more here than in your usual tourist town, where you simply check off the sights."
Not that you need much of a checklist. Dazu, a world-heritage site with 60,000 rock carvings dating back over 1,000 years, is 160 kilometers away. Formerly out of reach to most because of the rough eight-hour bus ride, Dazu's grottos are now only two hours distant by coach, less by car, thanks to all the new highways sprouting around Chongqing, along with rail lines, airports and industrial parks.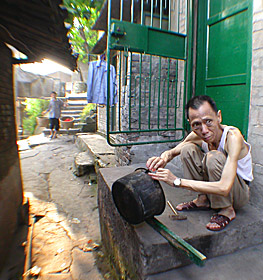 Yet, on the drive to Dazu, you climb a slope, round a curve and within minutes, the city vanishes, replaced by views are of water buffaloes and mist-enveloped hills embroidered with magnificent rice terraces.
Much of Chongqing outside the city center is rural, with the same heralded terrain of Sichuan Province, from which it was sliced off in 1997 and granted independent municipal status. Measuring 82,000 square kilometers – roughly the size of Wales – and with 32 million people, the municipality of Chongqing is more like a small country. Or the world's largest city.
Capital of Ba state three thousand years ago, Chongqing's had its only recent brush with importance when the Nationalist government moved its capital here in the face of the Japanese invasion of the 1930s, only to flee the following decade for Taiwan.
Tourists can visit the Stilwell Museum, opened last fall at the former home of General Joseph Warren Stilwell, head of American forces in the China-Burma-India Theatre. Another former resident was Sun Yatsen, whose wartime home is open to tourists near the Hilton Hotel.
That pretty much covers the tourist checklist. Chongging has no Great Wall or must-see temples. The main attraction is a city unlike any other. Straddling a peninsula sandwiched between two rivers, Yangtze and Jialing, Chongqing is nearly as vertical as horizontal.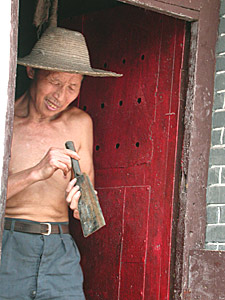 Houses cling to rolling hills in cornrow patterns that follow slopes rather than any planning grid. Roads scatter like spaghetti strands every which way but in straight lines. Taxis rocket around curves like cartoon cars in video games. This torturous cityscape explains perhaps the most striking feature of all - no bikes.
They would be no use in this hilly city, and roads are hardly any better. Locals eschew the asphalt for stone stairways cut right into the city cliffs. Not that you race along on these Medieval paths, which conjure a large measure of the city's charm.
In old times, these were the highways of Stick Men, so named because of the bamboo poles slung over shoulders, from which dangled all the goods that moved in Chongqing. You still see the distinctive transport-for-hire brigades in their green canvas shoes, balancing a marvel of goods.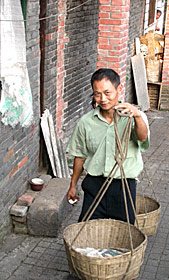 Meandering up a stairwell from the river, huffing from the climb, I had to step aside to let a pair pass. One had a television on one rope, a fridge hanging from the other. His muscular companion may have been hauling two passengers on their final trip: in coffins!
This was in the midst of a busy market, but hardly anyone looked up from the tables, where an immense clatter shook every shop. It was mid-day, time for the reverent observance of one of the local obsessions: mahjong.
Against a backdrop of rising glass towers, song birds hung in cages from laundry lines as the entire city seemed to pause for endless cups of tea and the traditional game.
Everywhere you wander, the same serendipitous blend is savored. The new riverfront promenade sports marvelous restaurants, yet civic pride still centers on Jiefang Bei, the local answer to shopping streets like Nanjing Lu in Shanghai or Wangfujing in Beijing.
Amidst stores teaming with trendy gadgets and name-brand goods, the landmark remains a stately clock tower built to commemorate victory in World War II. Every hour, it plays Mao's signature "The East is Red." But the clock, which bears a distinct resemblance to Big Ben, switches to a jolly western jingle on the half hour.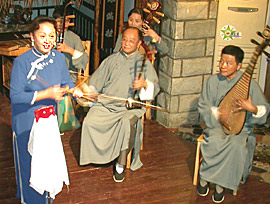 Up the boulevard is Chongqing's newest joy, Three Gorges Plaza, a civic square awash with swirling lights, erupting fountains, bubbling waterfalls, bridges and sculptures all celebrating the city's greatest tourism draw – and diversion.
Over the plaza's pounding rock music come melodies from an adjacent square where residents gather nightly for fan dancing or spirited cha-cha-cha.
Perhaps the best way to soak up the fabulous cornucopia of contrasts, though, is to by taking to the sky. Chongqing offers what must be one of the world's best amusement bargains. Rides on a pair of gondola lines strung across each of the main rivers cost less than 25 cents. From overhead, the urban tumult resembles a child's railroad set on the night before Christmas, only on unimaginable scale.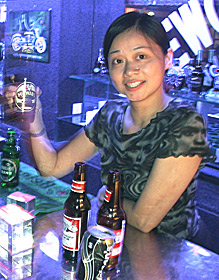 Thankfully, two things that aren't being altered by the modernization are the mood of the people, and fabulous local food. Not coincidentally, these are the final two Hs: hospitality and hotpot.
Visitors are guaranteed a warm welcome, and even hotter reception at mealtime. Chongqing is renowned for Sichuanese cuisine, staples like Ma Po Do Fu (tofu topped with a bit of minced beef, floating in chili bean sauce) and Gong Bao Ji Ding (chicken with chili and peanuts). And you haven't really visited until you've tried hotpot, which was invented here.
Which brings to mind one H that Chongqing can never be known for: Hungry. Even when clubs empty out in the wee hours, streets are filled steam from stalls dishing up cheap vats of the blazing-hot cuisine.
For atmosphere, though, you cannot beat the south shore of the Jialing River, where a brand-new promenade is lined with outdoor tables. Strolling musicians entertain and you can soak up succulent views of the skyline, seemingly reshaping itself before your eyes.
---
Ron Gluckman is an American reporter who has been roaming around Asia since 1991, when he was based in Hong Kong. Nine years later, he moved to Beijing, and has been covering China ever since for a wide variety of publications including Silk Road, which ran this story in March 2004.
All pictures by Ron Gluckman
---
To return to the opening page and index

push here
---