Cambodia's It Cuisine
Long derided for its lack of spice, or starvation connotations under the Khmer Rouge, Cambodian cuisine is being hailed as the world's new It Cuisine. A new cookbook showcases the country's culinary creativity.
By Ron Gluckman /Phnom Penh, Cambodia
---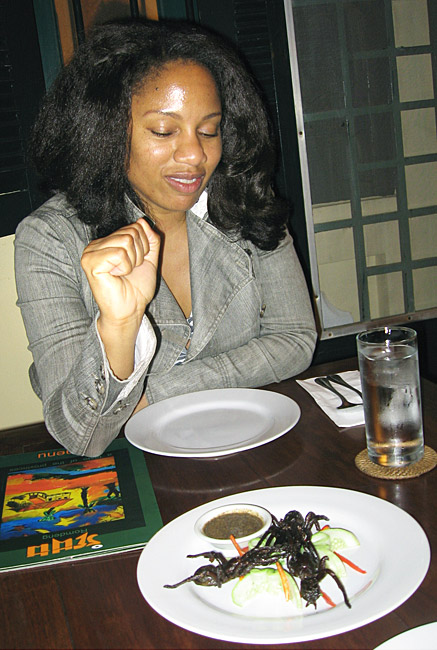 COULD CAMBODIA CLAIM THE NEXT KILLER CUISINE? That's the view of many leading culinary guides, and amidst glowing gastronomic reviews comes an intriguing cookbook: "From Spiders to Water Lilies – Creative Cambodian Food with Friends."
Issued by the charity Friends, which houses and trains street children in marketable skills, including work in Cambodia's booming tourism sector, Friends also runs a pair of popular Phnom Penh restaurants, Friends Café, with its colorful murals and Bohemian atmosphere, and the more upscale Romdeng.
The cookbook culls the best recipes from Chef Sok Chhong, a homeless street kid a few years ago, but now among Cambodia's hottest chefs. These include pomelo salad (with shrimp and coconut) and squid swimming in fresh green pepper (from Kampot, Cambodia's world-famous pepper area) as well as the notorious tarantulas (best subtly seasoned in lemon, rather than the deep-fried varieties served at street stands).
Cambodian cuisine has long been lost to the world, strangled by the starvation-policies of the Khmer Rouge, than lumped together –wrongly – with Thai cooking. Where Thai tends towards chili and curry, Cambodian cuisine is more sour than spicy, and usually features prahok, a fermented fish paste.
The increased tourist traffic of recent years has nourished a new generation of Phnom Penh restaurants like Sugar Palm; owner Kethana Dunnet features home-cooking from Cambodia's Golden Age of the 1960s. At trendier venues like Mali's, with giant Buddha heads and Lotus ponds, chef Luu Meng offers modern Khmer-fusion (wok-fired crab with chili and peppercorn and deserts like Jasmine ice cream in sweet watermelon soup).
All giving Cambodia a leg up on the culinary charts – even without the spiders.`
---
Ron Gluckman is an American reporter who has been living in and covering Asia since 1991, and visiting Cambodia since 1993. He filed this story for Time Magazine in early 2009.
All pictures by RON GLUCKMAN
---
To return to the opening page and index



push here
---