Mekong Discovery Trail
Hunted and chased to the brink of extinction in rivers around the world, a rare variety of freshwater dolphin is making a fin-al stand in a scenic stretch of the Mekong River, from remote Cambodia into Laos. Locals in this poor region, who used to curse the dolphins, are now embracing them as the figurehead of an ambitious development program designed to use tourism to save the species.
By Ron Gluckman /Kratie and Stung Treng, Cambodia, Si Phan Don and beyond in Laos
---
PERHAPS IT'S THE STILLNESS
in this gorgeous stretch of the Mekong River in remote Cambodia. Or maybe the heightened anticipation after the long wait. Whatever the case, when a pair of slick heads finally break surface in the distance, you can almost hear a joyous sigh of collective relief echo from the scattering of boats.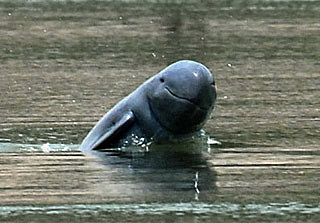 Briefly visible, far away, are two freshwater dolphins that live in this scenic waterway between Kratie and the Laos border. Fewer than a hundred of the rare mammals likely survive in a series of ponds along the Mekong. These dolphins, and related sub-species, once thrived throughout southern Asia, and around the globe.
Adaptation over the eons moved them from oceans to brackish waters of river basins, then upriver. Now these amazingly resilient creatures are extinct almost everywhere, and threatened in final refuges, from the Yangtze River near Shanghai to the Pearl River Delta between Hong Kong and Macau, and across the rivers of Burma and India.
Simply seeing the fresh-water dolphins in the wild is a precious thrill. And there is an added buzz: the Mekong dolphins could become a model for other endangered species. Protected for the first time, these rare river dwellers have become pegged to the prosperity of the entire river region.
They are both the mascots and driving force of the newly-branded Mekong Discovery Trail, which promotes low-impact, ecological tourism on a nearly 200-kilometer stretch of the river in Cambodia and Laos. The launch of the trail this year follows seven years of planning, linking not only governments along the river to donor nations, but also fishermen and conservation groups. Saving dolphins is just one facet of an ambitious poverty-reduction program designed to spread the flow of tourism from established corridors in both countries to remote regions rich in scenery and cultural attractions.
The decline of the dolphins has been blamed largely on the loss of habitat and fishing nets. Conservationists long advocated a ban on boats in the main ponds. Local long-tail boats still clatter around Kampie, outside of Kratie, which claims the largest population of Mekong dolphins, but with a difference. Rather than disturb the dolphins, nowadays they bring tourists to observe them.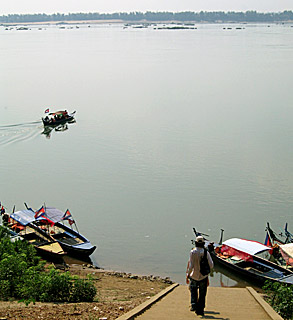 Many boats are operated by former fisherman, who also comprise a force of scores of river guards who began patrols of the dolphin waters last October. Funding comes from a consortium of donors in a novel World Tourism Organization project, which provided training for guides and money for maps in new information booths. Boasting spiffy dolphin logos, these stand alongside stalls selling dolphin souvenirs, dispensing information on home stays, bike trips and other ecological activities.
"This is a big change for the people of Kratie," notes Suniya, a former policeman, as he huddles in the shade at Kampie, where he now heads the special tourist police. "Local people like to fish, but they realize the benefit of this change. They are all excited about the dolphin project and the tourists they will bring here."
Change comes slowly to this part of Cambodia, with some of the poorest provinces in a country long lodged in the lower tiers of the world's most impoverished. Yet Kratie has a thriving, if run down market place, and a smattering of old colonial buildings, reminders of its role as a provincial capital under the French.
Kratie is by also the largest city along the Mekong Trail, and the most developed, with modest, but decent hotels, and restaurants offering tourist-friendly food. Outside Kratie, the lodging is basic at best, transportation and services scant.
That's part of the attraction, according to Daniel De Gruiter, who probably knows the area as well as anyone. Working in tourism in Cambodia for four years, he was a consultant for the project, riding motorbikes or boats throughout the Mekong area. "The dolphins get the most attention, but there is so much more to see along the trail."
He notes spectacular birding areas, and abundant soft-shell turtles. The Mekong is also home to some of the world's biggest and rarest river creatures, including Giant River Carp, which can grow to 1.5 meters and weight 70 kilos. The Siamese Giant Carp and the unique Mekong Giant Catfish can grow twice as long, and tip the scales at 300 kilos. De Gruiter is especially enthusiastic about the eco-tourism potential of a largely pristine stretch of river. "This is some of the most beautiful scenery in all of Cambodia."
Marcus Sandford, an Australian based in Kratie for project, unfolds a map detailing river trips, bike trails and numerous river islands. Si Phan Don, just over the border in Laos, translates literally as "Four Thousand Islands." Counts are impossible, since some small pitches of sand appear or vanish as the river rises or falls. Sandford says one nearby river island is 45 kilometers long.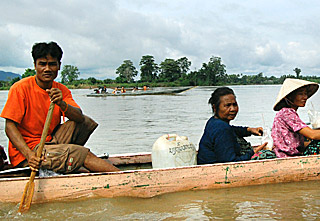 The potential is just as vast, he enthuses. "You could take a ferry to the island, rent bikes at one end, and ride around this amazing, undeveloped island in the middle of the Mekong River. Along the way, you could stay with locals. Then take another boat to the mainland, and continue your journey."
De Gruiter, based in Cambodia's capital of Phnom Penh, later adds: "I've been all over Asia, and this is really a special area, largely undeveloped, intact.
"You really need to see for yourself," he suggests. Not needing much persuasion, I do.
The Mekong is one of Asia's great rivers, 11th longest in the world. Flowing from the towering Himalayan mountains in the Tibetan plateau, it runs 4,350 kilometers through China, Burma, Thailand, Vietnam, Laos and Cambodia. The most dramatic section may be at the end, when swelling waters explode across a series of waterfalls in southern Laos, then spread across lowlands creating Vietnam's rice-rich Mekong Delta, and the world's largest freshwater fishery, Cambodia's Tonle Sap Lake.
Both countries have lagged behind China, Thailand, even Vietnam in tourism. But the slow-developing nations are catching up with huge surges in tourism in recent years – Cambodia topped two million visitors last year; a 50-fold increase from the early 1990s. Surprisingly, Laos is gaining too. Last year, with little publicity, tourism soared to 1.4 million visitors, according to official figures.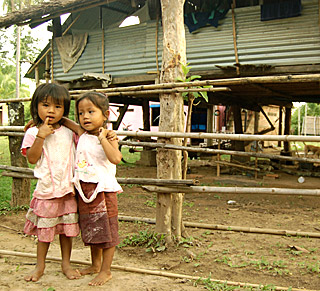 Yet visitation remains extremely one dimensional. Cambodia has promoted tourism beyond fly-in visits to Angkor, its ancient temple complex near Siem Reap. Even with more traveling to the capital of Phnom Penh, and the coast of Sihanoukville, average stays remain around 1.6 days. Visits to Laos are even more focused, almost exclusively upon Luang Prabang. Few venture as far as Vientiane, or southern Laos.
Part of this is due to the hurdles to travel. Less than a decade ago, border crossings were rarely allowed, and, until recently, were curtailed unpredictably. Ferry service from the border to Stung Trung, in Cambodia, is on and off; presently off. And, until Chinese investors paved roads and added bridges over the past year, it was a miserably bumpy ride to the border from anywhere else. Historically, this has been a trek for the hearty few; an estimated 10,000 foreigners make it annually.
"In the early 1990s, I'd be in southern Laos and never see another traveler," recalls Joe Cummings, Lonely Planet author of the first western guidebook to Laos. On one lonely foray in Laos over a decade ago, we bumped into each other and stay in touch. He's a fluent Lao speaker and, when I mention the Mekong expedition, Joe eagerly signs on.
We rendezvous in Pakse, gateway to southern Laos. Most traffic on the Mekong Trail moves down river. Not due to river flows, but bureaucracy. Visas for Laos need to be arranged in advance, but Cambodia issues permits on the spot. Hence, we go with the flow and join a growing number of travelers making the river trek south from Laos.
When we set out last summer (2008), Laos had yet to agree to participate in the project. But the same day we reached the scenic Four Thousand Islands, south of Pakse, Laos agreed to the plan. The exact area of inclusion needs to be pinpointed, but the islands are a must, since lodges here already book trips to dolphin ponds across the border.
And, given the goal of creating genuine travel circuits, the trail should extend to Pakse, providing links to Vietnam and Thailand. "This is an area of huge potential growth," predicts Jean-Yves Paille, who is constantly appraising new routes in the region as product manager for Exotissimo, one of the biggest travel operators in Laos.
Already the company has an office in Pakse. "We always had requests for onward trips to Cambodia, but in the past it was hard to go, and so much trouble with the border." Last year, aware of the Mekong Trail, Exotissmo began researching new cross-border trips that launched this September. These include bike trips from Laos to the Angkor temples in Cambodia, and boat-bike trips all the way to Phnom Penh.
"We are very much behind this trail, and will heavily promote it," he says. "We think it will mainly appeal to a small group of seasoned travelers at first. There is this unusual landscape. This is really off track. You can learn about village life, see locals in a genuine setting. It's the kind of experience few tourists get."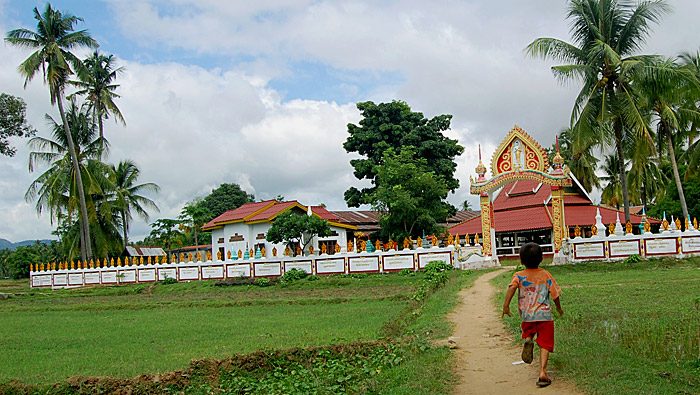 That special magic is evident in Si Phan Don, where Joe and I visit a few of the islands and revel in the unique tranquility. Still basic – generators provide power a few hours per night – this is the kind of place where you do little, and love it. We rent clunky bikes and ride to spell-binding waterfalls, largest in Southeast Asia. Two of the main islands are linked not only by bridge, but the only railroad in Laos – a tiny, ancient line put in by the French for deliveries, since navigating the waterfalls was too dangerous.
Otherwise we look, linger and savor encounters that modern travel often obliterates. Monks sweep us into temples, locals welcome us into their homes. The pace is chill, even by Lao standards. You feel like you could stay for weeks, with a big bag of books.
It reminds me of Laos from a decade and a half ago, when we first met, and saw few other visitors. Over a sunset dinner in one of numerous riverfront restaurants, I tell Joe how I used to feel so privileged to be traveling in Laos. I feel the same way again.
This is the beauty of taking tourists off-track, and the positive side of the Mekong Trail project. But there are pitfalls. One becomes apparent down river, after we cross into Cambodia. Joe continues to Angkor, along with most travelers queuing for visas. Others ride to Phnom Penh, but I make a stop in Stung Treng, exactly as the project hopes more travelers in the future will do.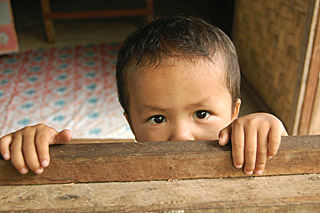 On the back of a motorbike, I plunge into that spectacular scenery pictured on the Trail website, bound for the little town of Osvay, buried in jungle. Osvay is near another pond of dolphins, perhaps the most picturesque location on the entire Trail.
Several rivers run together in a spot reached only by boat. De Gruiter described it in euphoric, must-see terms. Indeed, even though the dolphins fail to show this day, just riding a boat for hours, through forests of flooded trees, provides views that would be highlights of a lifetime. Along the way, I spot eagles, herons and hawks.
Another memory is roaring by motorbike along dirt roads and stopping at the shout of "Help!" At a rustic building that serves as Osvay town hall, are two irritated foreigners. They left Si Pan Don by boat, as we did, but took motorbikes to the border. After crossing, they wanted to continue to Stung Treng, but the bike drivers took them here instead. "Now, they won't let us leave unless we stay a night in a home stay, for $20."
Talking to the villagers, we quickly sort things out, and send them to Stung Treng by car. As part of the huge, overarching project, consultants had told villagers to prepare for home-stays, and the windfall of eco-tourism. Just a little ahead of the curve, a bit too enthusiastic, they inadvertently pioneered eco-terrorism.
Such is the treacherous tightrope between helpful development, and hard impact. The challenge along the Mekong, as everywhere else, is to bring tourists and their cash to remote communities, without altering the rustic charm that mesmerizes visitors.
As the Mekong Development Trail moves to implementation set to run through 2010, attention should be paid to Si Pan Dan, a charming tourist area growing at a sustainable pace. Using tourist dollars and sentiment to save the dolphins is a marvelous aim, but let's hope they also manage to retain the magic that flows along the Mekong River.
---
Ron Gluckman is an American reporter who has been living in and covering Asia since 1991, roaming widely around the region for various publications, including Travel + Leisure magazine, which ran this in the Southeast Asian edition in October 2008.
Words and all photos copyright RON GLUCKMAN
Dolphin picture courtesy of Mekong Discovery Trail
---
To return to the opening page and index



push here
---