Bluegrass over Beijing
Bringing America's oldest and only original music form to the world's oldest civilization was a labor of love for innovative, Chinese-singing talent Abigail Washburn.
By Ron Gluckman/Beijing, China
---
BLUEGRASS IN BEIJING? The plinka-plunk of banjo seems almost as incongruous in the Middle Kingdom as clogging. Yet both dance and music were showcased in November in Beijing (and in several other Chinese cities on a shoestring tour in late 2004).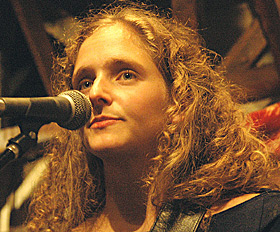 Actually, a more apt description would be Old Time. Alternately heralded as Appalachian or derided as Hillbilly music, the genre is often called America's only indigenous music. Abigail Washburn puts a new twist on Old Time. Hence, when America's oldest music form played the world's oldest civilization, it was in Chinese.
The waif-like Ms. Washburn, who celebrated her 27th birthday on the ground-breaking tour, was raised near Chicago and Washington, DC. But she studied Chinese language and culture in the United States, discovering a passion that later blossomed during brief spells living in both Beijing and Chengdu.
Her unusual repertoire included compositions in Chinese and English, plus traditional Chinese poems as nobody here has heard them, put to the lively picking of banjo, guitar, stand-up bass and fiddle.
The results were eclectic and inspiring. In several smoky Beijing clubs, Ms. Washburn and a trio of crack Nashville session players wowed packed houses, mostly of ex-pats. Many with a passion for Old Time arrived with their own instruments, and spirited jam sessions went on into the morning. A sprinkling of local Chinese chuckled about Ms. Washburn's odd accent, but even they were enthused, applauding and occasionally growing misty eyed over timeless folk tunes that remained familiar, even on the stringed instruments.
Some will write off Ms. Washburn as a novelty act. Admittedly, she just picked up banjo a few years ago. And the only question about the size of the market for Chinese Old Time is whether such a niche even exists.
Still, Ms. Washburn is a daring, definite talent, whose feel for the folk idiom results in moving material. Soulful is the word. On stage, her voice resonated with the power of a seasoned performer and her poetic hill tunes sounded all the more evocative in Chinese.
Levity marked cross-cultural nights of great musicianship. The band - Casey Driessen on fiddle, Tyler Grant on guitar and Amanda Kowalski handling bass and the clogging, a kind of square-dance tapping – arrived a day before the first show at Get Lucky.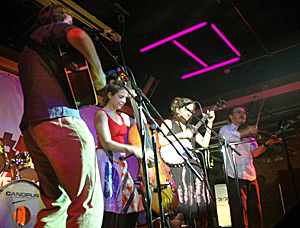 "They just flew in to China," joked Ms. Washburn, switching to Chinese for perhaps the first bi-lingual delivery of the old punch-line: "Their arms are really tired." Ms. Washburn introduced one song by folk legend Wu Dee Gu Tree, and extorted the chuckling crowd: "If you like what we are doing up here, you can do what we call hooting and a'hollering."
Playing a show per night, the tireless quintet performed to its largest audience at the oddly-named Nashville Club. Driessen, whose incredible bow-popping fiddle style has won him work with Steve Earle, noted that all three band members hail from Nashville. None had been to China, or anywhere in Asia previously. "Amazing thing is," he drawled, "we cum all the way around the world and end up back here in Nashville."
Call it globalization, surely the flavor of this young century. That can mean different things around the modernizing world. In China, fastest-growing economy on the rock, it often seems merely a green-light to make money, whether manufacturing with cheap local labor or marketing to the swelling mainland middle class. All too regularly the process seems succinctly tallied by the surging Starbucks outlets, or expensive Nike sneakers on millions of feet. Yet globalization can be grass-root, with subtle, deeply satisfying tones.
Ms. Washburn has clearly been moved by her experiences in China. "What I am trying to do is capture what it is like to be caught between two cultures," she said. "It's like being a bridge."
She started studying Chinese in 1996 after a China visit following her freshman year in college in Colorado. "It was such a difficult place, so hard to travel." She stubbornly delved into the language and culture, discovering a kind of evocation. "I decided I'd study Chinese the rest of my life."
Aside from the unconventional Chinese twist to the Old Time tunes, Ms. Washburn's musical career has been fairytale All-American, careening from one fortuitous break to another. She sang in reggae and soul bands while growing up, but studied philosophy in college. "I had no real vision for a music career."
She was discovered at a bluegrass convention, singing songs in a hallway with a few girls. An agent overheard and whisked them to Nashville to make a demo. The deal was turned down, but it opened her eyes to latent musical talent that will soon be put to a real test. She recently signed to Nettwerk Records (Sarah McLaughlin's label) and will record after her China trip.
The label supports her quirky Chinese material, which came together as a lark, after she started singing in Chinese with a friend's band. "I translated a few bluegrass songs into Chinese, just for kicks."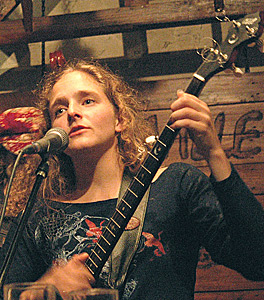 Someone sent a tape to his brother, working in Shanghai. "Then, about six months later, totally out of the blue, I got this call from a New York company that wanted me to submit a bunch of songs in Chinese." The company was working on a kind of reality show, about teams of Chinese from Taiwan, Hong Kong and China, all competing with new immigrants in the USA. They wanted more music.
"I only had that one song," she says of "Winter's Come and Gone," a Gillian Welch song she translated into Chinese. She quickly composed a handful of Chinese songs (many available on a demo CD, "Song of the Traveling Daughter," sold at the shows.). These include collaborations with Jing Li Jurca like "Min Tu De Gao Yang (The Lost Lamb)," a haunting, mournful ballad that is among the most moving on her China tour.
It has been delightfully shoestring. Two band members paid their own way. Beijing shows were thrown together by Jon Campbell, a local drummer and well-known music writer. Funds for a quick swing this week through Chengdu, Chongqing and Shanghai came at the last minute from the American embassy's Public Affairs Section.
"The idea is to bring new music to people in China," explained Campbell, balancing comments about the bleakness of the Beijing music scene with the sensitivity of one who both covers and contributes to it. "The whole point of this is a cultural exchange."
To that end, the musicians visited music schools around China. In Beijing, attention centered on guitarist Tyler, not surprising since local bands are largely heavy metal. Hardly anyone knew what to make of the women, or little-seen instruments like the banjo and stand-up bass. And clogging is likely beyond local comprehension.
Still, some Chinese clearly grasped the essence of Old Time. One Beijing musician was moved, summing it up succinctly: "It's like American peasant music."
---
Ron Gluckman is an American reporter who roams around Asia for a number of publications, such as the Wall Street Journal, which ran this story in November 2004.
---
To return to the opening page and index

push here
---