Palaces of Phetchaburi
A century ago, Thailand's king built an eclectic collection of palaces atop a hilltop in Phetchaburi, making the town the swinging-est spot in old Siam. Now, it's a forgotten stop worth making.
By Ron Gluckman / Phetchaburi, Thailand
---
A DIVERSE STOCK OF ANCIENT TEMPLES and centuries-old wooden storefronts would be enough to distinguish Phetchaburi, 100 miles south of Bangkok, from other road stops on the way to Hua Hin or other beaches beyond.
Yet it was the royal architecture at Khoa Wang (literally Palace Hill) that drew the rich and famous in its heyday to this faded gem of a trading port whose name means Diamond City.
The name baffles shopkeepers and historians alike. After all, it was salt mined from the flats that put Petchaburi onto regional mariner's maps. Hence, the construction of so many of the town's old temples, including Wat Mahathat, whose distinctive 13th Century stuppas testify to Phetchaburi's role as part of the grand Khmer kingdom.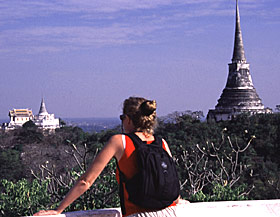 After salt, King Rama IV insured Phetchaburi's enduring legacy - at least to fans of grand kitsch. On a hilltop west of town, the king constructed a dazzling summer estate: palaces, sitting rooms and stables, guesthouses galore.
The design meant to blend the best of East and West. The result was an eclectic hodgepodge of Greek columns, Thai teak, Chinese tile roofs and rounded Italian observatory, all set in an impeccably-landscaped English-style garden.
Built in 1860, the estate is now a rundown attraction at Phra Nakhon Khiri Park. A plague of monkeys swarm the entrance, eager for fruit and snacks sold by local women as bribes. Hardly necessary. Fat and lazy, the monkeys don't venture far up the steep cobblestone paths.
There's a cable-car (unpredictable running hours) and splendid views from a lookout just below the cupcake-shaped Italian observatory.
Monkeys may be your only company at Khao Wang. Admitedly, Phetchaburi has no great hotels, or beaches. Instead, its charm is found in streets little changed since the 1800s, and a collection of temples that rank among Thailand's most diverse.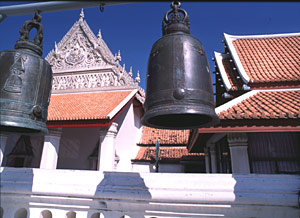 Among them are Wat Kamphaeng Laeng, another Khmer relic, and several 17th Century shrines sporting unparalleled murals. Those at Wat Ko Kaeo Sutharam show a westerner (early Jesuit missionary most likely) attending an ancient Bhuddist ceremony.
That may be the only western face you see in Phetchaburi these days. Which is kind of strange, considering that in its heyday, the palace complex on the hilltop was the hip place to swing in old Siam. Now, only monkeys do.
---
Ron Gluckman is an American reporter who is based in Hong Kong, but who roams around Asia for a number of publications, such Time Magazine, which ran this piece as part of a package of stories on Hua Hin in August 2002.
For the rest of the stories, see also:
- Long ago popular, Thailand\s first beach resort dropped off the map of holidaymakers, but they are flocking back to Hua Hin, the Thai beach classic.
- For a great escape, head south from Hua Hin to Khao Sam Roi Yot, Thailand's little visited marine park.
- Hua Hin's revival can be seen in a new hotel boom.
---
To return to the opening page and index

push here
---