Revival in style
Hua Hin was the first place the Thai Royal Family tucked in visitors on a beach holiday. Now, a pair of snazzy new resorts help holiday makers feel like kings and queens.
By Ron Gluckman / Hua Hin, Thailand
---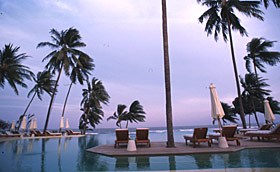 P

RANBURI, A SLEEPY VILLAGE four hours south of Bangkok, has always been famous for its Ps. On the drive from nearby Hua Hin, the road zooms past pineapple fields. Pranburi produces some of Thailand's best. Later come ponds, packed with shrimp.

Later still, we reach our destination, and the best P of all. Our pool.

When Six Senses, a small chain of ultra-luxury boutique resorts (famous for its Soneva Fushi in the Maldives), acquired a failed Club Med-style cottage resort in this beachfront location, it promptly made the place even smaller. Nearly a third of the bungalows were knocked down. The rest were enlarged. And given that unimaginably decadent touch, the private swimming pool.

Such properties have become commonplace in Bali, thanks to the success of intimate, upscale chains like Aman Resorts. Still Six Senses believes the same formula of sky-high service and 24-hour pampering pioneered by its Soneva Fushi in the Maldives ("the best resort in the world," according to CondeNast readers) will work with its Evason Hua Hin.
The new resort has 40 pool villas and will add 40 more next year. Whom will fill all those pools? Rich tourists from Europe, says general manager Geoffrey Bennun. The same who now holiday in Tahiti, the Caribbean, as well as Bali's best resorts.
There are no private pools at Hua Hin's other new hotel, the Hyatt Regency, which opened a 200-room resort in January on some of the best beachfront in town.
With several slides and snaking lagoon-style pools, its geared towards families and Asian executives on weekend breaks. General Manager Joann Hee points to a new international airport, and burgeoning interest in spas as signs that Hua Hin is poised to take off.
"Other destinations, they tend to ambush you," she says. "Hua Hin is more subtle, it's slower paced." And how. Hyatt started its resort in 1995, only to be sidetracked by the Asian crisis. Perhaps a dip in the pool and a day at the spa will reinvigorate Hua Hin.
---
Ron Gluckman is an American reporter who is based in Bangkok, roaming around Asia for a number of publications, such Time Magazine, which ran a package of stories on Hua Hin in August 2002. This story is a special gluckman.com addition that wasn't in the printed package.
For the rest of the stories, see also:
- Long ago popular, Thailand\s first beach resort dropped off the map of holidaymakers, but they are flocking back to Hua Hin, the Thai beach classic.
- Eclectic Khao Wang Palace, once the swinging center of Southeast Asia, is now part of a cool park in picturesque Petchabnuri.
- For a great escape, head south from Hua Hin to Khao Sam Roi Yot, Thailand's little visited marine park.
For another story on the spas of Hua Hin, click here.

Top picture, the Evason Hua Hin in Pranburi; bottom, the beach in front of new Hyatt
---
To return to the opening page and index

push here
---