Thailand's spa-tacular getaway
Only a few hours from Bangkok lies the perfect remedy for the stress and congestion of the Thai capital, a soothing retreat to the charming beach resorts and spas of Hua Hin. A getaway for the king for over a century, Hua Hin is in the midst of a rediscovery.
By Ron Gluckman / Hua Hin, Thailand
---
W

HEN DAVID BECKHAM, the football superstar, slipped away last summer for a beach holiday with his Spice Girl wife, Victoria, their retreat was a luxurious Asia hideaway.

No surprise, since this sumptuous spa has served scores of celebrities like Hugh Grant and Kylie Minogue, with the utmost of pampering. In holistic terms, that translates to everything from fresh juices and facials to hydrotherapy and a full menu of body wraps.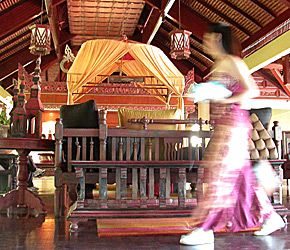 That the world's biggest celebrities increasingly eschew partying in favor of career – and life – sustaining healing holidays is only one force driving the surging popularity of spa resorts. The other is the simple attraction of breaks that truly relax, refresh and rejuvenate – qualities that appeal to everyone in this health-conscious era.
The real surprise is that Beckham and Spice didn't jet to some exclusive island resort. Instead, they lodged at the Chiva-Som, Asia's first full-service health resort. While fabulously famous, the Chiva-Som is neither remote nor exclusive. Likewise its location. In fact, Hua Hin could hardly be better known or more conveniently sited. Or more mainstream.
This sleepy coastal town claims a remarkably unblemished stretch of white sand, considering its a mere 2-3 hours dash from Bangkok. Besides the Chiva-Som, a dozen other luxurious spas dot the coast line all the way down to Pranburi, an even sleepier seaside town another 30 kilometers down the coast. At the Evason Resort and Spa, workers joke that the main activity – outside body scrubs, massage and 24-hour R&R – is watching fruit ripen in the surrounding pineapple fields.
"Ten years ago, this was a nice weekend retreat," notes Joy Menzies, a happy visitor to Hua Hin for over a decade. "Ten years ago, Hua Hin was quiet, peaceful. The place nobody outside Thailand really knew about."
Peaceful still, this beach town is unquestionably on tourist maps nowadays, and Menzies herself is partly to blame – or credit.
As general manager of the Chiva-Som, she is constantly welcoming celebrity guests to Hua Hin's hottest spa. And stars aren't the only ones who appreciate a jet-lag treatment, as well as some equilibropathy and a cucumber and aloe body wrap.
Even with prices starting around $500 per day, the spa is mostly booked solid, year-round. Stars get the attention, but most customers are business people with a major desire to chill out.
When the Chiva-Som opened in 1995, most questioned the wisdom of a $26 million resort with only 47 rooms. Yesterday's critics are today's competitors, as spas spread across Thailand, and around the globe.
Treatment rooms have become mandatory for top hotels, much like fitness rooms in the 1990s. "The product hasn't changed but the market really has," notes Menzies. "Before, most people hardly even knew about massage. Now, they are moving up to a true, well-being experience."
At the Chiva-Som, that starts with a counselor who meets with guests upon arrival, and advises on an entire program, commonly a week or two. There might be special goals, like physical therapy, weight loss or spiritual study. Whatever the specifics, guests want to unwind, and are willing to pay top dollar for the privilege.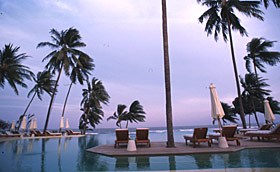 Approaches vary elsewhere in Hua Hin. At the Evason, the plush spa is merely one more place to indulge in a serene sense of seclusion. Many of the villas have private pools, and a huge package of recreational activities make use of the nearby parks and marine areas.
"It's all about getting away and enjoying yourself," says Geoffrey Bennun, former Evason general manager.
Spas are clearly flavor of the day in Hua Hin, where practically every hotel is now rebranded as a resort.
Take the Anatara Resort and Spa. A facelift involved an overhaul of the 14-acre grounds, adding lush landscaping and sculpture-lined pools. The icing on the cake may have been the addition of a luxurious, well-anointed spa, but the name change added pizzazz to the old Royal Garden Village.
With the smell of scented oils so thick about Hua Hin, many might think this beach has merely hung its reputation on spa resorts. In reality, Hua Hin has been around since long before soaking had anything to do with jacuzzis - or tubs.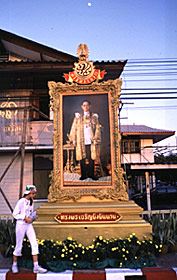 Unlike other in-vogue resorts, Hua Hin is actually the grand dame of Thai seaside havens. Eighty years on, the spas and parade of stars is nothing new in Hua Hin, which has hosted generations of world leaders and celebrities. The real mystery is how Hua Hin has managed to age so well, remaining peaceful and unpopulated, despite the regular cycle of new fans that keep rediscovering this timeless Thai beach classic.
Hua Hin was originally the resort for Thai royalty and jet-setters of the day, who used to retreat from Bangkok's sweltering heat every summer on a procession of elephants. Forget beach huts. Hua Hin's first lodging was fit for a king, constructed by the queen, to accommodate royal guests. And the crowds only expanded after train tracks were punched through the jungle in the early 1920s, and the guesthouse grew into Thailand's first hotel: the historic Railway Hotel.
Now known as the Sofitel Central Hua Hin Resort, this 80-year-old landmark retains both its sumptuous charm and its link to the past. Built in Edwardian colonial style, the rooms sport antique furniture, with huge verandas overlooking exquisitely-landscaped lawns. Tea time is utterly authentic in a railway lounge packed with train mementos.
Nor is Hua Hin's history confined to the grounds of this vintage hotel. Nearby is the Royal Hua Hin Golf Course, Thailand's oldest course, where guests first teed off in 1926. From the greens, golfers can spy golden spires and orange roofs poking through the trees, markers of the many local temples and palaces dotting the surrounding hills.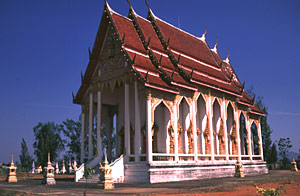 For all its history, Hua Hin remains strikingly unpretentious. Despite the traffic, it seems more a typical provincial Thai town than the playground of princes, or stars. That's partly due to the fickle procession of holiday traffic. Group travel took beach development to a succession of swank new resorts, holiday-makers chasing the holy grail of the hot new stretch of sand.
Like in the fable of the tortoise and the hare, condos rose rapidly on other shores. In sleepy Hua Hin, Thais were largely left alone in this unheralded, but tranquil retreat so close to the capital.
Strolling the sands of Hua Hin is like a trip back in time, to the small-town simplicity of a half-century ago. You see entire families parked upon the balconies of 50-year-old wooden cottages along the beach, snoozing in hammocks or playing cards at tables.
Children make sand castles under the gaze of mothers, even grandmothers who spent their own childhood frolicking around the same cottages.
Hua Hin has plenty of tourist shops and a small night market, but more trappings of a typical coastal town: grocery stores, hardware vendors, fruit and ice cream stalls.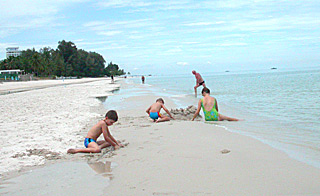 The beach area boasts plenty of upscale restaurants but the fish is freshest on sprawling wooden terraces along the docks where the daily catch comes to shore.
In so many ways, Hua Hin is distinguished by what it lacks: discos, beach stalls, in fact little of the detritus so often seen in other beach resorts. Not that there is a shortage of things to do.
Besides half a dozen top-notch golf courses, Hua Hin has the usual assortment of seaside recreation: sailboats, jet-skis and horses offering rides on the sand.
But the real joy of Hua Hin is to simply stroll the streets, perhaps soak in a spa, or visit the palace built by King Rama. He called it Klai Klangwon, meaning Far From Worries.
Three-quarters of a century later, Hua Hin is still that kind of place.
---
Three spas certain to make you ooh and ahhh!
* Chiva-Som – Set on seven acres of beachfront to the south of Hua Hin, the $26 million Chiva-Som (or Haven of Life) has only 47 suites on tranquil grounds that justify the $500 a night price (for room, meals and basic treatments). A full-service health resort, Chiva-Som doesn't just offer soaks and facials, but a wide variety of treatments to cleanse, purify and heal the body and soul.
Guests are greeted by a counselor who helps assess personal needs and design a program to achieve individual aims. Typical days would include yoga or tai chi, some swimming or beach time, treatments and daily massage.
* Anatara Resort & Spa – Although set along Hua Hin's main beach, this 14-acre resort has a jungle feel, thanks to lavish landscaping by Bill Bensley and a village cluster concept that spaces rooms around lagoons and sculpture-lined pools.
The Mandara Spa is one of the leaders in the industry across Asia. In Hua Hin, the design blends contemporary and Thai architecture with three double suites, each opening onto a tropical garden with plunge pool and outdoor shower.
* Evason Resort & Spa – When the Evason opened a couple years ago, Pranburi was a long way down the road from Hua Hin, practically in wilderness. Now, a dozen other small resorts share the neighborhood, but Evason remains the best.
The resort features charming villas, many with private pools, fronting a lovely stretch of palm-shaded beach. Water circulates through the grounds, around the restaurant, and right into the garden pools that enliven the most original public facilities in Asia. The spa features western and Thai-style treatment.
---
Ron Gluckman is an American reporter, based in Bangkok, who has been roaming around Asia for 14 years for a variety of publications including Korean Airlines' Morning Calm, which ran this story in January 2005. Mr. Gluckman has also written about Hua Hin for Time, Fortune and American Express magazines.
For some other views of Hua Hin and the surrounding areas see:
- Eclectic Khao Wang Palace, once the swinging center of Southeast Asia, is now part of a cool park in picturesque Petchabnuri.
- For a great escape, head south from Hua Hin to Khao Sam Roi Yot, Thailand's little visited marine park.
- Hua Hin's revival can be seen in a new hotel boom.
---
To return to the opening page and index

push here
---