Great Getaway
Thailand's marine park of Khao Sam Roi Yot is just a few hours south of Bangkok near Pranburi, but the peaceful coastal preserve seems in another space and time.
By Ron Gluckman / Pranburi, Thailand
---
WHEN BANGKOK RESIDENTS NEED TO GET AWAY from it all, they can find serenity just a few hours drive south at Khao Sam Roi Yot, a marine national park that is one of Thailand's best kept secrets.
Bean counters may question the name - Khao Sam Roi Yot means three hundred peaks - yet Thailand's first marine national park adds up in other ways. Located 35 miles south of Hua Hin, between Pranburi and Kuiburi, the park opened in 1966 and preserves some of the country's finest shoreline habitat, including sprawling marshes filled with water fowl.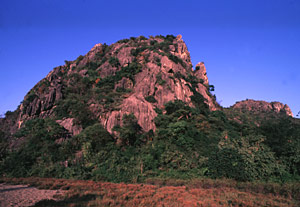 More than 200 bird species have been sighted in the nearly 100-square-kilometer park, along with monitor lizards, mongooses, deer and goat-antelope.
Despite the teeming wildlife - this is one of the few places in Thailand you might spot a rare purple heron or leopard cat - and close proximity to Bangkok, 4-5 hours away by car, the park is rarely overrun by tourists.
Visitors can rent tents or bungalows through the national Forestry Department, but most come on day trips for hiking, caving and spectacular kayaking through mangrove fields. Numerous local outfits offer boating trips, and packages are available from resorts in Hua Hin and Pranburi.
Start at Khao Dang viewpoint. Park at the National Park office, where sign posts lead to the hilltop, nearly half a kilometer straight up. From the peak are stunning views of the entire park, nearby shrimp farms and the pristine coastline. A slow road winds all the way to Sam Phra Ya beach, where there are picnic facilities.
There's also funky spelunking at Sai Kaeo, Sai or the largest, Phaya Nakhon cave. The long hike to the latter adds the rare bonus of seeing Phra Thinang Khuha Kharuhat, a four-gable roofed pavilion constructed 130 years ago.
For the less-actively inclined, you can float by boat down river from Wat Khao Dang, assured of seeing herons and egrets. The park may be short a few peaks, but still adds up as a great outdoor experience.
---
Ron Gluckman is an American reporter who is based in Hong Kong, but who roams around Asia for a number of publications, such Time Magazine, which ran this piece as part of a package of stories on Hua Hin in August 2002.
For the rest of the stories, see also:
- Long ago popular, Thailand\s first beach resort dropped off the map of holidaymakers, but they are flocking back to Hua Hin, the Thai beach classic.
- Eclectic Khao Wang Palace, once the swinging center of Southeast Asia, is now part of a cool park in picturesque Petchabnuri.
- Hua Hin's revival can be seen in a new hotel boom.
For another story on the spas of Hua Hin, click here.

---
To return to the opening page and index

push here
---