The Next Beach Thing?
The never-ending search for Shangri-la by-the-Sea takes tourists flocking with towels and tanning lotion in hand to each new "perfect paradise." The real surprise is that hottest new beach in Southeast Asia could turn out to be a beach classic - the royal retreat of Hua Hin.
By Ron Gluckman / Hua Hin, Thailand
---
S

OUTHEAST ASIA'S BATTLE OF THE BEACHES has been raging since sun, surf and sand became a holiday Holy Grail to hordes of package tourists from cooler climes.

Each season trumpets the discovery of yet another dream beach: lush palms, seafood fresh from the net, and miles of white sand, unblemished by footprints. Given the conflicting demands for laid-back escape and sumptuous lodging, nowhere has managed the mix better than Thailand.
In the 1970s it was Pattaya. The 1980s: Phuket. Resorts by the score are already pining to supplant Ko Samui, favored destination of the '90s. Yet the victor may not be another idyllic Ko Samui wannabe, but a genuine blast from the past.
Hua Hin, about three hours south of Bangkok, hardly looks like a 21st-century getaway. The country's oldest resort rose to fame in the 1920s, a decade after British engineers punched a railway through deep jungle, eliminating the long elephant rides from Bangkok suffered by the royal family on their beach outings. (Commoners went by canal and oxcart.)
For the ensuing half-century, Hua Hin was the place to sun and be seen by upscale Asians and resident expats. But the onset of group travel sent beachgoers to a succession of swank, new beach resorts, leaving Thais largely alone for the past few decades in their unheralded but tranquil retreat a quick dash from the congested capital.
Hua Hin is defined not so much by what it is, but what it isn't: overdeveloped and overrun. It remains a quiet seaside community with an authentic, provincial flavor—street-side Thai eateries instead of Pizza Huts.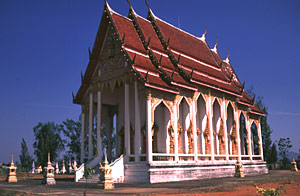 But it's no bush-league backwater. In fact, no beach in Asia can claim quite the bloodline. Dotted with palaces, steeped in history, Hua Hin celebrates the grandeur of old Siam.
You feel it with every creak of the teak floorboards at the old Railway Hotel, built at the Queen's command as a guesthouse for royal parties. Nowadays, it's been reborn as the grandiose 200-room Sofitel Central Hua Hin Resort.
Yet the enormous balconies, antique furnishings and white colonial architecture still reflect the unique style of Thailand's first hotel (opened 80 years ago this October). High tea at the Museum Café is a veritable waltz back in time, prodded by vintage railroad paraphernalia and aged photos on the walls.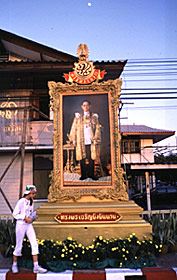 The royal connection is a common refrain around Hua Hin, illustrated by ubiquitous billboards depicting the Queen and King. His image is everywhere: on posters by the market, holding his camera in front of the photo shop, promoting swimming safety with an inflatable life belt. These are not only signs of local admiration, but firm reminders that this is the King's beach, unblemished, as a consequence, by the blight of jet skis and girlie bars.
The King couldn't save the skyline, marred by a scattering of concrete towers—the detritus of a short-lived condo boom derailed by the Asian financial crisis. But Hua Hin's golden beachfront is lined by 1960s-era wooden cottages where Thai families still gather to watch the waves from worn porches.
It wouldn't be far off to accuse Hua Hin of being boring, blissfully so, in fact. That is the appeal to workaholics like Wayne Chan, Taiwan-based Greater China president of Agilent Technologies, who visits annually with his wife. "Every day, we do the same thing. We wake, play golf, have lunch, a massage and then, in the evening, walk in the night market. It's always the same."
But will it change? "Ten years ago, this was a nice weekend retreat," says Joy Menzies, a British woman who has lived in Thailand for 10 years. "Quiet, peaceful, the place nobody outside Thailand really knew about."
That's no longer true, and Menzies is part of the reason. She's general manager of the Chiva-Som, an opulent spa and health center that serves stars like Hugh Grant and Naomi Campbell. Clients pony up $500 or more per day for facials, aquatic therapy, papaya foot wraps and a full menu of East-meets-West massages.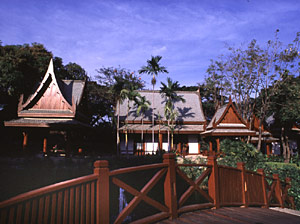 Already, Chiva-Som's splash on the international spa scene is sending ripples of change through the sleepy getaway. Hyatt Regency recently became the newest resort to stake a claim upon Hua Hin's regal beach.
Up and down the sand, hotels are being re-branded as fashionable spas. But there are no beach parties, no raves. And don't expect any soon, since the King has taken up permanent residence in his town palace Klai Kangwon.
The name means "far from worries." That has long been Hua Hin's mantra, more than ever now that Big Daddy is back on the beach.
---
Ron Gluckman is an American reporter who is based in Bangkok, roaming around Asia for a number of publications, such Time Magazine, which ran this piece as part of a package of stories on Hua Hin in August 2002.
For the rest of the stories, see also:
- Eclectic Khao Wang Palace, once the swinging center of Southeast Asia, is now part of a cool park in picturesque Petchabnuri.
- For a great escape, head south from Hua Hin to Khao Sam Roi Yot, Thailand's little visited marine park.
- Hua Hin's revival can be seen in a new hotel boom.
For another story on the spas of Hua Hin, click here.

Pictures, top to bottom: Hua Hin beach; restored temple; the King and I; new Hyatt resort Hua Hin.
All pictures by ron gluckman.
---
To return to the opening page and index

push here
---